Formula 1 | Sainz responds to critics: Ferrari is 'not a disaster'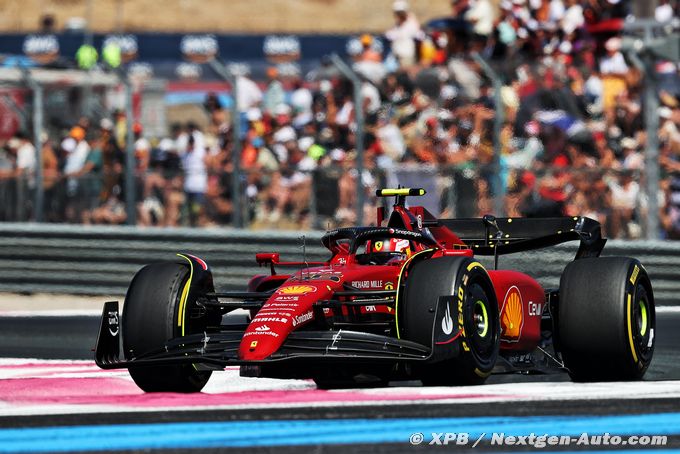 Carlos Sainz finished fifth in the French Grand Prix after starting 19th. His race was punctuated by a failed stop, a penalty for an 'unsafe release' in the pits and a decision to stop that he himself called into question, as well as the penalty announced to him by his engineer.
Indeed, the latter told him that he had received a 5 second stop and go for the unsafe release, when it was just a 5 second penalty, which Sainz corrected. Despite a formidable car in performance, Ferrari still seemed feverish, but the Spanish driver put the problems into perspective.
« I think the team did a very good job » Sainz said. « I still believe, at Ferrari, that we get a lot of criticism for things that other teams might also go through in their pit stop windows. »
« Whenever there's an awkward moment in strategy, we discuss things, but we're not a disaster like people seem to say. We like to chat and we're open. »
He doesn't blame his engineer for telling him to pit while he was fighting on the track: « Yes, I was in the middle of an overtake, but the team thought it was the right lap to stop and get back into the pack. »
The podium was playable « with a perfect race
Sainz complied when his engineer asked him to come back, but he intervened on the radio to say that he would have liked to try to go through with it. According to him, when he had just moved into third place, it was possible for him to keep this podium.
"I thought, at that time, maybe it was better to take the risk and see what was going on with the tyres, even if they were medium tires at the end of their lifespan. I had just moved up to third, and I thought 'if I make these tires last, maybe I can finish on the podium', but we'll never know. »
« The team has a lot more data on the computer, they have a lot more numbers to look at, and if they made that decision I'm 100 per cent confident they did it with the best of intentions. We have to keep improving and we have to analyze everything and see how we can be better. »
The Spaniard admits frustration with the scrambles that probably deprived him of a podium: « A place on the podium, I think with a perfect race we could have got there. The victory? I think Max was quite fast and perfect in front, so starting last, it's not like we can beat Max. »
« I think without the penalty we would have started on pole or on the front row. From there a win would have been possible, but we started 19th, and seeing how it all went, finished fifth with the fastest lap point is good. But I think with a perfect race we could have been higher. »