Formula 1: Russell ready to compete with Hamilton? Mercedes responds!
Formula 1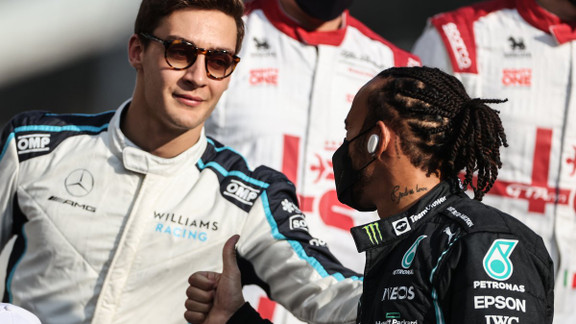 In 2022, George Russell will be aligned alongside Lewis Hamilton if the latter decides to continue his career in Formula 1. The opportunity for the 23-year-old Briton to rub shoulders with the seven-time world champion with the same car according to Anthony Davidson, driver in a simulator at Mercedes.
A new adventure begins for George Russell. After three years at williamsthe Briton is starting a new episode in his career with mercedes. The 23-year-old pilot, destined for a great future in Formula 1is expected at the turn within the German team, all alongside Lewis Hamilton. Thereby, george russell made his first tests at the wheel of his team's new single-seater.
"He has Lewis Hamilton as a benchmark, the best to measure up to in this sport"
In comments reported by Next-Gen Auto, Anthony Davidsonsimulator pilot at mercedessaid that George Russell could only progress thanks to the competition of Lewis Hamilton : " I won't give away the secrets of the car, but George tested it. As you can imagine, he's super enthusiastic and it's great to see. He is so full of energy and this is his big moment. He has the chance to get into a car which I hope for his good can be at the top. And he has Lewis Hamilton as his point of reference, the best against which to measure himself in this sport. There's nothing a rider like George wants more than to go up against Lewis with the same gear. This is the time when you really see if you are good enough or not. »