Formula 1 | Red Bull expects Mercedes F1 to struggle more in Austria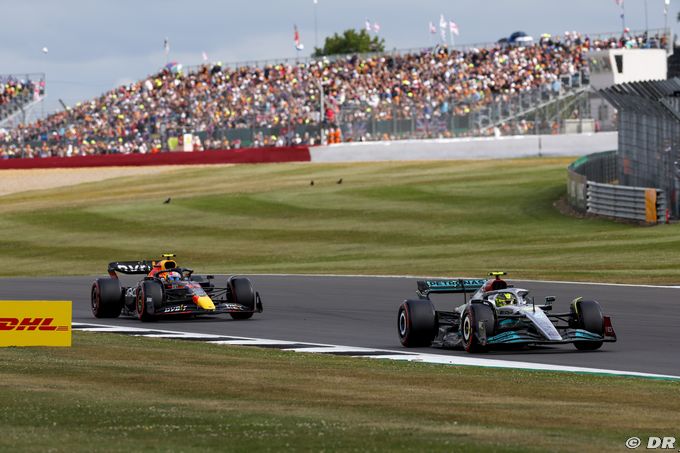 Thanks to the changes made to its W13 and the characteristics of the circuit which were favorable to it, Mercedes F1 shone at Silverstone by posting a pace very similar to that of Red Bull and Ferrari in the race. Lewis Hamilton clinched third place after putting pressure on Charles Leclerc and Carlos Sainz for a long time, which was a first in 2022.
Christian Horner, the director of Red Bull, was not surprised by the performance of his German rival in Great Britain, but he recalls that certain circuits to come will not necessarily favor it.
"I think every time we go to this type of track their strengths will be highlighted. It will be interesting to see what happens in the next races," Horner said.
« I think France will be particularly supportive of them. They're probably happy we're not going to Singapore next week, » adds the Red Bull leader jokingly, the street circuits having not succeeded for Mercedes F1 so far.
Marko sees Mercedes F1 suffer at the Red Bull Ring
Formula 1 heads to Austria this weekend, to a circuit that has been rather successful for Red Bull in recent years. And while Mercedes F1 hasn't been affected by the porpoising at Silverstone, adviser Helmut Marko expects a whole different story this weekend.
« We have little to no problem (with porpoising), » said Marko on ServusTV.
« I expect it will be a little more difficult for Mercedes again, because they will have to set the car a little higher, but that's not a problem. They will just be a little slower! »
While Lewis Hamilton and George Russell had huge support at Silverstone, Marko expects to see orange seas in the Red Bull Ring stands in support of Max Verstappen.
« Max has the winning record there. He is fired up in front of all his Dutch fans. When he sets the fastest time, they go crazy in the stands. That makes the event very special. »
The stands will be packed again in Austria this weekend
The Silverstone circuit welcomed 400,000 spectators over the whole weekend, but the Red Bull Ring should not be outdone either, according to Helmut Marko, who once again expects great success for F1 this week-end.
« Spielberg doesn't have to look like a big city like Singapore, but the drivers love it. They're very welcoming and of course there's the schnitzel. Except for Hamilton, because he's vegan, » joked the Austrian consultant in his column for the Kronen Zeitung.
"The growth of F1 is incredible. We had 400,000 fans at Silverstone and with such a race the popularity will only increase. The Red Bull Ring will be full as well. this week-end. »
Marko also wants to take care of Verstappen, who still clearly leads the championship despite his problems at Silverstone: « We need to get Max through all the media attention a bit, so he can rest before the race. »