Formula 1 | Mercedes F1: Specific 'error' explains W13's problems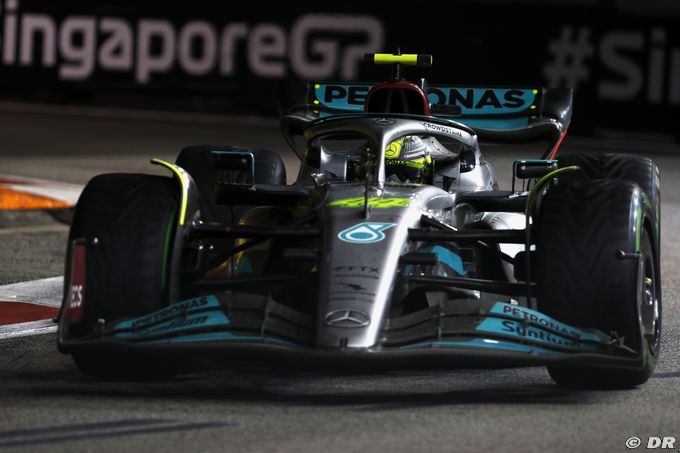 Following the words of Toto Wolff, who claimed that Mercedes F1 had understood why its W13 was not performing as well as hoped for this season, it is now the turn of technical director Mike Elliott to go in this direction.
The German team has still not won a single race this year, despite real progress in the second half of the season during which the rebound will have affected it much less. The results therefore remain very insufficient for a structure that has won all the constructor titles between 2014 and 2021.
In order to play for victories and world titles again in 2023, Mercedes F1 wanted at all costs to fully understand its W13 in order to best prepare its single-seater for next year.
And as Mike Elliott explains for the Beyond the Grid podcast, you obviously have to go back to last year to find any trace of an error made in the design of this year's F1.
« Looking at how we developed the car, I can point to a specific moment last year when I think we made a mistake, » explained Elliott.
"The fact that our performance level fluctuates from race to race is a consequence of this, it is an issue that we have corrected and that is why our performance has improved since.
« But that's not something we can fully fix for a little while, we'll work on that over the winter. »
The concept without pontoon is « not very different » from that of other F1
Mike Elliott unfortunately did not wish to give more details about this famous error, but it could be a fault located on the floor of the W13.
On the other hand, the technical director explains that the concept without pontoon had been discovered by exploiting a loophole in the new aerodynamic regulations of Formula 1.
« When there's a fault, you spend the winter looking at it and you're like, 'Has anyone else spotted it? develop the same concept?' »
« Even though our car is visually different, it's all about finding the smallest aerodynamic advantage. But it's hard to know what your concept will be worth since you haven't developed another one. »
« But that's not what has been the most defining. When you look at our pontoons you might think that other cars work very differently, but that's not the case, it's just a solution different. »
« I don't think it's much different from other teams aerodynamically speaking, it's just something that gives us a bit more performance. »
« It was the aerodynamicists who came up with this idea, we would then ask another group of people, usually led by our chief designer, to see if the project was feasible. »