Formula 1 | Mercedes F1 must 'define' a concept before committing to the W14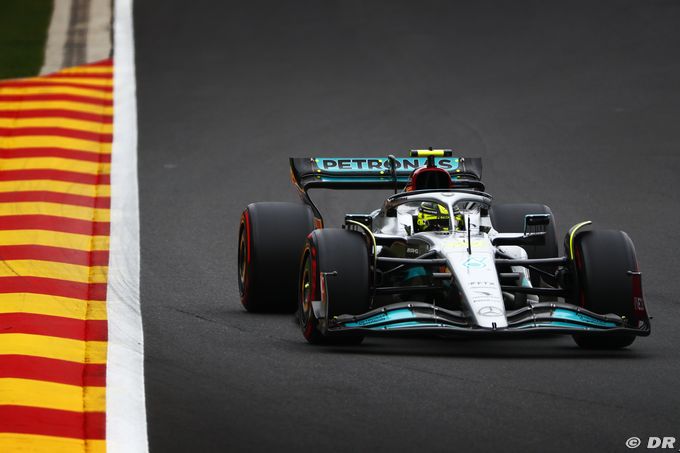 Toto Wolff returned to the difficulties of Mercedes F1 in Belgium, in particular with the very disappointing qualifying session. The team principal admits that the unpredictability of the W13 is painful to live with for his team.
"It is very difficult to deal with these fluctuations" Wolff said. "We had a totally sub-par performance yesterday being beaten by the Alpines, then in the race we were three seconds faster on a lap.
The reflection on the Mercedes F1 side is now whether to keep the zero pontoon concept, but also the rest of the single-seater, which notably includes a floor operating very close to the ground, which had led to porpoising at the start of the season. .
« We haven't committed to a concept for next year, but it's hard to say what a concept is. Is it chassis, weight distribution, mechanical and aerodynamic balance? , of the bodywork concept? »
« All of those elements are different pillars of the car that are being assessed, and that could mean some of those elements leave and others stay. So we're looking at that right now. »
« In F1 you never lose, you learn »
Wolff is frustrated that the team is struggling, especially with the correlation: « Today we're not getting there, and the non-correlation in different areas is preventing us from performing well. Now maybe there's just one thing that's overshadowing everything and we're not doing it justice questioning every part of the car. »
« Are the tires something we don't fundamentally understand and everything else is good? Or is it the aero that's ruining everything? Or the mechanical balance? It's so difficult to dissect. »
The Austrian, however, assures that Mercedes is not wasting time fixing the problems of the W13, since this will not only be used for the end of the season, but also for the continuation with the design of the W14.
« As we say in F1, you never lose, you learn. But I can tell you it's very difficult. With all these lovely Instagram posts and everything we've been talking about for eight years about how we're going to take that. »
« When you get there, it's about sticking to your principles and values, keeping your spirits up and really continuing to relentlessly seek to improve. There's more to a book about this year than about the last eight years. »