Formula 1 | McLaren F1: There was 'no confidence' when Brown arrived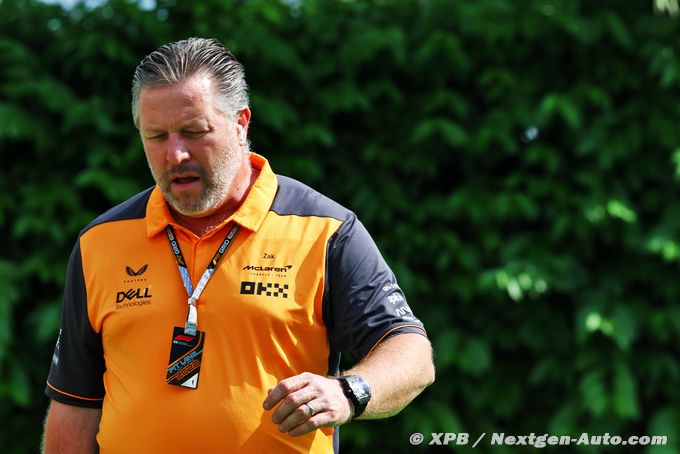 Zak Brown arrived at McLaren F1 as CEO at the end of 2016. The team was coming off two disastrous seasons with Honda, and the American remembers the state the structure was in. He remembers a constant search for culprits for the fiasco of the association with the Japanese engine manufacturer.
« In terms of morale, there was a complete lack of trust within the organization » explained Brown. « Everyone was somehow guilty until their innocence was proven by internal working methods. So there was no teamwork. »
« I think it started at the top of the pyramid, in the sense that there was so much going on at board level that there was no adult supervision in the F1 team. , because everyone was trying to redeem each other. So I think there was no leadership. »
The tensions and ruptures within the organization prevented McLaren F1 from being able to aim for the results for which it nevertheless had the potential, which Brown quickly corrected.
« I don't think it was any one person's fault. It was more of a situation where you have a board that doesn't get along, and that can quickly go downhill. But there was a great lack of confidence. »
« I knew there was potential for world championships and wins within the team. It was just about getting everyone to collaborate, work together and believe in it. It took a short time, and now we're in a very good place in essence. »
Brown feels « extremely supported »
After a vast restructuring project for McLaren Racing, of which he is the CEO, and McLaren Automotive, Brown can now count on the support of the group and its shareholders, who are working for the F1 team to progress.
« It's very clean, very clear. You have a race committee and a group committee. The race council makes the race decisions, and the group council makes the car decisions. »
« Michael Leiters, who is the CEO of McLaren Automotive, and I get along well. He comes from Ferrari. We attend each other's board meetings. So the collaboration between motoring and racing is excellent. . »
« It's also clear that I report to executive chairman Paul Walsh, who is also the executive chairman of motoring. And on the motor racing board, we now have very experienced people who know the sport and the racing. car race. »
« It's the kind of advice you would like to have as CEO, because they understand how fast the sport moves, how fast you have to make decisions, and how the game works. So I feel extremely supported . Everything I needed from the board, he gave it to me. »