Formula 1 | Greener and more feminine: Mercedes wants to lead by example in F1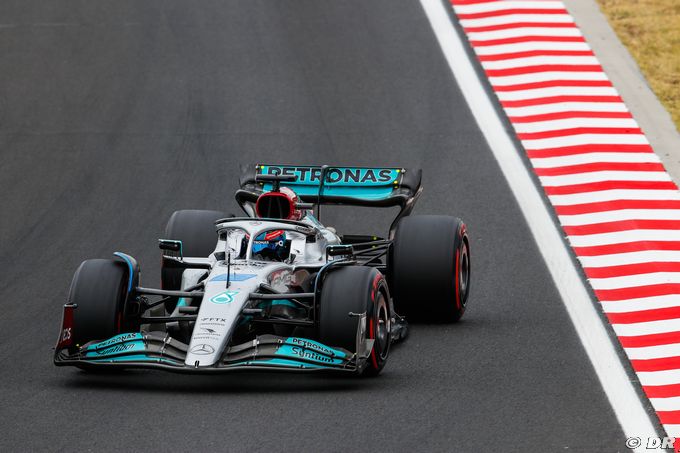 It's not just on the track, like at the Hungaroring, that Mercedes is making progress: behind the scenes too, at the chassis and engine plants in Brackley and Brixworth, the team is making progress towards its sustainability goals. and inclusive.
In a milestone, Mercedes F1 has announced that it has passed several brand milestones at the start of the second half of the season.
Ecology: Mercedes pollutes half as much as in 2018
First, notes the team, "our ambition to reduce our CO2 emissions by 50% by 2022, from a baseline set in 2018, has been exceeded, and ambitious new targets have been set to reach the verified target of zero net emission by 2030."
As a reminder, it is in 2030 that F1 intends to become a carbon neutral sport – with the help of Mercedes.
From now on, Mercedes intends to become the sports team in the world the most » sustainable « . How to make further progress? Mercedes delivers leads: "We will assess our carbon footprint against industry benchmarks, in line with the Greenhouse Gas Protocol Guidance and SBTi Framework, including the full Scope 3 Emissions Report. We will aim for a reduction of 100 % of our Scope 1 and 2 emissions and 50% of Scope 3 emissions by 2026, and a 75% reduction in Scope 3 emissions and 25% carbon removal by 2030."
Additionally and more interestingly, while logistics is the biggest polluter in F1, Mercedes will become the first sports team to invest in sustainable aviation fuel, "which will reduce the air travel footprint of our race team personnel by nearly half. »
On diversity, progress too
On diversity and in particular gender equality, Mercedes announces that its « Accelerate 25 » program (aiming to ensure that a quarter of new employees come from minority groups) continues to produce its effects, 18 months after its launch.
The number of women (in total and not newly hired) in the Mercedes team has increased from 12% to 15%; and the number of employees from minority ethnic groups more than doubled (from 3% to 7%).
The target of 25% hiring from minority groups has already been largely beaten, with 38% of recruits concerned last year and 32% this year, a significant decline nonetheless.
The team has continued to further diversify its partnerships to encourage more young people from minority groups to study science, and welcomes new partners in this direction. Initiatives that extend those recently announced by F1.
Finally, Mercedes has invested in charity: through various initiatives, the members of the team have managed to raise nearly €70,000 in donations for research into Alzheimer's disease.
Toto Wolff praises his team's commitment
Commenting on these latest achievements, Toto Wolff, team manager, recalled the sense of commitment of his team.
"Motor racing is fueled by passion. We are in the fastest and most dynamic sport in the world and we have a responsibility to use this global platform to be more than leaders; we want to be pioneers. Over the past few years, we have worked tirelessly to change and better understand the impact we have on the world. We are fully committed to the path of sustainable high performance. This is the future for all of us. »
« Whether it's deploying our resources to drive technological advances that will help society address the environmental challenges we face, or committing to increasing the diversity of our workforce and supporting people in need within our local communities, our passion is not just evident in the cars you see on the tracks, but in everything we do. »
"We are a problem-solving team, and we set ourselves ambitions to become more sustainable in everything we do. We are at the beginning of this journey, but we are committed to extremely ambitious goals, as we are all in the race towards a sustainable future. I am very proud of our team for the results we have achieved so far and for the cutting-edge strategies we are committed to implementing in the years to come. »
"What happens on the track is inextricably linked to what happens in the outside world, and that drives the whole team to always go faster and further. »