Football-transfers: Lupopo and V.Club strengthen before the African campaign
[ad_1]

FC Saint-Eloi Lupopo is making its comeback in the Confederation Cup after a seven-year withdrawal without playing a single African match. And to do this, the club led by Governor Jacques Kyabula of the province of Haut-Katanga attached, on August 10, midfielder Mongo Bokambi Lompala (29), passed by Primeiro do Agosto of Luanda in Angola , passed by Abu Salem in Libya and used to African interclubs. He therefore comes as a reinforcement in the midfield where we already find the experienced former international Youssouf Mulumbu and other players.
Having finished third in the 27e edition of the national football championship, FC Saint-Eloi Lupopo will play the first qualifying round of the Confederation Cup against the Botswana club Security Systems XI FC of Botswana. And case of qualification at the expense " The Alarm Boys (nickname of the Gaborone club), the Viets of Lubumbashi will oppose the Angolans of Sagrada Esperança.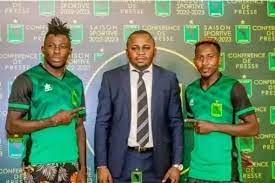 Committed to the Champions League, AS V.Club has strengthened its workforce with the signing of two players. It is first of all striker Osako Ngeleda, we know, from Ajax Cap Town in South Africa. He signed for three seasons with the Dauphins Noirs of Kinshasa. Angolan midfielder Norberto Kiatualua Emous, a defector from Santa Rita in Angola, has also signed a three-year lease with the green and black club. According to sources, these two are just kicking off the V.Club transfer window as other players may arrive.
It should be noted that the Dauphins Noirs have however let go of their spearhead of the striker, Glody Lilepo Makabi, now a player of Al Hilal from Khartoum in Sudan where he followed his former coach, Florent Ibenge. The club led by Bestine Kazadi and coached by Raoul Jean-Pierre Shungu will therefore strengthen its workforce, before launching its African campaign.
V.Club play in the first round of elimination against Gaborone United SC of Botswana between September 9 and 11 for the first leg and a week later for the second leg. The next opponent of V.Club, in case of qualification, will be the winner of the match between RC Kadiogo of Burkina Faso and Asante Kotoko of Koumasi of Ghana.


[ad_2]