Fantasy Football, Week 8 – Players to Line Up and Leave on the Bench
Like every week, find our advice to field the best possible team in your fantasy leagues.
We remind you that we are not talking about stars, like Patrick Mahomes, Derrick Henry or Davante Adams, who are steadfast in the workforce. The idea is to help you with the choices for more delicate positions like those of WR2-3 or that of FLEX, and during « Bye Weeks ».
---
Quarterbacks
The players to line up
Kirk Cousins ​​(Minnesota Vikings)
The Vikings' QB is having a very good season, and it should continue its momentum at the end of the rest week. The match against Dallas promises to be offensive, between two well-armed attacks and two rather permissive defenses.
Matt Ryan (Atlanta Falcons)
The Falcons attack begins to find its rhythm, and Matt Ryan regains a good efficiency. Calvin Ridley is back, Kyle Pitts wins, which allows the QB to have many targets. Carolina's defense was scary at first, but Panthers are more like house cats now.
Joe Burrow (Cincinnati Bengals)
He just smashed his career record (416 yards) against the Ravens, and his connection with Ja'Marr Chase is the most dangerous in the NFL at the moment. No reason to remove him from your squad against a team of the Jets which has just taken more than 50 points against Mac Jones and the Pats.
Other QBs that can be lined up: Jameis Winston (NO), Daniel Jones (NYG), Trevor Lawrence (JAX), Carson Wentz (IND), Ryan Tannehill (TEN), Teddy Bridgewater (DEN)
Players to keep warm
Sam Darnold (Carolina Panthers)
On paper, a game against Atlanta is pretty good. But Sam Darnold is in big trouble, like the Panthers attack. The offensive line is broken, CMC is sorely lacking, and Darnold begins to pile up the losses. He didn't finish the game against the Giants last week, and there's no guarantee he'll finish the next one.
Tua Tagovailoa (Miami Dolphins)
I find that we fall too much on Tua Tagovoailoa, which is far from being the reason for the poor results of Miami. The QB has also been doing very well in Fantasy since returning to London, and he even finished QB1 last weekend. However, he faces one of the best defenses in the NFL on Sunday and it promises to be more complicated.
Mac Jones (New England Patriots)
If you look at the numbers, the conclusion is quite simple. The Chargers defend well in the air and very poorly on the ground. The Patriots' game plan should therefore focus on the backfield and preserve his rookie QB.
Other QB to leave on the bench: Taylor Heinicke (WAS)
---
Running-backs
The players to line up
Khalil Herbert (Chicago Bears)
In two games as the starting RB, Khalil Herbert has been excellent and it seems clear that he is a better option than Damien Williams. We just hope the Bears think the same and don't share the work between the two RBs.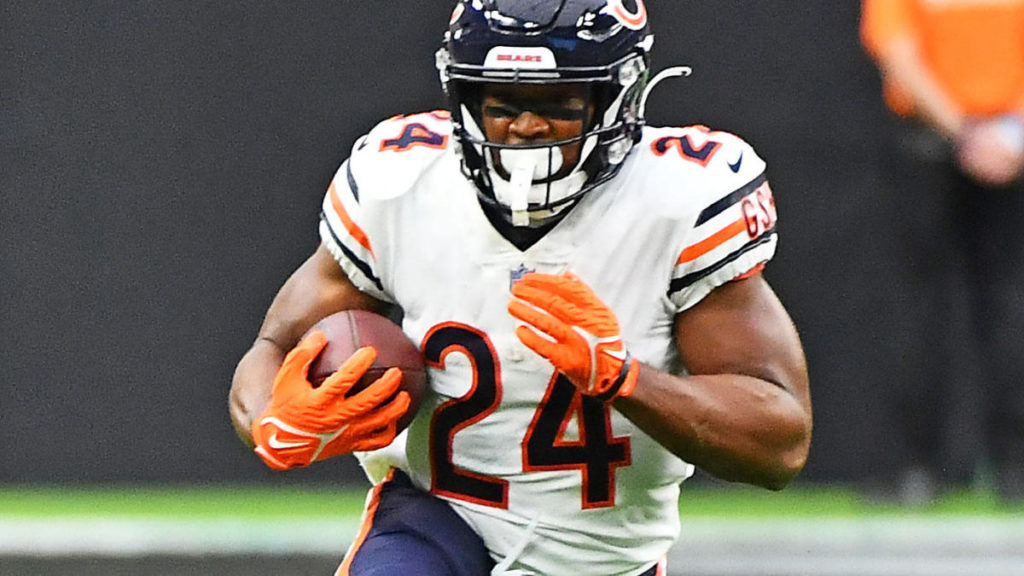 Kenneth Gainwell (Philadelphia Eagles)
Yes, the Eagles don't play much on the floor, but part of the reason is that they run after the scoreline on a regular basis. There is a possibility that this may not be the case against Detroit this week, which could allow the backfield to be busier. And in the absence of Miles Sanders, rookie Kenneth Gainwell should be the leader. His qualities as a receiver have already been seen, making him a good option in PPR.
Damien Harris (New England Patriots)
We talked about it earlier with Mac Jones, this game against the Chargers is very favorable for Damien Harris. He should often have the ball to exploit weaknesses in the Bolts' ground defense, and he has a great chance to follow up with another game over 100 yards and score.
Other RBs that can be lined up: James Conner (ARI), Michael Carter (NYJ), Elijah Mitchell (SF), Devontae Booker (NYG), Zack Moss (BUF), Samaje Perine (CIN)
Players to keep warm
Myles Gaskin (Miami Dolphins)
Only one RB has managed to hurt the Buffalo defense this year: Derrick Henry. And Myles Gaskin is not at this level… Overall very disappointing this season, he had already taken a wall during the first clash between the two teams (Week 2).
Mike Davis (Atlanta Falcons)
It may sound weird to write, but Cordarrelle Patterson is the backfield star of the Falcons… More versatile is explosive, he won and receives most of the balls. As a result, Mike Davis has seen his playing volume drop drastically, so much so that he is no longer a viable option in fantasy today.
Another RB to leave on the bench: Melvin Gordon (DEN)
---
Receivers
The players to line up
Michael Pittman (Indianapolis Colts)
The Colts' WR finally seems to have settled in as the clear number 1 and is starting to show interesting consistency. The good series should be confirmed this weekend, against a defense of Tennessee which continues to allocate a lot of points to the opposing receivers.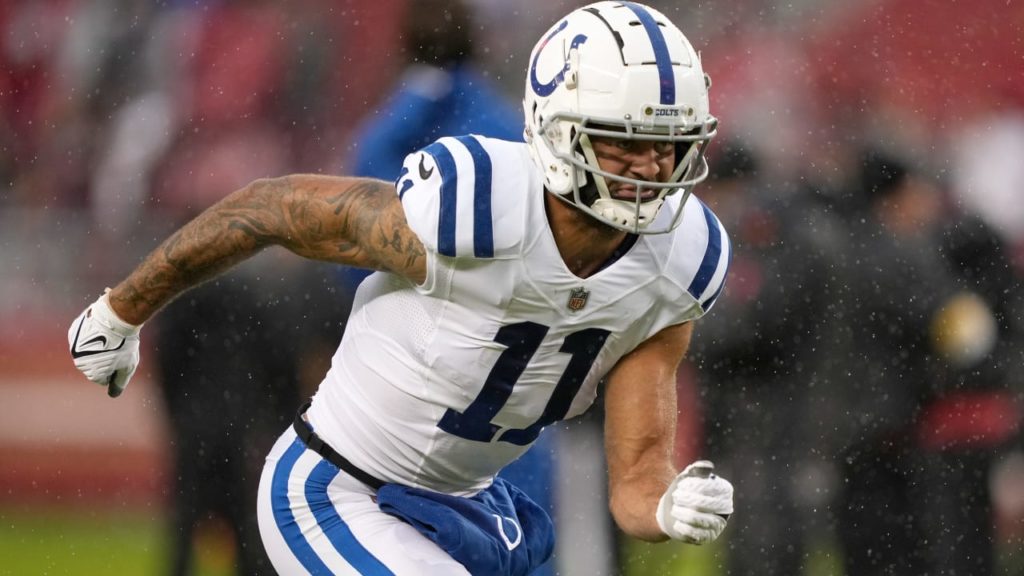 Marvin Jones (Jacksonville Jaguars)
Trevor Lawrence seems to have understood that Marvin Jones is a reliable receiver he can rely on. In their last match in London, the WR reached 100 yards and scored 1 touchdown. Seattle hasn't been that bad in the air for a few games, but Jones should be able to put out a good game.
Emmanuel Sanders (Buffalo Bills)
Defending the Dolphins is on the streets, and there will surely be opportunities for everyone on the Bills side. Stefon Diggs is obviously the star, and Emmanuel Sanders is also an interesting choice. The WR has been excellent for several weeks, and often sought in redzone.
Other WRs that can be lined up: Courtland Sutton (DEN), DeVonta Smith (PHI), Chase Claypool (PIT), AJ Green (ARI), Marquez Callaway (NO)
Players to keep warm
Tyler Boyd (Cincinnati Bengals)
The WR star in Cincinnati is Ja'Marr Chase, and you just have to enjoy the show and leave the other receivers out. Tee Higgins can help out, but Tyler Boyd no longer has enough volume as WR number 3.
Allen Robinson (Chicago Bears)
Poor Allen Robinson, who has never had a prolific QB in his career to show his qualities. His talent is not in question, but the volume is currently insufficient with Justin Fields in the center of the attack.
Other WRs to leave on the bench: Odell Beckham Jr (CLE), Jaylen Waddle (MIA), Jakobi Meyers (NE)
---
Tight-ends
The players to line up
Hunter Henry (New England Patriots)
He finds his former team at a time when he is in great shape. Henry has scored 1 touchdown in the last 4 games, and he's established himself as a prime target for Mac Jones.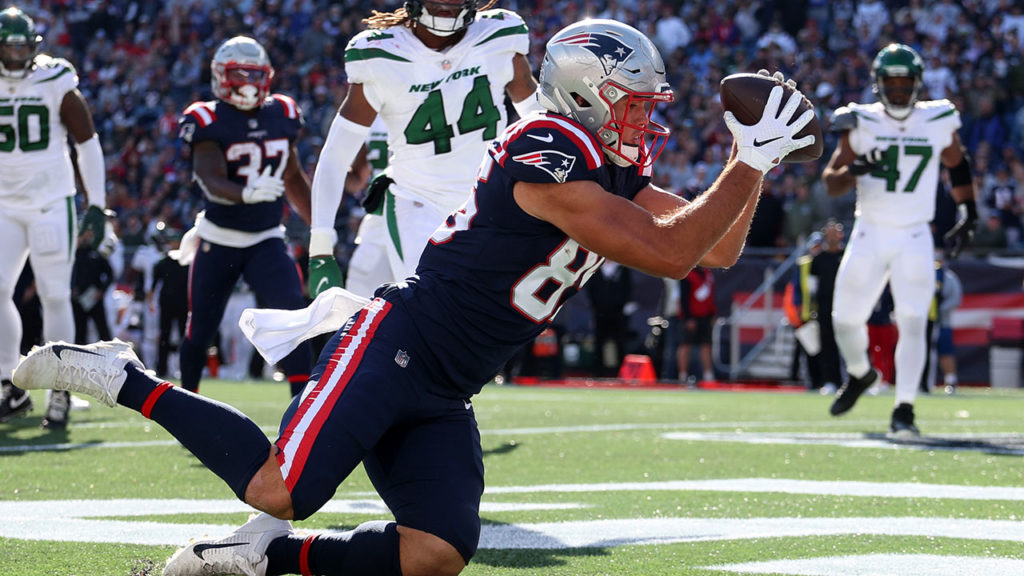 Tyler Higbee (Los Angeles Rams)
The vast majority of tight-ends score against Houston, and there's no reason Tyler Higbee can't follow the trend.
Other TEs that can be aligned: Dallas Goedert (PHI), CJ Uzomah (CIN)
Players to keep warm
Ricky Seals-Jones (Washington Football Team)
RSJ has been very good since replacing Logan Thomas, and he helps out well in Fantasy. Be careful this week, because Denver's defense is formidable against tight-ends. No TE has indeed scored a touchdown to this team since the start of the season.
Jared Cook (Los Angeles Chargers)
He hasn't been bad since the start of the season, but the game is not very favorable for him this weekend. The Patriots are strong in this industry.
Other TEs to leave on the bench: Mo Alie-Cox (IND), OJ Howard (TB), Cole Kmet (CHI)
---
Defenses
Defenses to align
Cincinnati Bengals
There's a lot of talk about Joe Burrow and Ja'Marr Chase, but Cincinnati's defense needs to be highlighted as well. The pass-rush is particularly formidable, and it should put under pressure the QB of the Jets, a certain Mike White who will experience his first tenure in the NFL …
Los Angeles Chargers
Brandon Staley should try to embarrass Mac Jones as much as possible in this game. And his defense has arguments, especially on the pass-rush to force him to make some mistakes.
Other interesting defenses: Bears, 49ers, Steelers, Falcons
The tusks to keep warm
Carolina panthers
On paper, the Panthers' defense is a good choice this weekend against Atlanta. The problem is, the Falcons' offense is on the upward slope, while Carolina's defense is on the downward slope.
Minnesota Vikings
It would be too risky to line up the Vikings' defense against Dak Prescott and a very dangerous attack from Dallas.
Other defenses to leave on the bench: