Fantasy Football, Week 10 – Players to Line Up and Leave on the Bench
Like every week, find our advice to field the best possible team in your fantasy leagues.
We remind you that we are not talking about stars, like Patrick Mahomes, Derrick Henry or Davante Adams, who are steadfast in the workforce. The idea is to help you with the choices for more delicate positions like those of WR2-3 or that of FLEX, and during « Bye Weeks ».
---
Quarterbacks
The players to line up
Derek Carr (Las Vegas Raiders)
He missed out on his game in New York last week, but he should bounce back quickly. I'm expecting an attacking game between him and Patrick Mahomes, and the Kansas City defense has already shown its flaws this season.
Carson Wentz (Indianapolis Colts)
And 6 consecutive games with 2 touchdowns minimum for Carson Wentz, who continues to do the job very well for Indy. He should be able to continue his momentum against Jacksonville, who will not come out of games like against the Bills every week.
Matt Ryan (Atlanta Falcons)
I put him in the sits last week and he made me lie with a great game. He is largely able to chain against a Dallas defense that allocates yards. And I think the Falcons are going to chase the score, which will force Atlanta to throw the ball more often.
Other QBs that can be fielded: Russell Wilson (SEA), Taylor Heinicke (WAS)
Players to keep warm
Baker Mayfield (Cleveland Browns)
The Browns' QB has regained some color in Cincinnati, but the upturn could be short-lived. The defense of the Pats is formidable in the air and forces a lot of losses of ball. Mayfield can help out later, but I'd rather keep him on the bench this week.
Mac Jones (New England Patriots)
In that same game between the Pats and the Browns, you better keep Mac Jones warm, too. Cleveland's air defense is very good, and Joe Burrow just paid the price.
Other QBs to leave on the bench: Teddy Bridgewater (DEN), Kirk Cousins ​​(MIN)
---
Running-backs
The players to line up
Devin Singletary (Buffalo Bills)
With Zack Moss probably absent this weekend, Devin Singletary becomes an interesting option against the Jets, who are very nice with the opposing RBs. For this match, the Bills player should be the clear leader of the backfield, and therefore player on the 3 downs.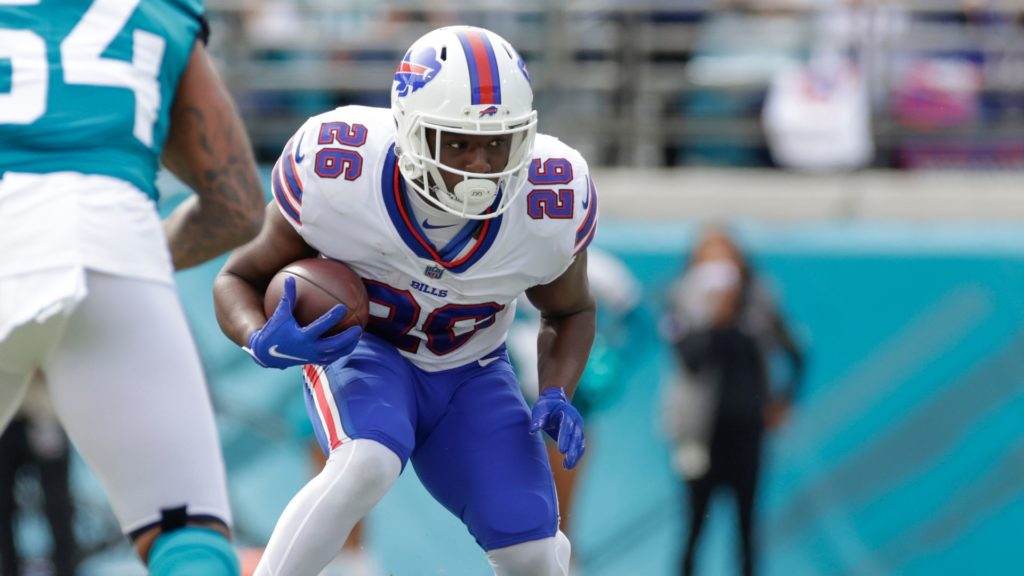 Melvin Gordon (Denver Broncos)
He's not particularly bright and efficient, but he gets the job done in fantasy and scores points. Faced with the very average defense of the Eagles, there remains a viable RB 2. Rookie Javonte Williams is also a possibility in FLEX.
Devonta Freeman (Baltimore Ravens)
The Ravens play tonight, against Miami, and Latavius ​​Murray should still be absent. This clears the field for Freeman, in a favorable game for Baltimore. The RB should have enough volume to rack up the yards, and redzone opportunities.
Other RBs that can be lined up: James Conner (ARI), Leonard Fournette (VG), Kenyan Drake (LV), Darrel Williams (KC), Javonte Williams (DEN)
Players to keep warm
Antonio Gibson (Washington Football Team)
Complicated period for the RB Washington, which remains on 3 games sluggish and without touchdown before the « bye week ». And the return promises to be brutal, facing the formidable ground defense of the Buccaneers. I know that it is not necessarily possible to leave him on the bench, but you should not expect wonders.
Adrian Peterson & Jeremy McNichols (Tennessee Titans)
AP made his debut for the Titans last week, and although he scored, he was not very efficient (21 yards). Faced with the good defense of the Saints, and due to the probable division of labor, none of the RBs in Tennessee are attractive.
Other RB to leave on the bench: Mike Davis (ATL), Alex Collins (SEA), Damien Harris (NE)
---
Receivers
The players to line up
Jerry Jeudy (Denver Broncos)
Since returning from injury, Jeudy has confirmed that he is Teddy Bridgewater's favorite WR. Already in sight against Dallas, he has the opportunity to explode against Philadelphia and his foam defense. He must be in your staff this week.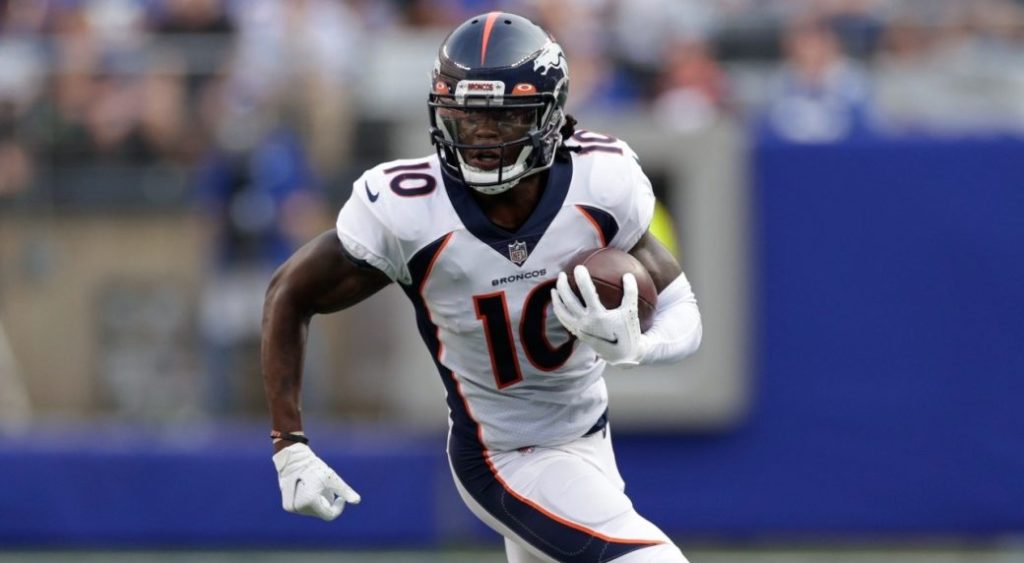 Hunter Renfrow (Las Vegas Raiders)
The dismissal of Henry Ruggs made Hunter Renfrow even more important, which is more than ever a choice option for Derek Carr. Darren Waller is target number 1, and Renfrow arrives next. Against Kansas City, the Raiders should often throw the ball, a boon for the WR who should shine in PPR format.
Rashod Bateman (Baltimore Ravens)
It has been in regular use since making his debut for Baltimore. Tonight against the Dolphins, Rashod Bateman could put out his best game. Marquise Brown will draw the attention of the defense, leaving him free to the opposite.
Other WRs that can be lined up: Jaylen Waddle (MIA), Cole Beasley (BUF), Julio Jones (TEN)
Players to keep warm
Elijah Moore (New York Jets)
The rookie just released his first big NFL game, and he's one of the recommended players in the Waivers this week. But wait a bit before starting him. Buffalo's defense remains excellent, and we can bet that the Bills are upset and that they will want to recover.
Courtland Sutton (Denver Broncos)
If Jerry Jeudy is once again the favorite WR, it is to the detriment of Courtland Sutton. The Broncos' WR has starving stats when his teammate is around. This week against Philadelphia, he should often face one of the best opposing players in Darius Slay.
Other WRs to leave on the bench: Jarvis Landry (CLE), Tim Patrick (DEN), Christian Kirk (ARI)
---
Tight-ends
The players to line up
Pat Freiermuth (Pittsburgh Steelers)
Big Ben discovered his TE rookie a few weeks ago and he seems to be enjoying it more and more. Freiermuth scored a brace on Monday against Chicago, and he should have more opportunities to find the goal against Detroit.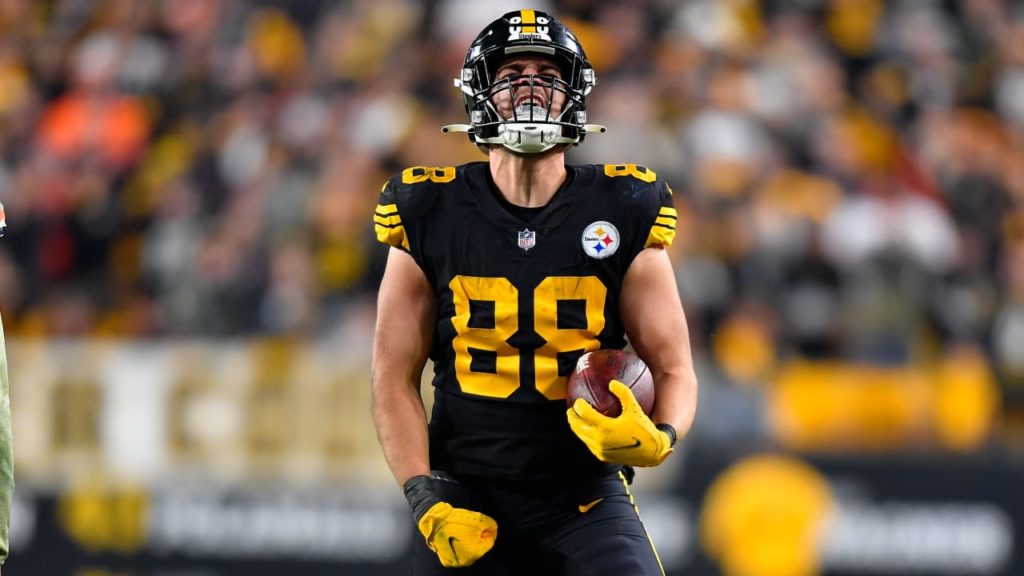 Dan Arnold (Jacksonville Jaguars)
He was the receiver most often targeted by Trevor Lawrence against Buffalo, and he finished leading his team in receptions and yards. Faced with a Colts defense that leaves freedom to the TE, Arnold is an interesting option.
Other TEs that can be aligned: Logan Thomas (WAS), Tyler Conklin (MIN), Noah Fant (DEN)
The player to keep warm
Hunter Henry (New England Patriots)
There is still a good bet to score and save the day, but if not, the total is likely to be low against Cleveland.
Jared Cook (Los Angeles Chargers)
His stats aren't bad, but the fact that Donald Parham Jr. takes him a bit of work is painful in Fantasy. In addition, the Vikings defend rather very well against tight-ends.
Other TEs to leave on the bench: Tyler Higbee (LAR), Zach Ertz (ARI)
---
Defenses
Defenses to align
Dallas cowboys
Completely irrelevant Sunday against Denver, the Cowboys must recover. The Falcons remain poor in protection and can lose balls. The opportunity is great for the Dallas defense.
Arizona Cardinals
Sam Darnold is out for several weeks, which may be good news for Carolina… So PJ Walker will be the starting QB, and the Cardinals can take advantage of that. The pass-rush works well even without JJ Watt and the forced ball losses have been regular for a few games.
Other interesting defenses: Bucs, Patriots
The tusks to keep warm
Las Vegas Raiders
The Chiefs' attack is not a dream right now, but a Patrick Mahomes awakening is possible at any time. I will also leave the two defenses far in this match, which can be very offensive.