Edouard Mendy « proud » to be the first African goalkeeper to be awarded
Chelsea goalkeeper Edouard Mendy was voted best goalkeeper of the year 2021 on Monday at the FIFA The Best trophy ceremony. Warmly congratulated by his teammates from Senegal in full CAN, the doorman did not hide his satisfaction.
Like the other winners, Edouard Mendy was not present in Zurich on Monday evening to receive his Fifa The Best trophy for best goalkeeper of the year 2021. But he had a good excuse, since the Chelsea goalkeeper is currently in the process of dispute the CAN with Senegal. Teranga Lions who celebrated this little event well, as shown by several videos published by Keita Baldé or Bouna Sarr on Instagram.
Acclaimed by all his family in the middle of dinner, Mendy had to make a speech in public, in the middle of his « second family ». Before, in a second time, to express his feelings in writing.
>>> Relive The Best ceremony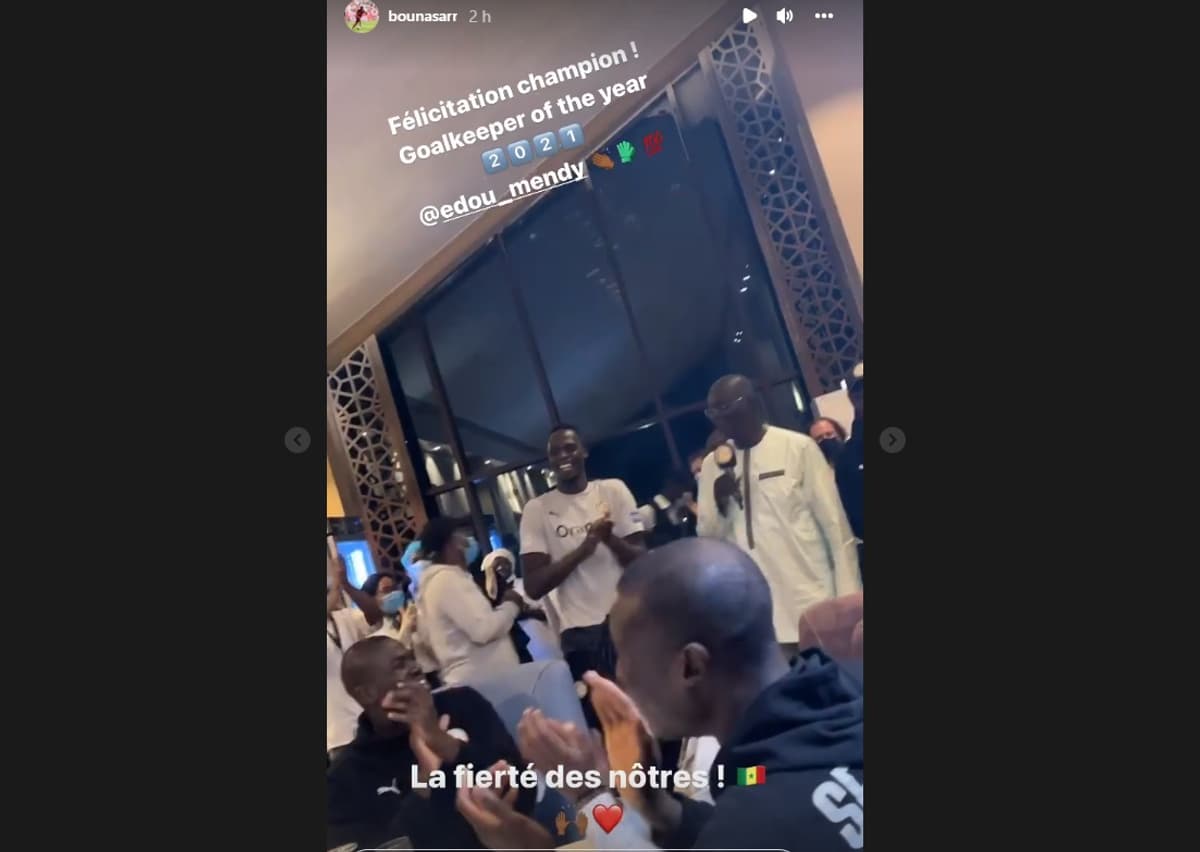 "What pride to receive this award today, commented the former OM, Reims or Rennes player on social networks. I am all the more proud to be the first African goalkeeper in history to win this title, and I hope to pave the way for many others. The first word that comes to mind is THANK YOU. Thank you to my partner, my children, my family and everyone around me. Thank you to the French clubs who trained me and enabled me to emerge. Thank you to my Chelsea club, my coach, the staff and the players. Thank you to my country, Senegal, my coach and his staff, as well as to all the players of my selection. »
The episode of the forgotten jersey has been digested
And to promise: « I will continue to work tirelessly, as I have always done, to maintain this level of performance and win new titles. To conclude, I would just like to say to you: believe in yourself, in your dreams, Always give your best, trust yourself, anything is possible. » The 29-year-old, who had a very late breakout, is the perfect example.
Note that on its visual, Fifa has this time not forgotten to put a jersey on Edouard Mendy. Last November, when the finalists for the prize were revealed in pictures, the goalkeeper was moved not to appear with the Senegal or Chelsea tunic on his shoulders, unlike his rivals, Kasper Schmeichel, Alisson Becker, Gianluigi Donnarumma and Manuel Neuer.
« Two days that I look at this post and try to understand why, but I still haven't understood, he lamented at the time. Is it normal that I am the only one without the jersey of my country, Senegal? ? Is it fair for Senegal? » But all's well that ends well.