Draymond Green found the solution to all his problems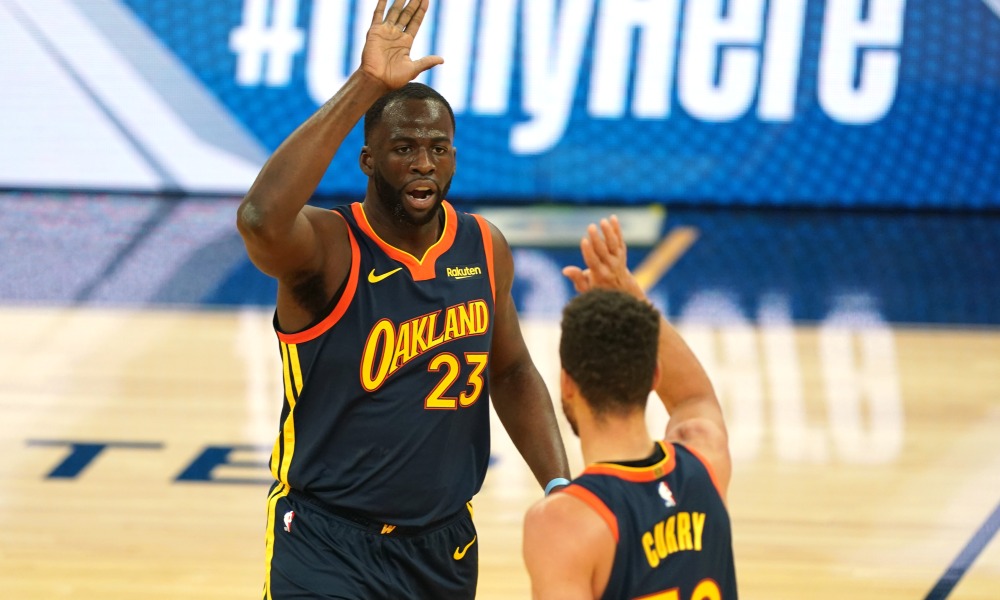 Whether Draymond Green missed 36 matches last season, not because of any suspensions or rests, but because he suffered from back pain for a long time. He avoided the operation, synonymous with the end of the season, and finally, care and a belt allowed him to get this 4th title.
"I suffered from a hernia on the L5 and S1 vertebrae" he says in the « Checc'n In » podcast hosted by Eugene « Big U » Henley. "So when it flared up, it affected my sciatic nerve. For two months I couldn't be on the bench or travel with the team because I couldn't sit down. I had to stand or lie down. »
To help him, the staff designed him a special belt to support his lower back and help him correct his posture. Then this summer, he focused his off-season on muscular work. » Before this injury, I hadn't noticed that I was holding myself badly. For eight weeks I did nothing but build muscle".
By the way, he took the opportunity to treat a recurring injury to the left calf. » Throughout my rehab, and while I was letting my back heal, I also strengthened my calf. I couldn't jump at all anymore. Six weeks ago, I couldn't run. Say four and a half weeks, five weeks… I couldn't run".
As a result, after this hard work, he is ready to return to the pitch « in the best shape » of his career. » I feel like I fired up small muscle groups to make my body work the way it's really supposed to. So I hope this will keep me healthy longer".
Draymond Green
Percentage
Bounces
Season
Crew
GM
Minimum
Shots
3 points
LF
Off
Def
Early
pd
party
Int
bp
CT
Points
2012-13
GOS
79
13
32.7
20.9
81.8
0.7
2.6
3.3
0.7
2.0
0.5
0.7
0.3
2.9
2013-14
GOS
82
22
40.7
33.3
66.7
1.1
3.9
5.0
1.9
2.8
1.2
1.1
0.9
6.2
2014-15
GOS
79
32
44.3
33.7
66.0
1.4
6.8
8.2
3.7
3.2
1.6
1.7
1.3
11.7
2015-16
GOS
81
35
49.0
38.8
69.6
1.7
7.8
9.5
7.4
3.0
1.5
3.2
1.4
14.0
2016-17
GOS
76
33
41.8
30.8
70.9
1.3
6.6
7.9
7.0
2.9
2.0
2.4
1.4
10.2
2017-18
GOS
70
33
45.4
30.1
77.5
1.1
6.6
7.6
7.3
2.6
1.4
2.9
1.3
11.0
2018-19
GOS
66
31
44.5
28.5
69.2
0.9
6.4
7.3
6.9
3.0
1.4
2.6
1.1
7.4
2019-20
GOS
43
28
38.9
27.9
75.9
0.5
5.7
6.2
6.2
2.6
1.4
2.3
0.8
8.0
2020-21
GOS
63
32
44.7
27.0
79.5
0.9
6.3
7.1
8.9
3.1
1.7
3.0
0.8
7.1
2021-22
GOS
46
29
52.5
29.6
65.9
1.0
6.3
7.3
7.0
3.0
1.3
3.0
1.1
7.5
Total
685
29
44.1
31.5
71.2
1.1
5.8
6.9
5.5
2.8
1.4
2.2
1.0
8.7