Donald Trump humiliates LeBron: "Have you ever thought about becoming a woman? »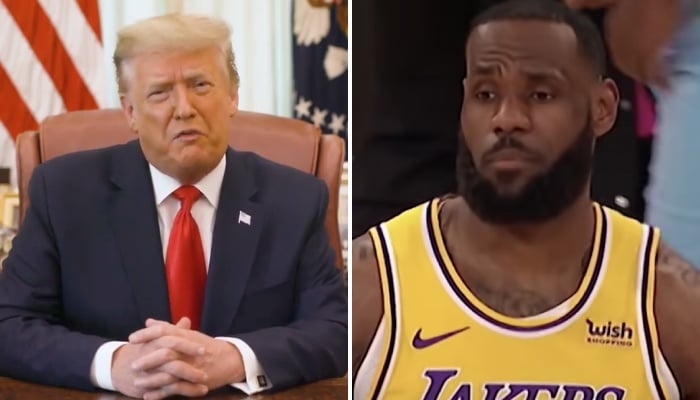 @realdonaldtrump / NBA (DR)
During his presidency, Donald Trump liked to attack NBA stars, and in particular LeBron James, the face of the league and a great leader in the African-American community. For his return for the 2024 election, the former head of state resumed his dubious attacks against the King…
Following his defeat in the last US presidential election, Donald Trump decided to take a step back and step aside for a while. After storming the media throughout his term, with statements all crazier than each other, Trump has prepared his big comeback in the shadows. And two and a half years from the next big deadline, it finally comes out of its hole.
While Joe Biden's presidency is taking place in absolute calm, without the slightest scandal or the slightest big controversy, the leader of the Republican Party has regained his status as a troublemaker in the political world with meetings that are still just as caustic. And as usual, he attacks big names to make an impression and to react on social networks.
Donald Trump asks LeBron to change sex!
For example, at a rally with his supporters in Nebraska, it's the name of LeBron James which has been hijacked for political purposes. The King has been attacked by the former president for years, especially for his involvement in societal issues, and he was once again publicly humiliated, for no apparent reason. Trump has made a bizarre allusion to a gender reassignment…
"I'll say this to LeBron James who I don't like very much. I'll say, 'LeBron, did you ever have thoughts about going woman? Because if you did I'd love to have you on my basketball team.'" – President Trump 🇺🇸#TrumpRally pic.twitter.com/05Gy4j1XO7

—Steven Cheung (@CaliforniaPanda) May 1, 2022
I would like to say to LeBron James, who is a man that I don't really like: LeBron, have you ever thought about becoming a woman? Because if you've ever had that in mind, I would love to have you on my women's basketball team. It's the truth.
During a meeting centered on the notion of « saving America », Donad Trump decided to send a big tackle to LeBron James, talking about sex change and basketball. This is not the first time that he has spoken on this subject, since he seems particularly revolted by the integration of transgender athletes at the university level in particular. To make fun of the latter, he repeats that the best way to dominate women's competitions is still to recruit transgender women.
Donald Trump likes to attack LeBron James, symbol of everything he despises the most in the United States. He has once again decided to use him to attack transsexuals and their place in sport across the Atlantic.