Derrick Rose's message to the Senegal national team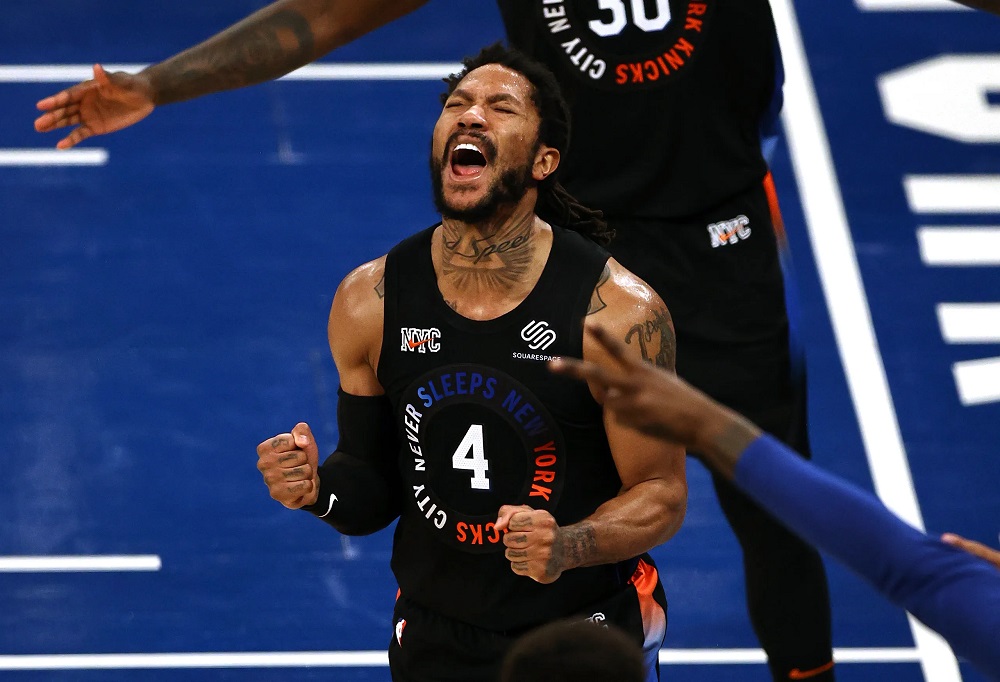 Derrick Rose was in Senegal last week at the invitation of Gorgui Dieng, his former Minnesota teammate. The opportunity for the leader of the Knicks to participate in a training camp and to attend the laying of the first stone of a hospital in Kébémer, on the initiative of Gorgui Dieng.
During his stay, Derrick Rose also went to a training session for the Senegalese team, now coached by ex-NBA Desagana Diop, then in full preparation for a new qualifying window for the 2023 World Cup.
Derrick Rose then had the opportunity to speak at the end of the session to deliver a speech to the Senegalese players. The veteran recalled that he came from afar, and that his difficult living conditions as a child pushed him to surpass himself.
"I have dedicated my whole life to basketball because I understood quite young that my living conditions were bad. I could see that my mother was not happy. To pay the rent, she put all the notes on the table and we counted. After paying the rent, he had $20 to $50 left to spend for two weeks, with four kids," did he declare. "When I was doing the math, I wondered how we were going to get out of this for the next two weeks. I told myself that I had to change things. And that's what I did. I played outside, just like you. I didn't have a gym I could go to. Sometimes I had to clear the snow to have a place to play. Even playing in the rain, I didn't care. Because at the end of the day, I knew that the choice I made was going to pay off in the long run".
A life lesson
D-Rose emphasized the concept of sacrifice and the fact that you should never rest on your laurels. Even selected for the Senegal national team, Gorgui Dieng's teammates must continue to fight.
"It was a big sacrifice because I wanted to accomplish something big. Sacrifices are when people throw a party and you decline the invitation because you have practice the next day. But the big sacrifices are when you stay focused on what you're doing when everyone thinks you're crazy. I've fed on all of these things to get to where I am, while learning about myself. »he added. "I have set goals for my family. My mother too. My father was not there, I never knew him. When I got older, I had kids, and I still set goals for my family today. It is now up to my children to reach them. And that's what you're doing now, fighting for your place. It's very hard, just to get where you all are today. You have to fight, that's life. Even when you have money, you have to keep fighting. I myself continue to fight, to acquire knowledge".
Senegal will play three qualifying matches for the World Cup in three days against Monastir (Tunisia): against South Sudan on Friday, Tunisia on Saturday and Cameroon on Sunday.
« A great sacrifice is locked in and everybody looking at you like you're crazy. You gotta fight. That's life. Even when you get money, you still have to fight. »

Derrick Rose joined Gorgui Dieng in Africa to speak with the Senegal men's basketball team.

(via @Basket_Senegal) pic.twitter.com/wTNMQmUr64

—ClutchPoints (@ClutchPointsApp) August 24, 2022
Derrick Rose
Percentage
Bounces
Season
Crew
GM
Minimum
Shots
3 points
LF
Off
Def
Early
pd
party
Int
bp
CT
Points
2008-09
CHI
81
37
47.5
22.2
78.8
1.2
2.7
3.9
6.3
1.5
0.8
2.5
0.2
16.8
2009-10
CHI
78
37
48.9
26.7
76.6
0.8
2.9
3.8
6.0
1.2
0.7
2.8
0.4
20.8
2010-11

★

CHI
81
37
44.5
33.2
85.8
1.0
3.1
4.1
7.7
1.7
1.1
3.4
0.6
25.0
2011-12
CHI
39
35
43.5
31.2
81.2
0.7
2.7
3.4
7.9
1.3
0.9
3.1
0.7
21.9
2013-14
CHI
10
31
35.4
34.0
84.4
0.9
2.3
3.2
4.3
1.5
0.5
3.4
0.1
15.9
2014-15
CHI
51
30
40.5
28.0
81.3
0.7
2.5
3.2
4.9
1.2
0.7
3.2
0.3
17.7
2015-16
CHI
66
32
42.7
29.3
79.3
0.7
2.7
3.4
4.7
1.3
0.7
2.7
0.2
16.4
2016-17
NYK
64
33
47.1
21.7
87.4
1.0
2.8
3.8
4.4
1.3
0.7
2.3
0.3
18.0
2017-18 *
All Teams
25
17
43.5
23.3
87.0
0.5
0.9
1.4
1.5
0.6
0.3
1.4
0.2
8.4
2017-18 *
KEY
16
19
43.9
25.0
85.4
0.6
1.2
1.8
1.6
0.9
0.2
1.8
0.3
9.8
2017-18 *
MIN
9
12
42.6
16.7
100.0
0.3
0.3
0.7
1.2
0.2
0.4
0.8
0.0
5.8
2018-19
MIN
51
27
48.2
37.0
85.6
0.7
2.1
2.8
4.3
1.1
0.6
1.6
0.2
18.0
2019-20
TED
50
26
49.0
30.6
87.1
0.5
1.9
2.4
5.6
1.0
0.8
2.5
0.3
18.1
2020-21 *
All Teams
50
26
47.0
38.8
86.6
0.4
2.2
2.6
4.2
1.1
1.0
1.6
0.4
14.7
2020-21 *
NYK
35
27
48.7
41.1
88.3
0.4
2.5
2.9
4.2
1.1
0.9
1.4
0.4
14.9
2020-21 *
TED
15
23
42.9
33.3
84.0
0.4
1.5
1.9
4.2
1.1
1.2
1.9
0.3
14.2
2021-22
NYK
26
25
44.5
40.2
96.8
0.8
2.2
3.0
4.0
0.6
0.9
1.5
0.5
12.0
Total
672
32
45.7
31.6
83.0
0.8
2.5
3.3
5.4
1.3
0.8
2.5
0.4
18.2