DeMar DeRozan: "Give me the complicated path" | NBA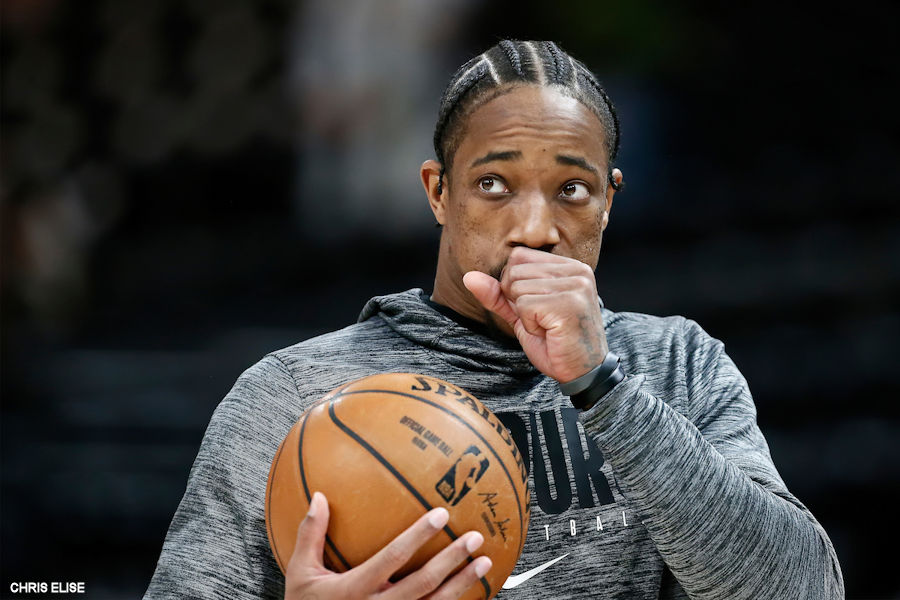 A native of Compton, DeMar DeRozan has known since childhood that life is made up of obstacles and that talent is not enough to get by. You have to be mentally strong, meet the right people, but also know how to accept challenges. Joining the Bulls is a new one, obviously far less dangerous than growing up in Compton, but it's in line with his career choices.
Besides, from high school, he had chosen to stay in Compton, and it was a challenge. "The program had nothing to do with it, and it was for me simply to have the opportunity to highlight it. It's just that I was too ambitious at a young age " DeRozan recalls, as he led high school to two Moore League titles.
After a stint at USC, he landed in the NBA, and there, headed for Canada at a time when no one was in a hurry to go there… He had no choice but he took it as a challenge. « I kept the same mentality I had by staying in the neighborhood, going to Compton High: 'Let me go here (to Toronto) and we'll see if I can leave an imprint there'.
This is what he will do, before being traded, against his will to Spurs. This summer, free agent, he therefore had the choice of his new destination, and while he was considering a return to Los Angeles, at home, it was therefore with the Bulls that he chose to pursue his career. Of course, the salary played, but he assures that it was also a way to take up a new challenge.
"Looking at Chicago, we say to ourselves that it was one more opportunity. A place where we can say to ourselves: « OK, we are going to make things happen, and it can become a huge thing ». You see what I mean ? It could be even bigger than anyone imagines. And that's what we live for. You see what I mean ? Like, we don't want the easy way or the ready-made way. Give me the complicated path. Let me make it simple. « 
DeMar DeRozan
Percentage
Rebounds
Season
Team
MJ
Min
Shots
3pts
LF
Off
Def
Early
Pd
Fte
Int
Bp
Ct
Pts
2009-10
TOR
77
22
49.8
25.0
76.3
0.9
2.0
2.9
0.7
2.3
0.6
0.8
0.2
8.6
2010-11
TOR
82
35
46.7
9.6
81.3
0.9
2.9
3.8
1.8
2.7
1.0
1.8
0.4
17.2
2011-12
TOR
63
35
42.2
26.1
81.0
0.6
2.7
3.4
2.0
2.6
0.8
2.0
0.3
16.7
2012-13
TOR
82
37
44.5
28.3
83.1
0.6
3.3
3.9
2.5
2.1
0.9
1.8
0.3
18.1
2013-14
TOR
79
38
42.9
30.5
82.4
0.7
3.7
4.3
4.0
2.5
1.1
2.2
0.4
22.7
2014-15
TOR
60
35
41.3
28.4
83.2
0.7
3.9
4.6
3.5
2.0
1.2
2.3
0.2
20.1
2015-16
TOR
78
36
44.6
33.8
85.0
0.8
3.7
4.5
4.0
2.1
1.0
2.2
0.3
23.5
2016-17
TOR
74
35
46.7
26.6
84.2
1.0
4.3
5.2
3.9
1.8
1.1
2.4
0.2
27.3
2017-18
TOR
80
34
45.6
31.0
82.5
0.7
3.2
3.9
5.2
1.9
1.1
2.2
0.3
23.0
2018-19
SAN
77
35
48.1
15.6
83.0
0.7
5.3
6.0
6.2
2.3
1.1
2.6
0.5
21.2
2019-20
SAN
68
34
53.1
25.7
84.5
0.7
4.9
5.5
5.6
2.7
1.0
2.4
0.3
22.1
2020-21
SAN
61
34
49.5
25.7
88.0
0.7
3.6
4.3
6.9
2.1
0.9
2.0
0.3
21.6
Total
881
34
46.0
28.1
83.3
0.7
3.6
4.4
3.8
2.3
1.0
2.1
0.3
20.2