Daryl Morey surprised that James Harden talks about his physical problems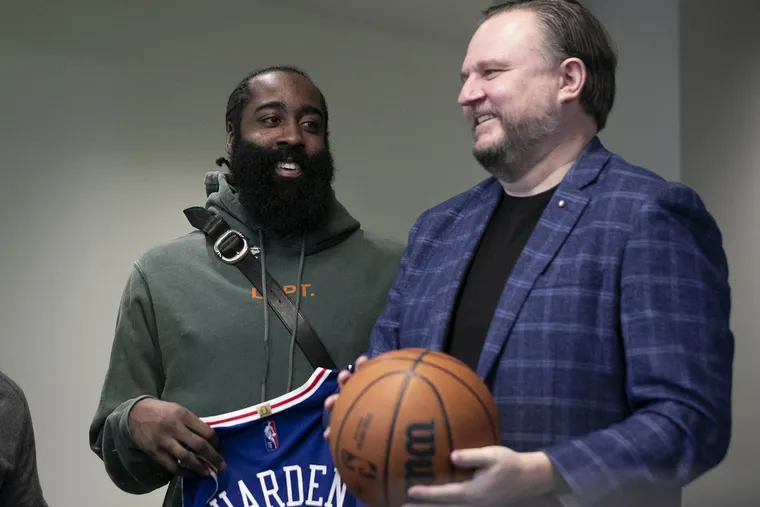 After leaving the playoffs through the back door, James Harden spoke about the physical issues that had slowed his performance lately. The Philadelphia star spoke in particular of « two long years »similar to a « whirlwind ».
« I'm finally starting to feel good again »he added in May, after the elimination against the Heat. "It will be a great summer for me to get my body back in shape and ready to go again for next year. »
Comments that surprised Daryl Morey. Precisely because the president of the Sixers knows « The Beard » well, whom he had brought to Houston in 2012, and it is not his habit to talk about his little sores.
« I would say that James, more than any other player I've worked with, never says when it's not right »explains the former GM of the Rockets for the podcast The Takeoff. "So it surprised me that he said that. If he says so, it's because there were big problems. He was one of the toughest players in the league before this hamstring thing. Last season, he never said he wasn't 100% because he never wants to make excuses, especially in the playoffs. He does not want to tell his teammates or his opponents that there is a problem. »
Thanks to his pay cut, the Sixers were able to sign Montrezl Harrell
A surprise that turns into admiration for the leader, even if the latter has sometimes tried to change the behavior of James Harden on this subject.
"During my career, I tried to push James to open up more, to say when he was in pain or whatever, in order to protect him. When I was at Houston he twisted his ankle and other players would have been out for weeks with an injury like that. He was playing again the next day. It was impressive. Sometimes it's braver than necessary, but you have to respect that spirit. »
Daryl Morey also paid tribute to the 2018 MVP for his financial « sacrifice » this summer. The player could re-stack for a season at 47.3 million dollars, but he decided to sign a new contract for 32 million for the 2022/23 financial year.
Thus, the former Thunder offered 15 million additional wage margin to the franchise. A check which then made it possible to recruit to strengthen the group.
"He did more, I think, than any other star to take such a low salary. Without that, we couldn't have recovered Montrezl Harrell. He left money aside, he was involved from day one, he does what Doc Rivers asks of him… I'm a guy who looks at advanced statistics. With Harden's passes, other players' shooting percentage is better. With Joel Embiid, he forms the best pair on pick-and-roll. He has a global impact and carries the team to help them win the title. »
James Harden
Percentage
Bounces
Season
Crew
GM
Minimum
Shots
3 points
LF
Off
Def
Early
pd
party
Int
bp
CT
Points
2009-10
OKAY
76
23
40.3
37.5
80.8
0.6
2.6
3.2
1.8
2.6
1.1
1.4
0.3
9.9
2010-11
OKAY
82
27
43.6
34.9
84.3
0.5
2.6
3.1
2.2
2.5
1.1
1.3
0.3
12.2
2011-12
OKAY
62
31
49.1
39.0
84.6
0.5
3.6
4.1
3.7
2.4
1.0
2.2
0.2
16.8
2012-13
HOO
78
38
43.8
36.8
85.1
0.8
4.1
4.9
5.8
2.3
1.8
3.8
0.5
25.9
2013-14
HOO
73
38
45.6
36.6
86.6
0.8
3.9
4.7
6.1
2.4
1.6
3.6
0.4
25.4
2014-15
HOO
81
37
44.0
37.5
86.8
0.9
4.7
5.7
7.0
2.6
1.9
4.0
0.7
27.4
2015-16
HOO
82
38
43.9
35.9
86.0
0.8
5.3
6.1
7.5
2.8
1.7
4.6
0.6
29.0
2016-17
HOO
81
36
44.0
34.7
84.7
1.2
7.0
8.1
11.2
2.7
1.5
5.7
0.5
29.1
2017-18

★

HOO
72
35
44.9
36.7
85.8
0.6
4.8
5.4
8.8
2.4
1.8
4.4
0.7
30.4
2018-19
HOO
78
37
44.2
36.8
87.9
0.9
5.8
6.6
7.5
3.1
2.0
5.0
0.7
36.1
2019-20
HOO
68
37
44.4
35.5
86.5
1.0
5.5
6.6
7.5
3.3
1.8
4.5
0.9
34.3
2020-21 *
All Teams
44
37
46.6
36.2
86.1
0.8
7.1
7.9
10.8
2.3
1.2
4.0
0.8
24.6
2020-21 *
BRK
36
37
47.1
36.6
85.6
0.8
7.7
8.5
10.9
2.4
1.3
4.0
0.8
24.6
2020-21 *
HOO
8
36
44.4
34.7
88.3
0.6
4.5
5.1
10.4
1.8
0.9
4.3
0.8
24.8
2021-22 *
All Teams
65
37
41.0
33.0
87.7
0.9
6.9
7.7
10.3
2.4
1.3
4.4
0.6
22.0
2021-22 *
BRK
44
37
41.4
33.2
86.9
1.0
7.0
8.0
10.2
2.4
1.3
4.8
0.7
22.5
2021-22 *
PHL
21
38
40.2
32.6
89.2
0.6
6.5
7.1
10.5
2.3
1.2
3.4
0.2
21.1
Total
942
35
44.2
36.1
86.0
0.8
4.8
5.6
6.8
2.6
1.5
3.8
0.5
24.9