Dallas has found the right formula: the pleasure of defending well | NBA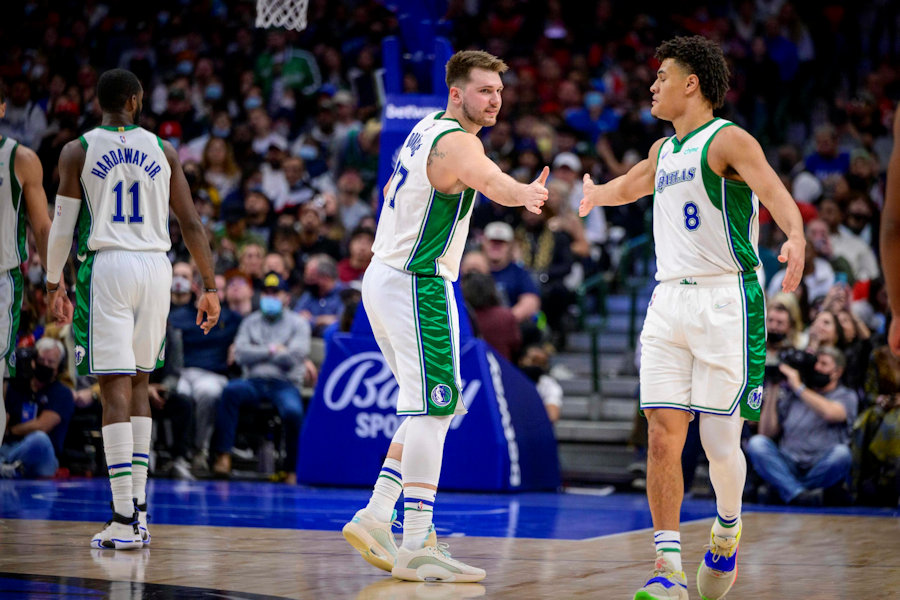 We do not know if it is the withdrawal of Dirk Nowitzki's jersey that inspires the Mavericks, but for the first time since the title year, in 2011, Dallas continues a 6th straight victory. It is all the more remarkable that Luka Doncic's teammates juggle between injuries and isolation, but also because last night, they dominated the Bulls who remained on nine straight victories!
« There are perfect waves, really perfect and new » reacted Jalen Brunson after this success against Chicago. "But I will improve them further. I think they're so perfect because nobody cares about their personal bests, nobody cares about jersey withdrawals, nobody cares about the opponent's record… We treat every game the same. This is why this series is so special. The coaches put us in the best conditions to be successful, and the guys are completely on board. That's really what's cool about it all, and I don't think we're gonna let go anytime soon. As long as we focus on defense, we'll be in good shape. «
If criticized for several years for his lack of enthusiasm in defense, Dallas has been discovering a defense for a few weeks, and Jalen Brunson is precisely the leader. Rick Carlisle is no longer here, and Jason Kidd has apparently managed to find the right formula. And it is all the more convincing since it is his assistant, defense specialist, Sean Sweeney who is in command during his quarantine.
« We defend very well, and more importantly, we have fun »
« The defensive cohesion combined with the effort is really very strong lately » Sean Sweeney points out. "We do a really good job of getting the game plan in hand, and if we're faced with something we haven't prepared, we help each other out when necessary. «
Result: last night, the Mavericks limited the best offense in the NBA to 99 points, and in this series of six victories, they collect on average only 93 points and win with an average difference of 16 points!
» It's amazing » continues Luka Doncic, author of his 39th career triple-double. "The whole team plays together. We defend very well, and more importantly, we have fun. We realize that we can beat good teams. We just beat Golden and Chicago, the two leaders. We can stand up to anyone. «
What Luka Doncic appreciates is the slaughter of his "role players". « We have guys who sacrifice a lot in defense, and we defend collectively » he insists. Among them is Maxi Kleber, who reveals himself in the absence of Kristaps Porzingis. Last night, he thought he was Dirk Nowitzki with his 6/9 3-point: " The key to our victories is defense. Even if our shots don't fall in, defense allows us to win matches. «
Besides « defense », the words « collective » and « pleasure » have often returned this night in the reactions of the players and the coach. » We grow as a team. Our cohesion is much better on the ground " explains Jalen Brunson. "And now, we are united. When things go wrong, we don't fall for it. We continue to rely on what we do. We try to have a mentality of guys who never give up. Right now, we have the right frame of mind, and we also have fun, and that is the most important. «
Shots
Rebounds
Players
MJ
Min
Shots
3pts
LF
Off
Def
Early
Pd
Bp
Int
Ct
Fte
Pts
Luka Doncic
24
34.8
44.3
31.8
71.3
0.7
7.3
8.0
8.8
4.7
1.2
0.5
2.5
25.0
Kristaps Porzingis
26
30.4
45.1
28.2
88.3
2.2
5.8
8.0
2.3
1.5
0.8
1.7
2.3
20.6
Jalen brunson
38
30.8
49.3
33.3
77.1
0.6
3.1
3.7
5.6
1.7
0.8
0.1
1.9
16.0
Tim Hardaway Jr.
33
30.7
39.3
33.6
74.1
0.4
3.5
3.9
2.5
0.7
0.9
0.2
1.8
14.7
Dorian Finney-smith
38
32.2
45.2
38.1
66.0
1.6
3.2
4.8
2.0
0.9
1.2
0.6
2.4
10.5
Brandon knight
3
18.2
45.0
30.8
100.0
0.0
2.3
2.3
2.7
1.3
0.3
0.0
1.7
10.0
Trey burke
19
13.6
43.0
32.7
94.1
0.1
1.1
1.2
2.1
0.8
0.4
0.0
1.0
7.5
Maxi Kleber
24
24.5
41.3
34.9
73.1
1.2
5.0
6.2
1.0
0.7
0.5
0.9
2.2
7.2
Dwight Powell
39
20.2
60.5
42.9
70.5
2.1
2.6
4.6
1.1
0.7
0.5
0.4
2.4
7.1
Reggie Bullock
32
24.5
37.7
31.8
76.5
0.2
2.7
2.9
1.1
0.6
0.4
0.2
1.4
6.6
Marquese Chriss
9
12.3
58.1
44.4
62.5
0.9
3.3
4.2
0.2
1.0
0.2
0.4
3.0
6.6
Isaiah thomas
1
13.3
37.5
0.0
0.0
0.0
0.0
0.0
4.0
0.0
0.0
0.0
0.0
6.0
Frank Ntilikina
29
15.0
37.4
34.7
100.0
0.2
1.4
1.6
1.6
0.7
0.7
0.1
1.3
5.1
Boban Marjanovic
16
6.0
62.5
33.3
50.0
0.4
1.4
1.9
0.1
0.7
0.0
0.1
1.2
4.9
Sterling brown
31
15.2
41.7
35.6
90.0
0.6
3.1
3.7
0.9
0.6
0.4
0.2
1.2
4.2
Josh green
24
11.3
53.8
28.6
75.0
0.6
1.2
1.8
1.1
0.4
0.5
0.2
1.3
3.6
Moses brown
23
6.9
58.7
0.0
62.8
0.6
1.8
2.4
0.0
0.6
0.1
0.3
1.2
3.5
Theo Pinson
10
9.3
29.6
25.0
100.0
0.0
1.6
1.6
1.2
0.2
0.4
0.2
0.9
2.5
Willie cauley-stein
18
9.8
45.7
50.0
50.0
0.7
1.4
2.1
0.5
0.4
0.3
0.2
0.9
1.9
Eugene Omoruyi
4
4.5
40.0
50.0
50.0
0.5
1.2
1.8
0.5
0.0
0.0
0.0
0.5
1.8
Charlie brown
3
5.1
20.0
0.0
0.0
0.0
0.3
0.3
0.3
0.0
0.7
0.3
0.7
0.7
Carlik Jones
3
6.4
0.0
0.0
100.0
0.3
0.7
1.0
1.7
1.0
0.3
0.0
0.0
0.7
George king
4
4.8
0.0
0.0
50.0
0.0
1.2
1.2
0.0
0.2
0.0
0.0
1.0
0.2
Jaquori Mclaughlin
4
2.7
0.0
0.0
0.0
0.0
0.0
0.0
0.5
0.0
0.0
0.0
0.2
0.0