Colossal, Giannis is unprecedented in history!
Very fit at the start of the season, Giannis Antetokounmpo has achieved something never before seen in the history of the league. Even though the Bucks still have issues, they can count on the Greek Freak to get them back on track.
With an average record of 3 wins for 4 losses, the Bucks are not making a big start to the season. You still have to pick up your pace after the summer, even if Giannis Antetokounmpo is already very fit. It was seen this Tuesday night, since it was invaluable in the success of his team, 117-89 against the Pistons.
This game had to be won against one of the worst franchises in the NBA today, and the contract is fulfilled for Mike Bundenholzer's men. The latter can also thank the Greek Freak, who achieved something unprecedented in history to validate this victory.
Giannis' mind-blowing stat line
In just 27 minutes on the floor, the former MVP finished with 28 points, 9 assists and 8 rebounds, in addition to 4 blocks on the floor. It's impressive to achieve all of this in such a short time, and it's even unprecedented according to the StatMuse site. Shaquille O'Neal (32 minutes) and others have already managed to get it all out, but never so quickly.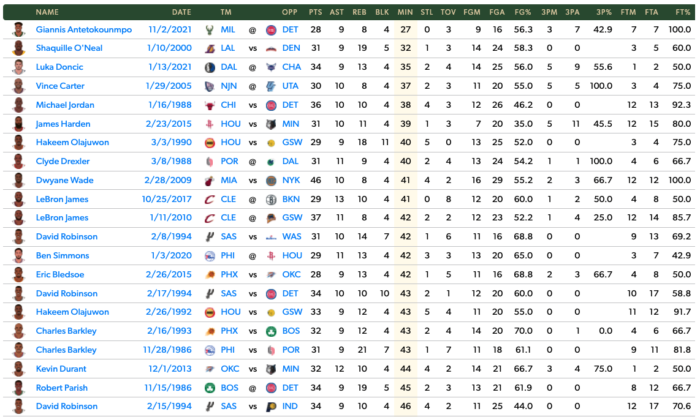 Proof that the Greek's performance is phenomenal, but above all reminds us that he has also been a hit since the start of the season. Lucky for Milwaukee, where their place might be at the bottom of the Eastern Conference. It's up to them to find a solution.
Excellent, Giannis Antetokounmpo continues his carnage with the Bucks. The season is still long, and Khris Middleton will have to follow him soon if the franchise is to figure well in the Eastern Conference. In the meantime, the Greek Freak takes care of everything.