College Football, Week 5 – UCLA in great shape. Oklahoma in the middle of a nightmare.
Lots of big games this week in the college league. Leaders Georgia and Alabama have scared each other, while UCLA and Oklahoma confirm in their respective conferences, and Oklahoma continues to sink.
---
Chip Kelly and UCLA keep pace with the Trojans
UCLA (5-0) 40 – (15) Washington (4-1) 32
(6) USC (5-0) 42 – Arizona State (1-4) 25
Before this 5th day, 3 teams arrived undefeated in the Pac-12 conference: USC, Washington and UCLA. And the last two cities clashed.
In a game at stake, against the Huskies ranked number 15 in the last top 25, UCLA was level to keep its perfect record. The attack was particularly convincing, in the wake of QB Dorian Thompson-Robinson. Suddenly spectacular actions, he finished with 315 yards and 3 touchdowns in the air and 53 yards and 1 other touchdown on the ground. RB Zach Charbonnet helped with 124 yards and 1 touchdown.
Chip Kelly has been in charge of the Bruins for 5 years now, and the work may finally pay off this season. Promises had already been seen last year, with a positive record for the first time under Kelly (8-4). Going back to last season, UCLA is on an 8-game winning streak, including 7 with over 40 points scored. The next game against a big team from Utah (4-1) can definitely confirm this rise of the Bruins.
Meanwhile, USC cemented its status as a team to beat in the Pac-12, with a comfortable win over Arizona State (1-4). Caleb Williams was still very good, with 348 yards (including 105 for Jordan Addison) and 3 touchdowns (1 INT) in the air, as well as 44 yards and 1 touchdown on the ground.
Scares for Georgia and Alabama
Missouri (2-3) 22 – (1) Georgia (5-0) 26
(20) Arkansas (3-2) 26 – (2) Alabama (5-0) 49
It had been a long time since we had seen the Bulldogs suffer so much. Trailing 16-6 at halftime by Missouri, they had to seriously accelerate to avoid an upset against an unranked team. Ineffective in the redzone for much of the game, they took the lead only 4 minutes from the end. Nothing to worry about right now, as Georgia remains undefeated, but there are still some big dangerous away games this season, like at Mississippi State, Kentucky or Tennessee.
For Alabama, the scare is actually not related to the outcome of the game, but rather to the state of health of Bryce Young. The Crimson Tide QB is out with a shoulder injury, and according to his coach Nick Saban, he is doubtful for the next game. Hopefully it's not too bad, although Alabama continued to play well without him against Arkansas. RB Jahmyr Gibbs notably took over, signing a mammoth performance on the ground (206 yards, 2 TD). Moreover, the Tide dominated in this sector with 317 yards and 5 touchdowns in total.
Clemson and DJ Uiagalelei confirm
(5) Clemson (5-0) 30 – (10) NC State (4-1) 20
Second straight victory against a ranked opponent for the TIgers, with different styles each time. Last week, Clemson had to keep pace with Wake Forest in a high-flying aerial duel. This weekend against NC State, the offense played more physical and made the difference on the ground. And QB DJ Uiagalelei has shown he can perform on both counts. In total, Clemson has gained 145 yards on the ground, including 73 for the quarterback, who also scores a double. Uiagalelei adds 209 yards and 1 touchdown through the air. Enough to take revenge on the Wolfpack, who won last year.
The Tigers thus confirm their status as a top 5 team, and with a quarterback at this level, they can clearly envisage a return to the playoffs.
The Sooners sink. The Badgers hit rock bottom.
TCU (4-0) 55 – (18) Oklahoma (3-2) 24
Wisconsin (2-3) 10 — Illinois (4-1) 34
Ranked in the top 10 before the start of the season, the Sooners have lost all credibility in the last two weeks. Because 7 days after a setback against Kansas State for their first conference game (34-41), they took a slap at TCU. Quickly overtaken, Oklahoma was already down 27-10 at the end of the 1er quarter and 41—17 at the break, then ended up taking 55. And to finish off Brent Venables' men, QB Dillon Gabriel was out injured and could be out for a while.
Oklahoma has already lost twice, and the stats are catastrophic. Of the 2 losses, the team conceded 1,177 yards and 96 points! And the problem is that it could still go downhill because the Red River Showdown against Texas is coming up next week, then a duel against an undefeated Kansas team will follow…
A little word also for Wisconsin, which continues its descent into hell. The Badgers' offense doesn't work, both in the air and on the ground, and often returns the ball. Faced with Illinois on Saturday, they thus "gained" 2 yards in 24 runs, and they returned the ball to the opponent 3 times. Balance sheet, a 3th defeat in 5 games, and coach Paul Chryst was dismissed just after the debacle.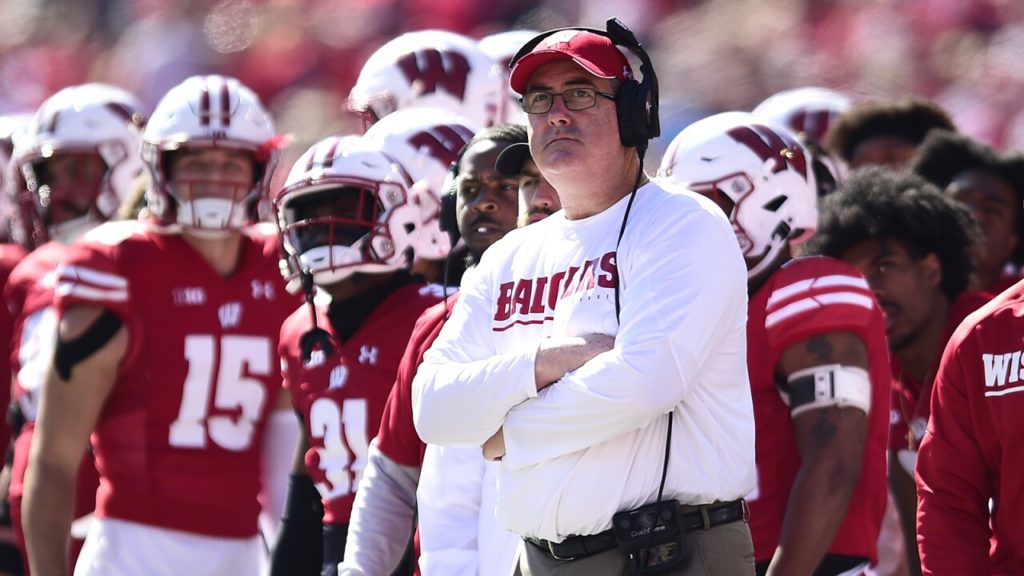 Oklahoma State and Kansas still unbeaten in the Big 12
(16) Baylor (3-2) 25 – (9) Oklahoma State (4-0) 36
Kansas (5-0) 14 – Iowa State (3-2) 11
To return to the Big 12, which will therefore escape Oklahoma, the big favorite has become the other state program: Oklahoma State. The Cowboys confirmed it by beating Baylor, in a beautiful remake of the last conference final. QB Spencer Sanders, who had launched 4 interceptions during this famous lost final, was much better this weekend with 250 yards and 2 touchdowns in total. Now, OSU seems to be the Big 12's only hope for the playoffs.
We must also talk about Kansas, which continues its beautiful story with a 5th victory in as many games. Accustomed to surprising their opponents with a powerful offense, the Jayhawks released their best defensive game in a long time to resist the Cyclones. The program should be rewarded with a top 25 appearance this week.
Nice weekend in Mississippi
(14) Ole Miss (5-0) 22 – (7) Kentucky (4-1) 19
Mississippi State (4-1) 42 – (17) Texas A&M (3-2) 24
For the first time since 2014, Ole Miss is 5-0. And the latest victory is prestigious for Lane Kiffin's team, against an undefeated team so far and ranked in the top 10. Orphans of Matt Corral, gone to the NFL, the Rebels rely much more on their ground game and on their defence. Against Kentucky, the racing game posted 186 yards and 2 touchdowns, and the defense notably 2 fumbles from Will Levis late in the game. Ole Miss should enter the top 10 this week.
On the side of Mississippi State, a return to the top 25 should be in order after the big victory against Texas A&M. The Bulldogs largely dominated this meeting, thanks in particular to a very good performance from QB Will Rogers (329 yards, 1 TD). For the Aggies, this second loss of the season puts a little more pressure on Jumbo Fisher.
---
The other important results of the weekend
(3) Ohio State (5-0) 49 — Rutgers (3-2) 10
Iowa (3-2) 14 – (4) Michigan (5-0) 27
(11) Penn State (5-0) 17 – Northwestern (1-4) 7
(13) Oregon (4-1) 45 – Stanford (1-3) 27
(23) Florida State (4-1) 21 – (22) Wake Forest (4-1) 31
---
The best performances of the week
passes
Jayden of Laura (Arizona): 33/46, 484 yards, 6 TD
Holton Ahlers (East Carolina): 31/41, 465 yards, 6 TD
Drake Maye (North Carolina): 26/36, 363 yards, 3 TD
Races
Miyan Williams (Ohio State): 21 carries, 189 yards, 5 TDs
Jahmyr Gibbs (Alabama): 18 carries, 206 yards, 2 TDs
Marquez Cooper (Kent State): 40 carries, 240 yards, 2 TDs
Receptions
CJ Johnson (Eastern Carolina): 7 receptions, 197 yards, 4 TDs
Dante Cephas (Kent State): 13 receptions, 246 yards, 1 TD
Jimmy Horn Jr (South Florida): 8 receptions, 180 yards, 2 TDs