Coefficient. UEFA: France consolidates its 5th place!
With three victories (Lille, Lyon, Rennes) and three draws (PSG, Marseille, Monaco), the French clubs end a new European week without the slightest defeat. And confirm the good start to the season for France's teams in European Cups. With 8,750 points garnered since the start of this 2021-2022 fiscal year, which is already more than last season (7.916 points), France is still 3rd in the ranking of UEFA coefficients for the current season, behind the Netherlands. (10,400 points) and England (9,285 points).
In the ranking of UEFA coefficients over the 2017-2022 period, the reference period for the allocation of European places, France still occupies 5th place with 50.415 points. She took the opportunity to widen the gap even further with her main pursuer, Portugal, who have 47.049 points. The Netherlands, which will erase a deficit of 8,600 points (2017-2018) at the start of next season, remain threatening despite the current 9.915 points difference with France.
As a reminder, if France remains 5th in the ranking by 2023, it will obtain four tickets (3 + 1), against three currently (2 + 1), for the new formula of the Champions League from the 2024 edition. -2025.
The TOP 15 UEFA coefficients for the 2017-2022 period (as of 05/11/2021)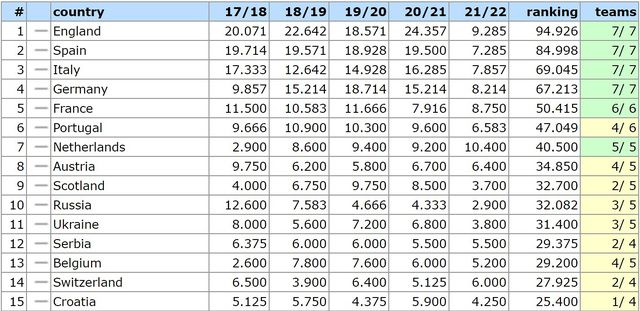 Read 4.773 times – by Romain Rigaux on 11/05/2021 at 11:44 am