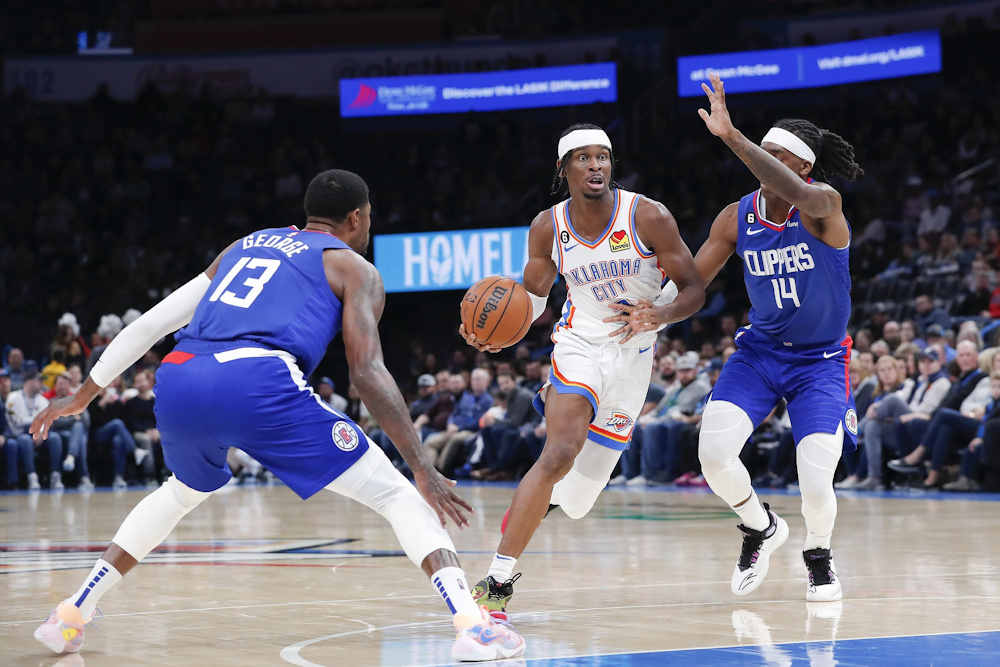 It's not just the Lakers who are doing badly in Los Angeles since the Clippers suffer their third defeat in a row tonight! And the most humiliating thing is that it is the second in a row at OKC, one of the weakest teams in the NBA. We also expected a reaction from the Clippers, and it is the opposite that occurs at the start of the match. The Thunder is unleashed, to the point of taking an 18-point lead (30-12)! Lu Dort finally finds the target, and Shai Gilgeous-Alexander walks into the racket. But the Clippers have pride, and Reggie Jackson and Norm Powell wake up, they level with Ivica Zubac, and Tyronn Lue's men pass in front at the break (60-53).
We think they have done the hardest part, but they are falling back into their ways. The defense on the outside is catastrophic, and the stray bullets follow one another (19 in total). Tre Mann strikes first to equalize, then "SGA" takes over. Opposite, Paul George does not succeed, and OKC signs a 7-0 to take a little air (96-89). The game is balanced and several times the Clippers return to one unit. Five minutes from the end, Aleksej Pokusevski knocks out the Clippers with a 3-pointer. His teammates continue on a 15-2. It's over, OKC won 118-110!
WHAT YOU MUST REMEMBER
– Still no Kawhi Leonard. The Clippers will therefore have played the two games at OKC without their leader. His knee creaks, and it's as if it had demoralized the whole team!
– A one-way "money time". Enthusiasm got the better of experience… In front of an elated audience, the young Thunder had saved the best for last with 13 points scored in two minutes! The immense Pokusevski had shown the way, and Gilgeous-Alexander was responsible for finishing the job.
TOPS & FLOPS
✅ Lu sleeps. He was angry with his shoot, and he woke up! A nice 9 out of 15 on shots for the Canadian, also interesting for his defense on Paul George. A real « two-way player », the perfect alter ego of SGA.
✅ Shai Gilgeous-Alexander. The quiet force. He accelerates when he wants to, and against defenders who are not very concerned, he was able to play as he wanted. As we have seen in the « money time », he also knows how to be forgotten to better punish later.
✅ Ivica Zubac. It is the most consistent of the Clippers at the start of the season, especially on the rebound. However, he is only the 3rd or 4th option in attack, but he does the job.
⛔️ Paul George. Absent Tuesday, we saw that he was not on his plate. The Clippers looked for him a lot, but he finished 10 points on 4 of 12 on shots. Its +/- is terrible: -25!
THE FOLLOWING
– Thunder : trip to Dallas in the night from Saturday to Sunday
– Clippers : break until Sunday and the reception of the Pelicans in "prime time"
Oklahoma City

/

118
Shots
Bounces
Players
Minimum
Shots
3 points
LF
O
D
T
pd
party
Int
bp
CT
+/-
Points
Rating
J. Robinson Earl
15
2/4
1/2
0/0
1
1
2
2
2
0
0
0
+7
5
7
L. Dort
34
9/15
1/5
2/2
1
2
3
4
4
2
1
0
+18
21
23
S. Gilgeous-Alexander
34
10/23
2/4
2/2
1
4
5
6
4
3
3
0
+12
24
22
T. Mann
22
5/12
4/7
0/0
1
2
3
3
3
2
1
0
+14
14
14
A. Wiggins
35
4/7
3/6
0/0
1
5
6
3
3
1
1
0
+16
11
17
D. Bazley
22
4/9
1/2
0/0
3
6
9
1
0
0
1
3
-2
9
16
A. Pokusevsky
26
6/11
3/5
0/0
3
2
5
4
3
0
3
1
+2
15
17
O.Dieng
13
1/3
0/2
0/0
0
0
0
1
1
0
0
0
-10
2
1
K.Williams
26
5/8
2/4
0/0
1
0
1
3
1
2
0
0
-9
12
15
Mr Muscala
12
1/3
0/1
3/4
0
1
1
1
0
0
0
0
-6
5
4
I.Joe
1
0/0
0/0
0/0
0
0
0
0
1
0
0
0
-2
0
0
47/95
17/38
7/8
12
23
35
28
22
10
10
4
118
136
LA Clippers

/

110
Shots
Bounces
Players
Minimum
Shots
3 points
LF
O
D
T
pd
party
Int
bp
CT
+/-
Points
Rating
N. Powell
31
9/15
2/7
1/2
1
2
3
2
2
0
3
1
-16
21
17
I. Zubac
34
4/9
0/0
4/6
5
13
18
2
2
0
1
1
-14
12
25
R.Jackson
37
8/13
2/4
0/0
0
2
2
4
1
1
0
0
-17
18
20
P.George
31
4/12
0/4
2/2
0
7
7
3
1
0
3
0
-25
10
9
T. Mann
21
3/5
0/2
0/0
1
0
1
0
4
1
3
1
+8
6
4
N. Batum
21
3/4
1/2
0/0
1
1
2
2
2
2
3
1
-14
7
10
R. Covington
15
1/2
1/2
0/0
0
4
4
1
2
0
1
0
+6
3
6
Mr Diabate
2
1/1
0/0
1/1
0
3
3
1
0
0
0
0
+6
3
7
Mr. Brown
2
1/1
0/0
1/2
0
0
0
0
0
0
0
1
+6
3
3
J.Wall
21
6/12
1/3
4/5
1
3
4
6
1
0
1
0
+7
17
19
L. Kennard
17
4/5
2/3
0/0
1
0
1
0
1
1
4
0
-2
10
7
A.Coffey
6
0/3
0/1
0/0
0
0
0
0
1
0
0
0
+9
0
-3
B.Boston
2
0/0
0/0
0/0
0
0
0
0
0
0
0
0
+6
0
0
Total
44/82
9/28
13/18
10
35
45
21
17
5
19
5
110
124