Cleveland tries not to ignite | NBA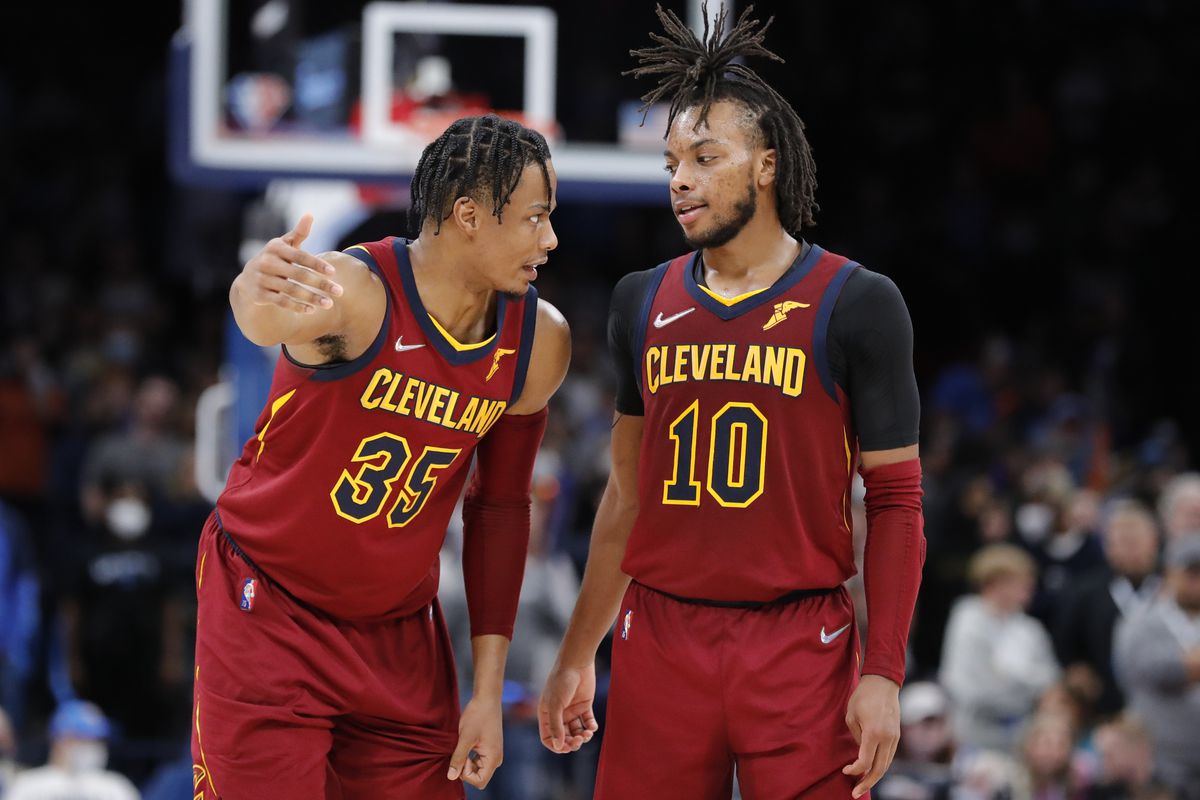 The injuries accumulate in Ohio, but the Cavaliers continue to unfold their basketball, with a sixth victory in seven games, acquired this night against the Thunder. After losing Collin Sexton and Ricky Rubio for the season, JB Bickerstaff will have to do without Lauri Markkanen (ankle sprain) for several weeks, but the squad is rich and the collective is well in place. But be careful, because the Eastern Conference is very dense this season, and a bad series can quickly bring you down a few places.
» We are talking about it. We are attentive » explains JB Bickerstaff about any overconfidence. "We took the game but it was a disappointing performance from us. We did not approach the meeting with the necessary seriousness. It's over, and we won, but we can't afford to play like this. »
"When you are the team to beat, you have to raise your level of play a little more"
Author of a big double-double, and his best mark on the rebound, Evan Mobley confirms that there was a discussion at the break.
"We talked about it at halftime. The coach was not very happy, and neither were we. Same thing at the end of the game. I had the feeling that we did not have the necessary energy. We have to give our all for the whole match, and not believe that victory is already achieved. Even if we lead, we have to continue playing our style of basketball. »
Clearly, this success against the Thunder is a real booster shot for the Cavaliers. They've outplayed one of the weakest teams in the league, and there's nothing positive to take from that.
"You have to have an overall awareness of the objective we are trying to achieve and the seriousness of each match," said JB Bickerstaff. "It is part of our progression and our maturity. There are games like this where if you lose you find out in April that they matter…"
For Darius Garland as for his coach, the Cavaliers must behave like outsiders, while bearing in mind that they have become a team to beat.
"Everyone is trying to beat us. When you are the team to beat, you have to raise your level of play a little more" notes Darius Garland. « That's the deal with the coach. »
"Little by little, we are gaining the respect of the league"
And what is this deal? "We should approach every game as if we were the underdogs. This is how we were built. When you feel like the underdog, you are the hunter. You know you have to beat them, and you have to play well and with a competitive spirit. We shouldn't change our attitude because we haven't done anything about it yet. There is no reason to change our approach and our attitude. Our goal exceeds 82 matches. Until we complete the puzzle, we haven't done anything. Our approach should not change. We are the underdogs. »
For Kevin Love, there is nothing to worry about. That the team is aware of this is already a positive point.
"I think little by little we are gaining the respect of the league" concludes Cavaliers interior. "But that's what we were looking for at the start of the season: to show that we are capable of being a team that can go to the playoffs. I think the teams will continue to see that we are one of the teams in the East that has a chance to make some noise in the second half of the season. But I think that underdog mentality is something you either have or you don't. This team certainly has it, especially with its hard core. This identity and this culture has been huge for us and has not been forced. It's just in the DNA of who we are. »
Shots
Bounces
Players
GM
Minimum
Shots
3 points
LF
Off
Def
Early
pd
bp
Int
CT
party
Points
Darius Garland
40
34.7
46.9
36.6
91.0
0.6
2.8
3.4
8.0
3.6
1.2
0.1
1.7
19.8
Jarrett Allen
39
32.7
69.5
12.5
69.7
3.3
7.6
10.9
1.8
1.9
0.8
1.4
1.8
16.3
Collin Sexton
11
28.8
45.0
24.4
74.4
1.2
2.1
3.3
2.1
2.8
0.9
0.0
2.3
16.0
Evan Mobley
38
34.2
51.1
29.6
70.6
1.7
6.2
7.8
2.6
1.8
0.8
1.7
2.1
15.0
Kevin Love
38
21.3
43.4
40.3
88.6
1.1
6.0
7.1
2.1
1.2
0.3
0.2
0.9
14.0
Lauri Markkanen
37
30.7
43.3
33.5
86.3
1.1
4.3
5.4
1.5
0.8
0.8
0.5
1.8
13.7
Ricky Rubio
34
28.5
36.3
33.9
85.4
0.4
3.7
4.1
6.6
2.6
1.4
0.2
2.2
13.1
Cedi Osman
34
22.7
43.1
36.3
65.5
0.4
2.1
2.5
1.7
0.9
1.0
0.2
1.8
10.7
Rajon Rondo
3
21.7
41.7
42.9
83.3
0.3
3.7
4.0
4.7
2.3
1.0
0.0
2.0
10.3
isaac okoro
31
28.0
45.2
30.2
73.0
1.1
2.2
3.2
1.8
1.1
0.8
0.3
2.5
9.0
Malik Newman
1
7.7
60.0
0.0
100.0
0.0
1.0
1.0
1.0
1.0
0.0
0.0
0.0
8.0
Brandon Goodwin
8
15.9
41.3
30.8
30.0
0.5
1.8
2.2
3.5
0.8
1.0
0.0
1.4
5.6
lamar stevens
30
15.2
46.4
34.2
63.6
0.7
1.6
2.4
0.7
0.5
0.4
0.2
1.5
5.2
Dean Wade
31
18.6
42.9
32.9
76.9
0.7
2.4
3.2
1.1
0.4
0.5
0.1
1.5
4.6
justin anderson
3
15.5
50.0
33.3
75.0
0.0
2.0
2.0
2.0
0.7
0.3
0.0
1.3
4.3
Dylan Windler
30
10.7
45.1
41.2
87.5
0.4
1.5
1.9
0.8
0.3
0.3
0.1
1.0
3.1
Tre Scott
2
5.7
50.0
0.0
0.0
0.5
0.5
1.0
0.0
0.0
0.5
0.5
1.0
3.0
Denzel Valentine
22
9.3
37.1
40.9
0.0
0.4
1.3
1.7
0.5
0.5
0.3
0.0
0.8
2.9
Luke Kornet
2
7.4
20.0
0.0
66.7
1.0
0.5
1.5
0.5
0.0
0.0
0.5
0.5
2.0
Kevin Pangos
20
8.0
33.3
23.1
75.0
0.1
0.5
0.6
1.5
0.3
0.1
0.0
0.5
1.9
Rj Nembhard
6
7.0
45.5
0.0
50.0
0.0
0.3
0.3
1.7
0.2
0.0
0.0
0.3
1.8
Ed Davis
13
8.7
75.0
0.0
16.7
0.4
2.5
2.8
0.1
0.2
0.2
0.5
1.3
1.5
Tacko Fall
11
5.3
41.7
0.0
28.6
0.6
1.5
2.1
0.2
0.3
0.0
0.5
0.3
1.1