Christopher Hardy: "everyone has fallen in love with our sport! « PlanetGrimpe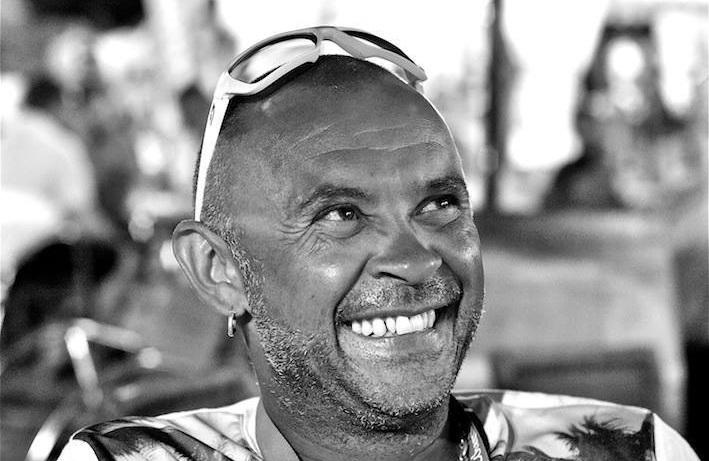 The Olympics barely finished, we went to meet Christopher Hardy, THE speaker of climbing in France for many years. For this first Olympic year of climbing, Christopher was at the helm of Eurosport to comment on the climbing events, and it is therefore quite natural that we wanted to collect his impressions after 4 intense days of emotions.
---
So recovered from your emotions after these Olympics?
How to tell you, not at all! It's going to be like in Paris 2016, big blues behind. A little bitter taste that it ends, to still see the Olympics on TV but the climb is over, but it was fabulous, too many emotions, we vibrated, so impatient that we find the next competition …
What did you think ?
These first Olympics made a MAGISTRAL entry into the world of Olympism, the Olympic motto really corresponds to our sport. Technically, the combined, we can say what we want, it's super exciting, we see the 3 disciplines, with a lot of suspense. Everyone fell in love with this sport, really great entry to climbing. Small flat on the images of the first day, it was time for the cameramen to get their hands dirty, it was quickly rectified on the following days!
I also want to say that for this first, climbing was super well treated, with crazy structures, great organization, a highlight as climbing deserved, really hats off!
Tell us about the results of these Olympics …
Sportingly speaking, big congratulations to the Mawem brothers during the qualifiers, they climbed beyond their maximum level, it was crazy, especially for Micka! Bassa did the job quickly, we knew it! For Micka, he flew over the boulder, nothing more to say, it was crazy …
Regarding Adam Ondra, let's face it, the Olympics are the holy grail for athletes, when you are accompanied to the airport by the President of the Czech Republic, you have monstrous pressure on your shoulders. We are disappointed for Megos or Ondra, but I'm not surprised, the Olympics are also the competition of the underdogs and not always the favorites, and this is due to incredible pressure on the spot, people have to do it. understand.
In the men's final, Alberto was very lucky that Bassa was not at the start of the speed. And the only run that Tomoa misses is against Alberto! He would have missed this run against Micka, that changed everything … it is played for nothing, but that's also the charm of climbing, Olympism and this combined.
Coleman, how to say … We understood that the American team was in place with the arrival of the Olympics, they have young mutants. On the World Cups they will change the scenery… And again on these Olympics, Duffy could have done even better…
And how not to talk about Schubert who gives us a crazy comeback, he does not let go until the end as he knows how to do and he dismantles the way of diff! It was huge!
On the girl side, for the qualifiers, it was great. Anouck she managed to take her place in the final thanks to her performance in block! In the final, she fell in front of the Polish on speed, and there it was difficult to get her, especially as she broke the world record. Right now, it's crazy how the speed progresses, they are all training like crazy, it's mutant!
Janja? She crushed the qualifying block, but we are so happy that she is Olympic champion, we would have been super disappointed if she did not win, more than for Adam Ondra. The Japanese were also solid, happy for Akiyo for the end of her career, she is a great lady of climbing she has done a lot for the sport. And then Brooke Raboutou, a little disappointed, she deserved to bring something back, frankly on this bouldering final which was not very beautiful to watch it was not unworthy, it could have changed the course of things.
A little word for Bassa following his injury?
A little word for Bassa, of course! Bassa, you are an Olympic record holder, your time will remain on the shelves for 3 years. You were a great man, you can be proud of yourself, the Mawem brothers, you go with your head held high, what you have done is just exceptional, and you have transformed the way France looks at our discipline.
I hope you don't suffer too much with your arm. I know there are hard times to come with a big surgery and all that goes with it. Thank you for who you are and for everything you've done for years. 5s45 is the old world record, the speed is changing but you are still there, at the forefront of your discipline so congratulations, and thank you for the man you are and the mentality you have, all you have made for your brother. Bassa in a nutshell, just MAGIC!
Tell us about your time at Eurosport to comment on these games …
I arrived with a bit of stress. I had never really commented behind the screens. The first day I had to make a tray and it was canceled, I got up early for nothing. I arrived and there I understood that we were going to make holes because they did not know our sport. The first day we had to do 40% of the speed, 20% of the bouldering and 10% of the diff. So there I said to myself, if it's like that, it won't make me laugh at all. And then at the end of this first day, everyone at Eurosport hallucinated in front of the climbing: « it's too good your sport » « we love » « you comment too well », and the next day, they told me gave a channel on eurosport.fr for me to comment on everything.
So the next day we were able to do all the qualifiers for the girls, and there everyone loved it, the outlook on our sport has changed. On the 3rd day, we did the same for the guys' final, and then I did a few plateaus to talk about climbing, to talk about climbers, about their results, it was really great!
The last day we had technical problems, my helmet was not working on speed, no return to the boulder, but we still limited the damage. When I left Eurosport after the climbing Olympics, I said "goodbye" to them, they answered "no no, see you soon! « And above all they thanked me, it was their favorite of these Olympics: » it is the most beautiful sport of the sports entering the Olympics, favorite of the viewers, so just bravo for your sport and all that 'it represents « .
During these 4 days, I had two journalists with me, they did not know climbing, and they became crazy about this sport, with the suspense of the combined, it worked really well!
Do you think that we will have a big craze for climbing after these Olympics?
Oh yes, for sure! I was in regular contact with the commentators on the channels in Switzerland, and he also told me that it was crazy the feedback he had, that people fell in love with this sport. A lot of kids, if we did our job well, will go for it! The discipline that impressed people the most is speed, we have heard a lot « it's incredible the speed of these climbers », so for all those who denigrate speed, it is thanks to the speed that the most big publicity will fall from these Olympics. So yes in the end I think there will be a lot of people in the theaters, and that the future will tell!
Paris 2024, are you excited? you will be there ?
Paris 2024, of course I can't wait !! I would like to end my career at the 2024 Olympics to showcase all these climbers, whether on site or on Eurosport. Whatever happens, I will be part of the Olympic adventure, that's for sure!
Do you think that in the long term we will have a medal per discipline? Coming from skiing, are you in a good position to tell us about it?
Yes it is certain and certain given the enthusiasm of the IOC for our discipline after these 4 days. We will not have them yet in 2024, but I have the impression that it will take shape for Los Angeles 2028. And then to bring the para to the Olympics, we need a medal per discipline, it will happen, I I'm sure of it!
So yes, it's true that I have already done two Olympic Games with alpine skiing, and what must be understood for climbing is that nothing is simple, the CIO is a steamroller . At the international level, climbing must gain confidence, we have a sport to defend, values ​​to defend, we know what we are worth, and when the IOC gives decisions we must also know how to stand up to them. Skiing, they have been Olympic since 1924, and even in Sochi when I was there, everything is still not easy, so we must not give up! So uui we are taken into account, yes people fell in love, and yes we have things to defend!
A final word to add?
Yes, a big thank you to François Legrand for the info on the diff channels it helped me a lot, thank you Manu Cornu who followed the boulder with me, and then thank you to the FFME for everything they did to climbing, we would never be there without all these people, V. Caussé, F. Leonardon, Emilie Gheux,… The biggest shows have been done in France, with Bercy among others, so that all the countries follow us to achieve big productions and for climbing to become what it is today.
I also wanted to thank Romain Cabessut, what an honor to have you at the level of the Olympics, well done for the work you were able to do, even so good, we are not going to talk about this women's final en bloc (laughs), I prefer that we keep only the positive of these games!
Gone anyway, can't help myself (laugh) I'll say a word on the subject. Many climbers have said that they prefer it to be harder rather than too easy, but here we must not forget that it was the Olympics, that we were showing on TV in front of millions of people, and that it would have been more fun for the TV spectators that the climbers thrive to nab a little more tops rather than seeing girls on the mat every ¾ of the time, but that remains my personal opinion, in any case I do not question anything ! What is important to remember is that over all of these Olympics, it was an exceptional success, so bravo to all the instigators, forerunners, organizers, climbers, coaches, and so on!