CHAN 2022 – Mauritania- Mali – Hemeya Tanjy (Man of the Match): « It's a victory for all the Mauritanian people »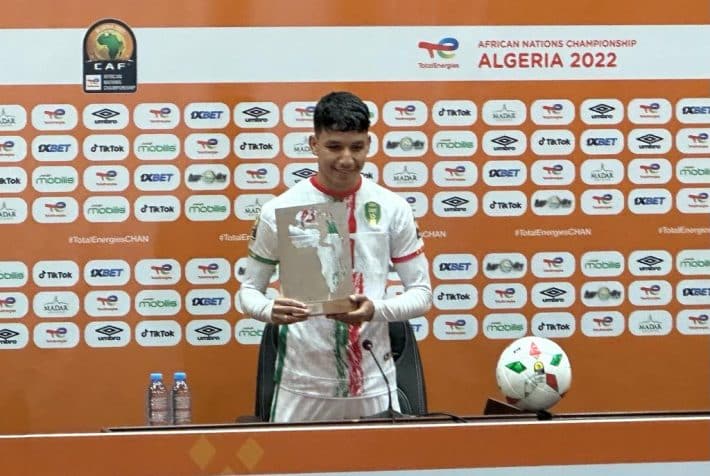 Mauritanian striker Hemeya Tanjy, one of the architects of the Mourabitounes' victory against Mali this afternoon in Oran on behalf of CHAN, dedicated his man of the match award to the Mauritanian people.
The FC Nouadhibou striker delivered a fine performance this afternoon against Mali in the last match of Group D. Mauritania qualified for the quarter-finals of the African Nations Championship after beating their opponent of the day on a score of one goal to nil.
"Winning this prize is an honor for me and for the Mauritanian people. I am as happy as any Mauritanian football fan. This is a victory for all the Mauritanian people. », said man of the match Tanjy with a smile during the post-match press conference at the Miloud Hadefi stadium in Oran, Algeria.
His tireless runs were an important aspect of the well-organized Mauritanian side who played a balanced game against a talented Mali side. Tanjy, 24, added: "We worked so hard to get into this tournament and now that we have qualified we are so happy to have won and we will be in the quarter-finals. We have prepared a lot to get to this point and now we can keep dreaming about this tournament. It's huge for us as a team. »
This is the first victory recorded by the Mourabitounes who had previously recorded six defeats in six games in CHAN and forced Angola to a goalless draw in their Group D opener.
Amir Abdou's men will play another West African derby next Friday. They will face their neighbors Senegal in the quarter-finals at the May 19, 1956 stadium in Annaba at 7:00 p.m. GMT.