Celtics should look to trade Kemba Walker this summer | NBA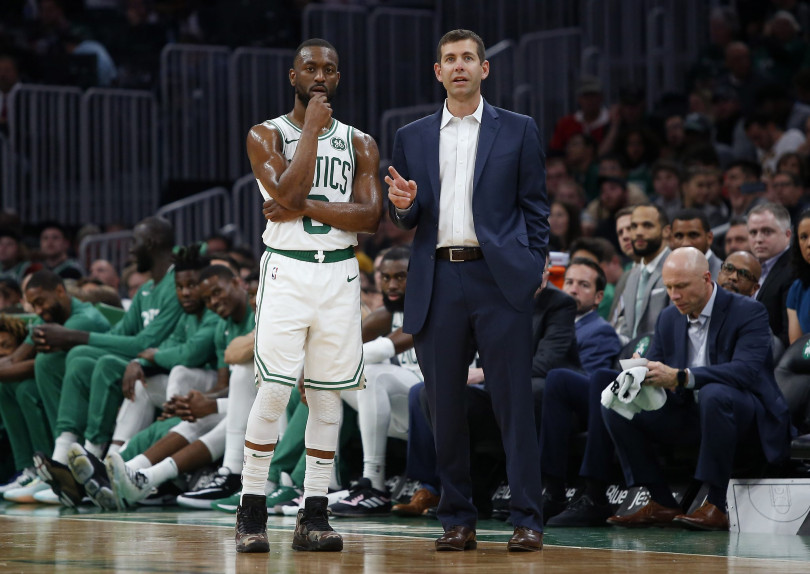 If it was first in the offices and on the bench that things moved in Boston, it is undoubtedly far from over.
According to MassLive, there is virtually no chance that Brad Stevens, the club's new president, will keep Kemba Walker, Marcus Smart and Evan Fournier. The cumulative contracts of the trio would indeed be astronomical, forcing the club to pay a record in « luxury tax » and it is rather time to clean up.
The simplest solution would be not to re-sign the French, free agent and therefore free to engage where he wishes. But MassLive explains that the club will try to get rid of Kemba Walker.
This is no surprise as the former Hornet has become one of the league's most overpaid players this season, all due to increasingly squeaky knees. However, it will not be easy to find him a base, knowing that he still has to touch 75 million dollars over the next two seasons, and that the second year is a « player option », which means that it is he is the one who will decide to activate it… or not.
Marcus Smart is undoubtedly less in danger, already because he is the "soul" of the group and that even if he is a little lost this season (like almost all the squad), he can always give back. proud service.
Above all, his contract is quite affordable ($ 14 million next season) and his market value is not very high since he will be entering the last year of his lease. Also according to MassLive, it could even be complicated to get a draft choice at the end of the first round in exchange for the mad dog of Massachusetts.
Kemba Walker
Percentage
Rebounds
Season
Team
MJ
Min
Shots
3pts
LF
Off
Def
Early
Pd
Fte
Int
Bp
Ct
Pts
2011-12
CHA
66
27
36.6
30.5
78.9
0.5
3.1
3.6
4.4
1.2
0.9
1.8
0.3
12.1
2012-13
CHA
82
35
42.3
32.2
79.8
0.7
2.7
3.5
5.7
1.9
2.0
2.4
0.4
17.7
2013-14
CHA
73
36
39.3
33.3
83.7
0.5
3.7
4.2
6.1
1.8
1.2
2.3
0.4
17.7
2014-15
CHA
62
34
38.5
30.4
82.7
0.6
3.0
3.6
5.1
1.5
1.4
1.6
0.5
17.3
2015-16
CHA
81
36
42.7
37.1
84.7
0.7
3.7
4.4
5.2
1.4
1.6
2.1
0.5
20.9
2016-17
CHA
79
35
44.3
39.9
84.7
0.6
3.3
3.9
5.5
1.5
1.1
2.1
0.3
23.2
2017-18
CHA
80
34
43.1
38.4
86.4
0.4
2.7
3.1
5.6
1.2
1.1
2.2
0.3
22.1
2018-19
CHA
82
35
43.4
35.6
84.4
0.6
3.8
4.4
5.9
1.6
1.2
2.6
0.4
25.6
2019-20
BOS
56
31
42.5
38.1
86.4
0.6
3.2
3.9
4.8
1.6
0.9
2.1
0.5
20.5
2020-21
BOS
43
32
42.0
36.0
89.9
0.4
3.6
4.0
4.9
1.4
1.1
2.1
0.3
19.3
Total
704
34
41.9
36.0
84.0
0.6
3.3
3.8
5.4
1.5
1.3
2.2
0.4
19.9