Cameroon-Info.Net :: Cameroon – CAN 2021: The official sponsor of the African Cup of Nations presents the trophy to the Cameroonian government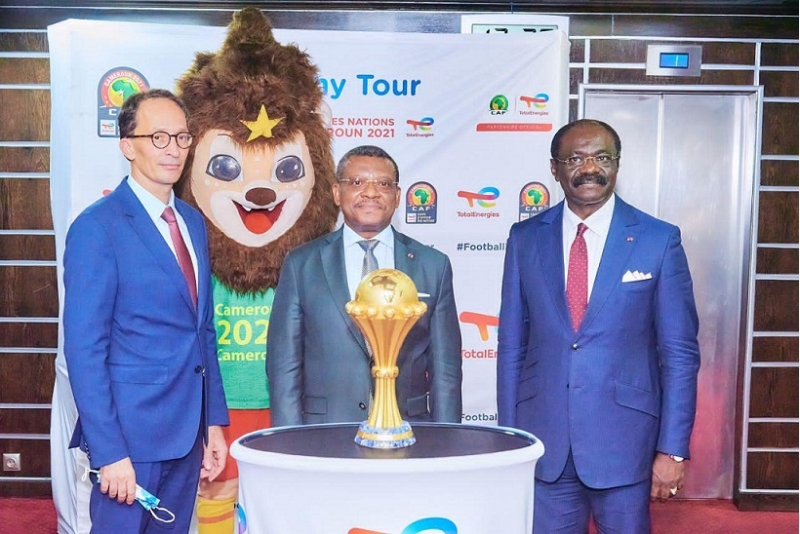 The cut presented to the PM Frédéric Nonos
The ceremony took place on December 7, 2021 at the Ministries of Sports and Physical Education and at the Prime Minister's Office.
33 days before the kickoff of the 33rd edition of the African Cup of Nations (CAN) that Cameroon will host from January 9 to February 6, 2022; the official sponsor of this competition, TotalEnergies, organized a solemn ceremony to present the trophy to the Cameroonian government. The ceremony took place on December 7, 2021, the day after his arrival in Cameroon.
The event took place in two stages. The first at the Ministry of Sports and Physical Education, where the boss of the place, Narcisse Mouelle Kombi, welcomed the delegation led by the Director General of TotalEnergies Cameroon, Adrien Bechonnet. Proud of this honor, MINSEP, in turn, led this delegation to the Prime Minister, Joseph Dion Ngute. It was the second and last stop of the day.
During his speech for the occasion, the Minister of Sports and Physical Education recalled that: « this prestigious trophy is the object of all the covetousness of the 24 African selections spread over the six sites of the competition ». As for the Prime Minister, « Cameroon will spare no effort to offer Africa and the world the best Africa Cup of Nations ever ».
To settle on the debate according to which Cameroon is not ready, Joseph Dion Ngute affirms that: « less than 33 days of the official opening of the CAN, Cameroon is proud to count on its high level stadiums, on its hotels, its reference hospitals, its communication and telecommunications infrastructures, as well as its tourist sites which are all ready ".
TotalEnergies, the partner of African football intends to organize for the first time in the history of CAN, a "Trophy tour as a prelude to the upcoming competition" in the five host cities of Bafoussam, Garoua, Limbe, Douala and Yaoundé. This will be an opportunity for the sponsor of the African Football Confederation (CAF) since 2016, « to celebrate his passion for football with the populations by offering them a unique and unforgettable experience », reassures Adrien Bechonnet.