Brook Lopez back in training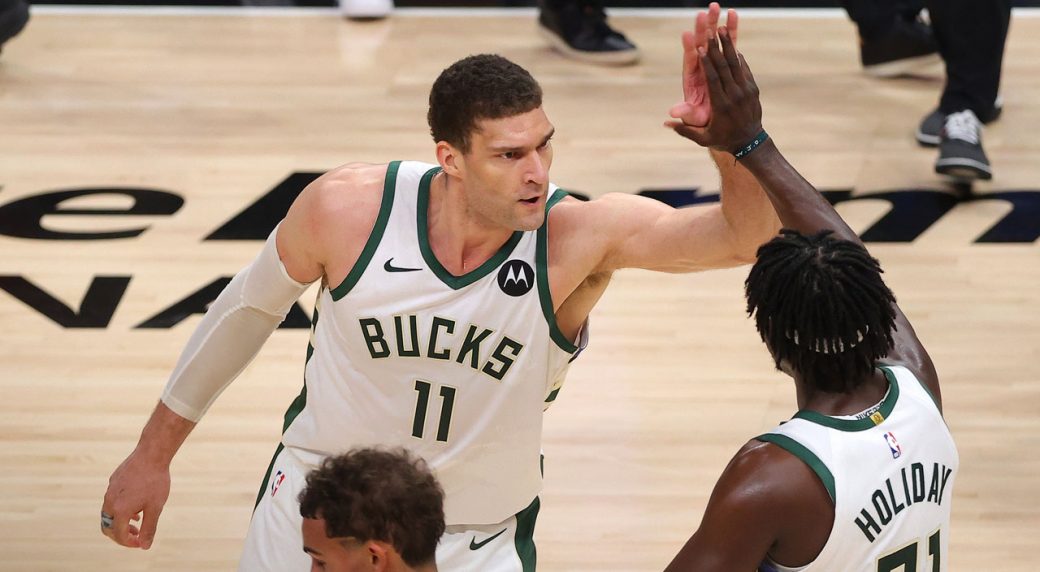 Little by little, Brook Lopez is approaching the end of his convalescence. Touched on the back since the first game of the season (the only one in which he participated), the pivot of the Bucks, who had found the group, notably on the move, for three weeks carried out his first training session on Friday, a sign of a close return to normal.
« It's another positive step in the perspective of his return to the game »rejoiced his coach, Mike Budenholzer, on the sidelines of Milwaukee's narrow victory over Chicago.
On this occasion, Brook Lopez was indeed seen in the pre-match warm-up after having recently been authorized to resume training on an individual basis. Collective training, five-against-five and with contacts, could quickly follow for the twin brother of Robin Lopez.
A move to the G-League to be expected
With the busy schedule awaiting Milwaukee in the coming weeks, Brook Lopez could complete his recovery phase with G-League team Wisconsin Herd.
« It's one of the advantages of having the G-League and having such a close team »added Mike Budenholzer. « I think Brook will be able to see a little bit of everything soon, no matter how long it takes him, because he will be able to benefit from quality scrimmages and five-on-fives to prepare for his return ».
The Bucks still hope to find their starting pivot before the end of the regular season, even if the arrival of Serge Ibaka at the end of the « trade deadline » and the growing contribution of Bobby Portis have changed a little gives it to post 5 in his absence. But his deterrence and ability to cover the pick-and-roll is lacking.
Brook Lopez
Percentage
Bounces
Season
Team
GM
Minimum
Shots
3 points
LF
Off
Def
Early
pd
party
Int
bp
CT
Points
2008-09
NJN
82
31
53.1
0.0
79.3
2.7
5.4
8.1
1.1
3.1
0.5
1.8
1.8
13.0
2009-10
NJN
82
37
49.9
0.0
81.7
3.3
5.4
8.7
2.3
3.1
0.7
2.5
1.7
18.8
2010-11
NJN
82
35
49.2
0.0
78.7
2.4
3.6
6.0
1.6
2.9
0.6
2.2
1.5
20.4
2011-12
NJN
5
27
49.4
0.0
62.5
1.6
2.0
3.6
1.2
1.6
0.2
1.2
0.8
19.2
2012-13
BRK
74
31
52.1
0.0
75.8
2.8
4.1
6.9
1.0
2.1
0.5
1.8
2.1
19.4
2013-14
BRK
17
31
56.3
0.0
81.7
2.3
3.7
6.0
0.9
3.1
0.5
1.7
1.8
20.7
2014-15
BRK
72
29
51.3
10.0
81.4
3.0
4.5
7.4
0.7
2.9
0.6
1.4
1.8
17.2
2015-16
BRK
73
34
51.1
14.3
78.7
2.8
5.1
7.9
2.0
3.0
0.8
2.4
1.7
20.6
2016-17
BRK
75
30
47.4
34.6
81.0
1.6
3.8
5.4
2.4
2.6
0.5
2.5
1.7
20.5
2017-18
ALL
74
23
46.5
34.5
70.3
1.0
3.0
4.0
1.7
2.6
0.4
1.3
1.3
13.0
2018-19
MIL
81
29
45.2
36.5
84.2
0.4
4.5
4.9
1.2
2.3
0.6
1.0
2.2
12.5
2019-20
MIL
68
27
43.5
31.4
83.6
0.9
3.7
4.6
1.5
2.4
0.7
1.0
2.4
12.0
2020-21
MIL
70
27
50.3
33.8
84.5
1.5
3.5
5.0
0.7
2.1
0.6
0.9
1.5
12.3
2021-22
MIL
1
28
33.3
50.0
0.0
2.0
3.0
5.0
0.0
3.0
1.0
0.0
3.0
8.0
Total
856
30
49.4
34.0
79.6
2.1
4.2
6.3
1.5
2.7
0.6
1.7
1.8
16.5