Brighton: What did De Zerbi's debut look like? – Soccer
Chosen to succeed Graham Potter, Roberto De Zerbi had a complicated start with Brighton. The fault is a lack of efficiency which spoils the overall performance of the Seagulls.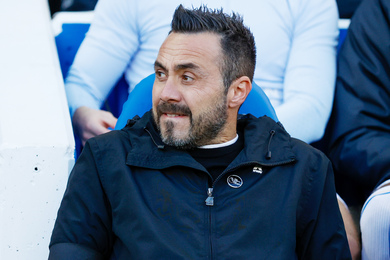 Contrasting debut for De Zerbi Brighton.
Roberto De Zerbi has returned to service. After a few months at the head of Shakhtar, the Italian coach logically decided to leave Ukraine, in armed conflict with Russia. On stand-by since March, the 43-year-old has found a base in England, near Brighton, to replace Graham Potter, who left for Chelsea. An exciting mission but more complicated than it seems.
A festival against Liverpool, then…
Indeed, the club from the south of the Kingdom was in 4th place on arrival after a great start to the season. It is therefore a well-oiled team that ranks behind the English coach, until his departure, that the young transalpine technician has recovered… and must change. His first game against Liverpool (3-3) gave an indication of what the ex-coach of Sassuolo could put in place. But Leandro Trossard's resounding hat-trick masked a huge project ahead of him.
Since this Anfield festival, Brighton has not moved forward. A defeat against Tottenham (0-1), another Brentford (2-0) and a draw against Nottingham Forest (0-0), the Seagulls no longer find the fault. A worrying series which is all the same less so than that of last season, at the beginning of spring, with 6 games out of 7 without scoring before finishing the championship in a cannonball to manage to stay in the elite of English football .
An efficiency find
When we look at the statistics of these three meetings, De Zerbi nevertheless has reason to be reassured for the rest of the events: 14 shots 8 against Tottenham with 59% possession of the ball, 21 shots 7 against Brentford with 72% of ball possession, 19 shots 3 in front of Nottingham Forest with 60% of the ball. In other words, the touch of the Italian tactician is already present, the instructions are respected but he still lacks this efficiency in front of goal to gain confidence.
I don't want to talk about the outcome if it's unfair or unlucky. But from the production of the players who offered beautiful football. (…) Nevertheless, we must improve to make the difference in the zone of truth. We have to work harder to offer more solutions, to combine better in small spaces , De Zerbi said after the meeting on Tuesday. Before the World Cup, Brighton will be looking to catch up against Manchester City, Chelsea, Wolverhampton, Arsenal and Aston Villa. Just a.
Will De Zerbi succeed Brighton? Do not hesitate to react and discuss in the area add a comment …