Best teammate of the year | Jrue Holiday collects his trophy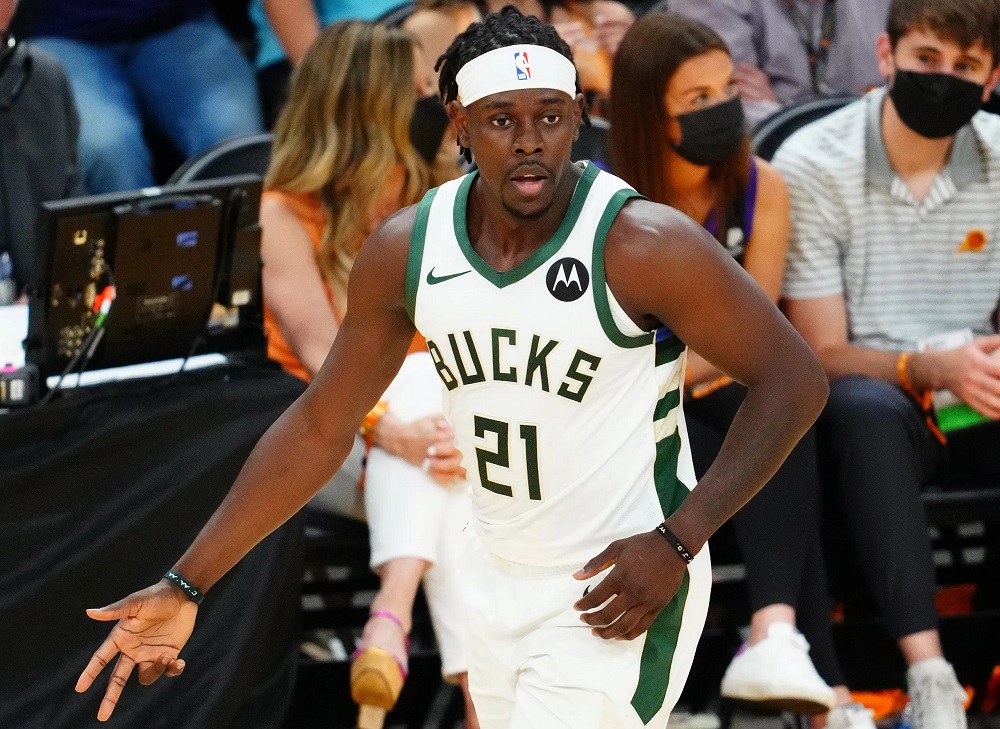 For years, the behavior of Jrue Holiday continues to be praised, but also rewarded. Already voted teammate of the year in 2019/2020, when he played for the Pelicans, then winner of the « NBA Sportsmanship Award », the sportsmanship trophy last season, Holiday has just added a new line to his list.
He has just won for the second time the Twyman-Stokes Trophy, teammate of the year, introduced in 2012-2013. He is thus the first to receive it twice.
The reigning NBA champion and Olympic gold medalist in Tokyo is ahead of Boban Marjanovic of Dallas and DeMar DeRozan of Chicago in player votes.
The moment Coach Bud announces that Jrue has won the @NBA 2021-22 Twyman-Stokes Teammate of the Year Award. 🏆

Congratulations, @Jrue_Holiday11!! pic.twitter.com/hrBfQp2nCm

— Milwaukee Bucks (@Bucks) April 26, 2022
Jrue Holiday
Percentage
Bounces
Season
Team
GM
Minimum
Shots
3 points
LF
Off
Def
Early
pd
party
Int
bp
CT
Points
2009-10
PHL
73
24
44.2
39.0
75.6
0.8
1.9
2.6
3.8
2.1
1.1
2.1
0.3
8.0
2010-11
PHL
82
35
44.6
36.5
82.3
0.8
3.2
4.1
6.5
2.5
1.5
2.7
0.4
14.0
2011-12
PHL
65
34
43.2
38.0
78.3
0.9
2.4
3.3
4.5
2.1
1.6
2.1
0.3
13.5
2012-13
PHL
78
38
43.1
36.8
75.2
1.1
3.1
4.2
8.0
2.2
1.6
3.7
0.4
17.7
2013-14
NOP
34
34
44.7
39.0
81.0
0.8
3.4
4.2
7.9
2.7
1.7
3.1
0.4
14.3
2014-15
NOP
40
33
44.6
37.8
85.5
0.8
2.6
3.4
6.9
2.8
1.6
2.3
0.6
14.8
2015-16
NOP
65
28
43.9
33.6
84.3
0.4
2.6
3.0
6.0
2.3
1.4
2.6
0.3
16.8
2016-17
NOP
67
33
45.4
35.6
70.8
0.7
3.3
3.9
7.3
2.0
1.5
2.9
0.7
15.4
2017-18
NOP
81
36
49.4
33.7
78.6
0.8
3.7
4.5
6.0
2.5
1.5
2.6
0.8
19.0
2018-19
NOP
67
36
47.2
32.5
76.8
1.1
3.9
5.0
7.7
2.2
1.6
3.1
0.8
21.2
2019-20
NOP
61
35
45.5
35.3
70.9
1.3
3.5
4.8
6.7
2.4
1.6
3.0
0.8
19.1
2020-21
MIL
59
32
50.3
39.2
78.7
1.2
3.3
4.5
6.1
1.7
1.6
2.2
0.6
17.7
2021-22
MIL
67
33
50.1
41.1
76.1
1.0
3.5
4.5
6.8
2.0
1.6
2.7
0.4
18.3
Total
839
33
46.0
36.3
77.6
0.9
3.1
4.0
6.4
2.2
1.5
2.7
0.5
16.2