Ben Simmons takes a step towards Doc Rivers and his teammates | NBA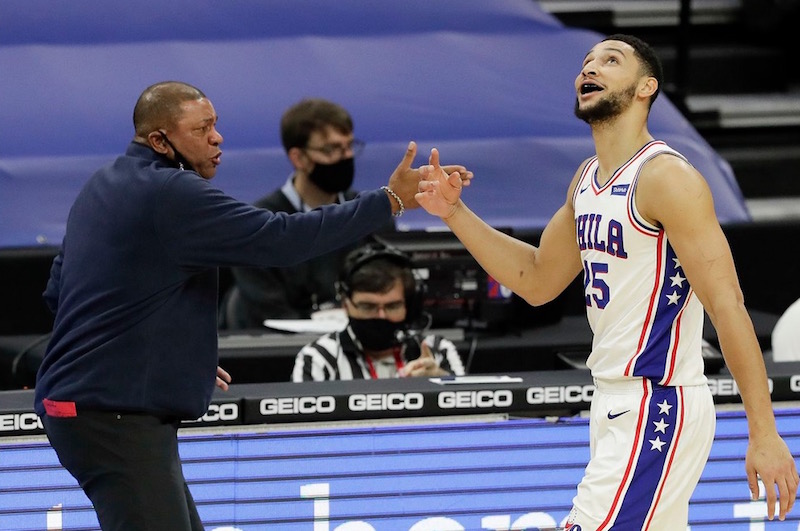 It's unclear if it was Daryl Morey's words, willing to wait four years, or just a realization of the ridiculousness of the situation that made him react, but Ben Simmons has asked to speak with the rest of the group.
According to ESPN and The Athletic, he spoke to Doc Rivers, Joel Embiid and the rest of the team. Present at the shootaround, he believes that everyone must take their responsibilities, including himself. The Australian point guard also saw the medical staff, and he warned everyone that he was not mentally ready to play yet and needed time. He will therefore not play tonight against the Nets, and we should not expect to see him on the ground in the short term.
Fired from training on Tuesday, then suspended a match, Ben Simmons then refused to participate in an individual session claiming stiffness in his back. A general attitude that seriously annoyed Joel Embiid.
 » I haven't spoken to him, and at this point, I don't care about him. He does what he wants… What interests me is that the team is improving. Our job is not to play babysitters. If anyone wants to listen to me, I can babysit, but that's not my job. « 
On the side of Daryl Morey, we were more conciliatory, believing that to aim for the title, the team still needed Ben Simmons.
"What are our best chances of winning the title? For now, by reinstating Ben Simmons. I am focused on winning the title. I'll go through the mud, the silt, the barbed wire… we'll do whatever it takes… and what we're doing right now gives us the best chance of winning the title. Do we prefer to eliminate what people perceive as a disruptive element, or give ourselves the maximum chance of going to the playoffs? I opt for the chances of going to the playoffs… Anything that needs to be managed to help the Sixers win the title, we will. « 
Ben simmons
Percentage
Rebounds
Season
Team
MJ
Min
Shots
3pts
LF
Off
Def
Early
Pd
Fte
Int
Bp
Ct
Pts
2017-18
PHL
81
34
54.5
0.0
56.0
1.8
6.4
8.1
8.2
2.6
1.7
3.4
0.9
15.8
2018-19
PHL
79
34
56.2
0.0
60.0
2.2
6.7
8.8
7.7
2.7
1.4
3.5
0.8
16.9
2019-20
PHL
57
35
58.0
28.6
62.1
2.0
5.8
7.8
8.0
3.3
2.1
3.5
0.6
16.4
2020-21
PHL
58
32
55.7
30.0
61.3
1.6
5.6
7.2
6.9
3.0
1.6
3.0
0.6
14.3
Total
275
34
56.0
14.7
59.7
1.9
6.2
8.1
7.7
2.8
1.7
3.4
0.7
15.9