Becky Hammon's Sweet Revenge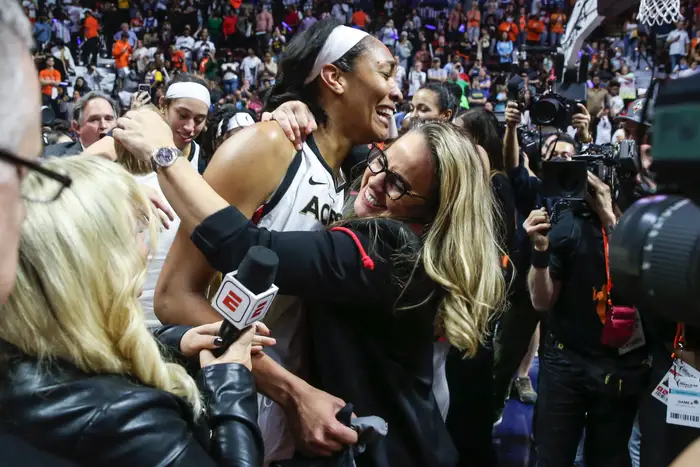 Six-time All-Star, four All-WNBA Team appearances, highest passing average in 2007 and a member of the WNBA's Top 25 Players in History, Becky Hammon has a CV as a dream player.
But despite this record, and despite his eight seasons on the Spurs bench, alongside Gregg Popovich as an assistant, no NBA team has ever wanted to make history and offer his bench to a woman. Hammon has often tried her luck, meeting franchises, but she has only been refused. What create a feeling of bitterness.
"It's obvious that if my name was Brian and I had played 16 seasons in the NBA, I would have already been hired and fired a few times in the NBA. But it's like that « , she confides to ESPN.

« It wasn't about proving others wrong, it was about proving myself right »
The coach finally got her revenge, winning the WNBA title with the Las Vegas Aces against the Connecticut Sun. She thus becomes the first coach in the history of the league to win the trophy in her first season on the bench (if we remove the inaugural season in 1997 since, by definition, the coaches were then all in their first year).
"All the difficult things that I have faced have been useful in my journey. Even if it was boring not to be selected sometimes, or to be hurt (she had two cruciate ligament injuries), hard times build necessary things in life even if you don't feel it at the time. For me, it wasn't about proving others wrong, it was about proving myself right. »
Even with her status as a respected former player and NBA assistant in San Antonio, her return to the WNBA has been met with criticism. In particular on his imposing salary (one million dollars) much more important than that of the players. And doubts for herself. « I was unsure of myself when I left the NBA. It was quite a leap into the void for me. »
In the end, she did well. "It was one of the best decisions of my life," she confessed in July. Elected coach of the year and now WNBA champion, how can you prove him wrong? Perhaps this triumph will even reshuffle the cards in the NBA and that leaders will now look at it differently when it comes to choosing a new coach?
In the meantime, Gregg Popovich, who had come to greet her during the Finals, had a word for his former assistant, after this coronation in the WNBA. "I am not surprised by his success"said the five-time NBA champion. "Becky has proven time and time again her passion and knowledge of the sport. »
Congratulations to @BeckyHammon and the @LVAces on becoming the 2022 #WNBA Champions! 👏 #SpursFamily | #WNBAFinals pic.twitter.com/58M9gGwly3

—San Antonio Spurs (@spurs) September 18, 2022