Apple TV: the Major League Soccer pass is available for 13.99 euros per month
The first sports channel arrives today on Apple TV. It is now possible to subscribe to the Major League Football Season Pass for €13.99 per month. And if you subscribe to Apple TV+, the channel is available at a cheaper rate.
Apple confirmed on February 1, 2023 its ambition to be more present in the broadcasting of sports programs through its Apple TV service by launching the Major League Soccer season pass.
This pass gives access to all the matches of the North American football championship for €13.99 per month or €89 per season, anywhere in the world. It is therefore possible in France to access American football matches from your living room via the MLS season pass.
A lower rate for Apple TV+ subscribers
For Apple TV+ subscribers, which we remind you costs €6.99 per month or €69 per year, the Major League Soccer pass costs €11.99 per month, two euros less than the standard rate, or €69 per month. season, i.e. a reduction of €20.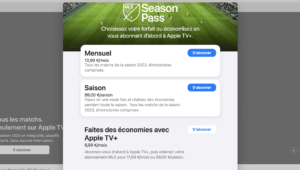 Apple explains that the MLS pass "will broadcast all regular season games, the Audi MLS Cup playoffs and the Leagues Cup", and this "always at the same times and without interruption". Subscribers will also be able to enjoy pre-match broadcasts, recaps and highlights from each match. This represents a first in the realm of live sports broadcasting.
The apple brand adds that "all matches will include commentary in English or Spanish, and matches involving Canadian teams will also include commentary in French". The other programs will be available in English and Spanish.
Major League Soccer was previously broadcast in France on beIN SPORTS, which costs €15 per month, but since Wednesday February 1, Apple has the broadcasting rights for €13.99 or €11.99. per month. The Cupertino company has the big advantage of offering the MLS pass all over the world, which is not a simple task because of the broadcasting rights which differ according to the country.

Through this partnership with Apple, the MLS hopes to raise awareness of North American football, called soccer in English to differentiate from American football (NFL), which is not very popular compared to football in Europe, Africa or South America. The kick-off is given for February 25, with the Nashville – New York City match.
The MLS Season Pass will offer the most accomplished sporting experience ever offered to MLS fans, in particular thanks to exceptional commentators who will accompany them in all matches and share their passion, their energy and their knowledge of the league, the clubs and football week after week.

Eddy Cue, Apple's senior vice president of services