Amateur sport overwhelmed by the constraints brought about by the sanitary pass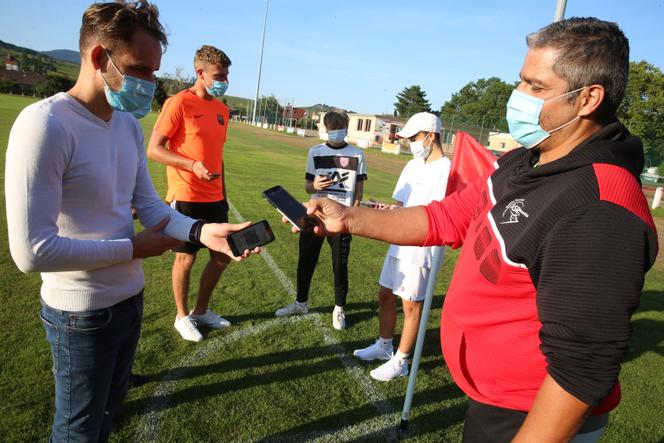 The health pass was invited at the entrance to stadiums and gymnasiums: since July 21, it is impossible to practice your sport without a complete vaccination schedule or a negative test (PCR or antigen) of less than seventy-two hours. The precious sesame is a headache for amateur clubs, weakened by the health crisis and forced to organize themselves in the face of a new measure difficult to implement.
Read also:
Health pass: where will it be required from July 21? What tests will be accepted? The questions posed by its extension
For most sports associations, it is not so much the entry into force of the pass that frightens, but rather the verification of the QR codes of each of the practitioners. « Who will control the passes? » Until yesterday, we thought it would be the municipality. Finally, I received an email from the Wrestling Federation which tells me that it will depend on the place in which we practice. So I do not know… « , summarizes Pierre-Edouard Hiers, treasurer of the Paris Lutte club, during a forum of associations, Saturday, September 4.
However, the ministerial decree seems clear: the health pass must be presented by any person entering a sports facility and must be checked either by the municipality, represented by an agent or by the gymnasium guard, or by the club or the sports association. who occupies the premises. "In Paris, we have placed municipal agents trained and equipped to control health passes in sports facilities open to the public. The clubs are also supposed to play the game and control their members ", details Karim Ziady, local sports delegate to Pierre Rabadan, sports assistant at Paris City Hall.
Investigation :
Dozens of cases of trafficking in vaccine certificates occupy the police and justice
The reality is quite different: during a friendly basketball match on Saturday in a gymnasium on the 15the arrondissement of Paris, for example, no health pass control was required. For Franck Fegue, trainer and amateur player at the Eiffel Basket Club, this is quite logical: "This health pass story is a mess. As a coach, I don't think it's my job. Normally, it's up to the gym guards to do this. But some tell us that it is not their role either and that the town hall must send someone. Except that the town hall does not send anyone. So in some gyms you walk in like that. «
« It puts us in awkward positions »
In smaller towns, municipalities may not have the means to send officers to each site. Sports associations then have to organize themselves by their own means, with the help of volunteers who are often too few to ensure the control of health passes.
You have 63.88% of this article to read. The rest is for subscribers only.