After the coronation of Nikola, the Jokic brothers resurface and controversy!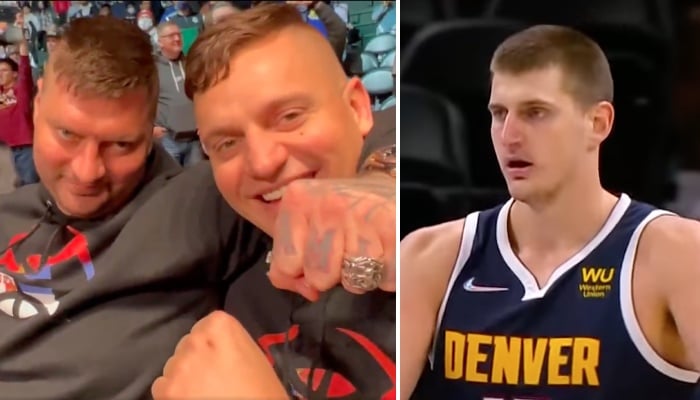 @VicLombardi (DR) / NBA (DR)
Slightly missing from circulation in recent months, Nikola Jokic's brothers have suddenly found their place in the news following the 2nd MVP title won by the pivot of the Nuggets. At least that's what many internet users think!
Virtually unknown to the general public a few months ago, they have forged their reputation in the NBA in an inglorious way. Nikola Jokic's brothers had hit the headlines during the 2021 playoffs, ready to do battle with Devin Booker. Since then, they have been similarly noticed on several occasions, and this has been the case again in recent hours.
Have the Jokic brothers relaunched their beef with the Morris?
Last November, Nemanja and Strahinja Jokic caused a huge buzz on Twitter after the scuffle between their brother and Markieff Morris, openly threatening the Heat player and his twin Marcus. Their account created especially for the occasion has resumed activity in recent hours, with several messages to congratulate the Joker on his second coronation as MVP… but above all to troll Kieff!
THANK YOU TO NBA FOR MVP FOR MY BROTHER NIKOLA!!@Keefmorris CRY YOU NEVER GET MVP!!!

— Jokic Brothers (@JokicBrothers) May 9, 2022
THANKS TO THE NBA FOR THE MVP TITLE TO OUR BROTHER NIKOLA!!

CRY MARKIEFF MORRIS YOU WILL NEVER BE MVP!!!
WORST NBA PLAYER EVER IS @Keefmorris KEEP CRYING! NO MVP FOR YOU!!

— Jokic Brothers (@JokicBrothers) May 9, 2022
THE WORST PLAYER IN HISTORY IS MARKIEFF MORRIS CONTINUES TO CRY! NO MVP FOR YOU!!
YOU WIN FAKE MICKEY MOUSE RING NIKOLA WIN REAL MVP! SO CRY!! @Keefmorris

— Jokic Brothers (@JokicBrothers) May 9, 2022
YOU WON A FAKE MICKEY MOUSE RING NIKOLA WON A REAL MVP! SO CRY!!
Of course, all of these tweets quickly went viral, with raging fans in the comments area. However, it seems that this account is no longer run by the Jokic brothers, as was already suggested a few weeks ago. Difficult, therefore, to discern the true from the false in this whole story, including for the veteran winger from Miami!
Real raise or simple troll from a stranger? Anyway, Internet users revel in these tweets posted on the (old) account of the Jokic brothers, and hope for a new episode in the confusion which opposes them to the Morris siblings!