A year ago, Al Horford played the "hen daddies"…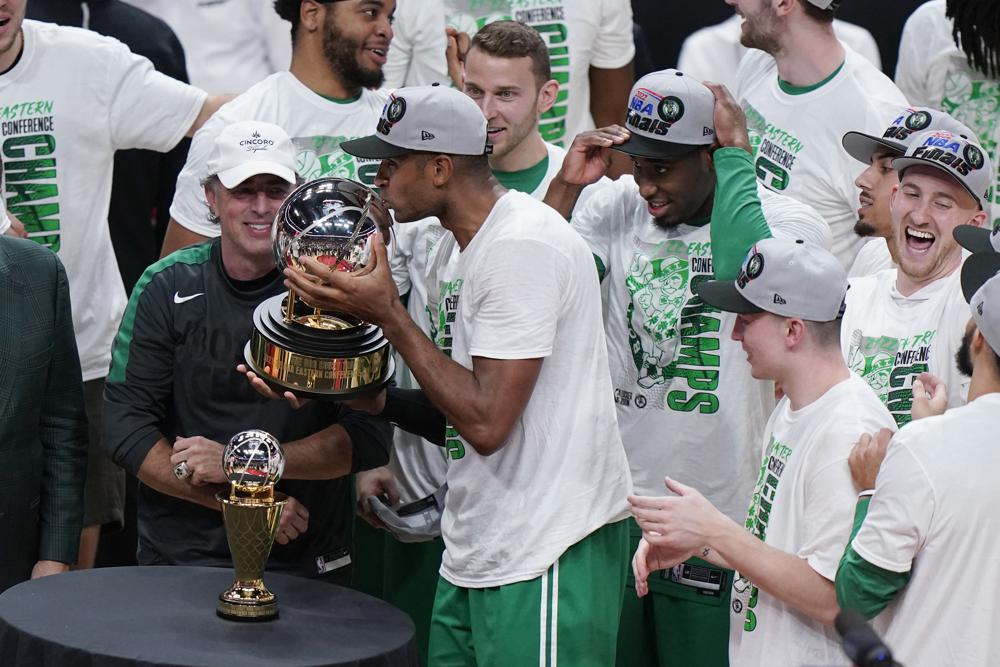 If the wait to finally compete in the Finals has been very, very long, historic even, for Al Horford, his journey has also been one of the most tortuous. Close to the Finals a few years ago in Boston, then unlucky in Philadelphia where he hoped to reach the top, he finally landed at the Thunder in 2020/21.
It was not the most competitive team in the league, far from it, as confirmed by the 22 wins and 50 losses last season. A "lottery team" in which Al Horford was wasting his time, and we remember that in March 2021, he had reached an agreement with the franchise to no longer play but nevertheless continue to train. Before, he hoped, find a new base.
A wish granted since Brad Stevens, who became president of the Celtics, brought him back to Boston last summer, in exchange for Kemba Walker.
« On my phone, I was looking at the photos taken exactly a year ago, » he told The Athletic, after Game 7 in Miami. "My son was then finishing kindergarten. I remember we have pictures with him, I picked him up from school, we ate cupcakes. It puts things into perspective. I am very grateful to be in this position, with these players. »
« He doesn't really care about his stats. He thinks about the team and wants to win"
As he had achieved great things in Oklahoma City and had maintained himself physically despite his absence from the courts, it was obvious that Al Horford could still be of service in a playoff team. It was above all his imposing salary that represented an obstacle. The Celtics took this risk, it is now paying off.
"What he has achieved this season is incredible," comments Ime Udoka. "He arrived at training camp in excellent shape, very motivated, with a lot to prove. He wanted to come back to Boston. He played 44 minutes in this Game 7, at this point in his career (he will be 36 on June 3), to give everything, with his leadership… He communicates a lot, but shows the example by the gesture. Everyone gets attached to him. »
Al Horford was invaluable in these playoffs, with 13 points and 10.4 rebounds on average in the series against the Bucks (his Game 4 at 30 points marked the spirits). Then, in the conference final against Miami, despite this missed Game 1 (Covid-19 protocol) and the impact of the death of his grandfather, by compiling 9.8 points and 10 rebounds per game.
 » He is generous « explains Marcus Smart. « He doesn't really care about his stats. He thinks about the team and wants to win. When he came back, he gave us a feeling of security. We knew he was there, making the right choice on both sides of the field. He calms us down. He tells us what is wrong and so we progress even further. »
Al Horford
Percentage
Bounces
Season
Crew
GM
Minimum
Shots
3 points
LF
Off
Def
Early
pd
party
Int
bp
CT
Points
2007-08
ATL
81
31
49.9
0.0
73.1
3.1
6.6
9.7
1.5
3.3
0.7
1.7
0.9
10.1
2008-09
ATL
67
34
52.5
0.0
72.7
2.2
7.2
9.3
2.4
2.8
0.8
1.5
1.4
11.5
2009-10
ATL
81
35
55.1
100.0
78.9
2.9
7.0
9.9
2.3
2.8
0.7
1.5
1.1
14.2
2010-11
ATL
77
35
55.7
50.0
79.8
2.4
7.0
9.3
3.5
2.5
0.8
1.6
1.0
15.3
2011-12
ATL
11
32
55.3
0.0
73.3
2.4
4.6
7.0
2.2
1.9
0.9
1.5
1.3
12.4
2012-13
ATL
74
37
54.3
50.0
64.4
2.6
7.6
10.2
3.2
2.2
1.1
2.0
1.1
17.4
2013-14
ATL
29
33
56.7
36.4
68.2
2.3
6.1
8.4
2.6
1.9
0.9
2.2
1.5
18.6
2014-15
ATL
76
31
53.8
30.6
75.9
1.7
5.4
7.2
3.2
1.6
0.9
1.3
1.3
15.2
2015-16
ATL
82
32
50.5
34.4
79.8
1.8
5.5
7.3
3.2
2.0
0.8
1.3
1.5
15.2
2016-17
BOS
68
32
47.3
35.5
80.0
1.4
5.4
6.8
5.0
2.0
0.8
1.7
1.3
14.0
2017-18
BOS
72
32
48.9
42.9
78.3
1.4
5.9
7.4
4.7
1.9
0.6
1.8
1.1
12.9
2018-19
BOS
68
29
53.5
36.0
82.1
1.8
5.0
6.7
4.2
1.9
0.9
1.5
1.3
13.6
2019-20
PHL
67
30
45.0
35.0
76.3
1.5
5.3
6.8
4.0
2.1
0.8
1.2
0.9
11.9
2020-21
OKAY
28
28
45.0
36.8
81.8
1.0
5.7
6.7
3.4
1.7
0.9
1.0
0.9
14.2
2021-22
BOS
69
29
46.7
33.6
84.2
1.6
6.1
7.7
3.4
1.9
0.7
0.9
1.3
10.2
Total
950
32
51.5
36.0
75.9
2.0
6.1
8.2
3.3
2.2
0.8
1.5
1.2
13.7