A star nugget flirts with Kevin Durant… and is ridiculed!
All means are good to try to seduce Kevin Durant, and a young player from the East has understood this well. He has indeed imitated Damian Lillard, recently, with a photomontage of him and the Brooklyn star… Except that he took a violent blowback after that.
To say that it's madness in the league since the transfer request of Kevin Durant would certainly be a total understatement. The Nets winger gave a huge kick in the anthill, wishing to turn the page after all the drama that surrounded the franchise in this 2021-22 season. All the competition therefore seeks to offer its services, but he apparently has two concrete destinations among his favorites.
However, if Miami is one of the lucky ones of the Slim Reaper, we begin to dream of recovering it ourselves from the side of the regional rival, in Orlando. Just drafted in first position by the Magic, Paolo Banchero has indeed posted a meaningful photomontage on his Instagram story, like Damian Lillard recently. We see the nugget in the company of the 2014 MVP, each wearing the colors of the Floridians. It's hard to be more obvious when it comes to flirting on social networks!
Paolo Banchero wants to recruit KD to the Magic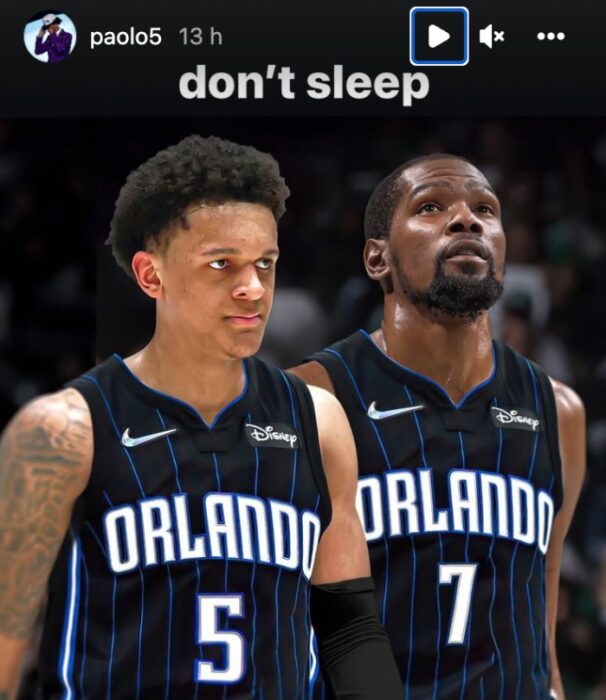 One of the best players on the planet alongside one of the greatest NBA prospects of the moment, it's a duo that could be enticing on paper and they could notably form a lethal racket, together. The problem is that no one believes in such a move between Orlando and Brooklyn, including among observers. Richard Jefferson went even further recently, explaining if this trade were ever to take place, Banchero would certainly be included in the counterparty:
Paolo Banchero posting a photoshop of him and Kevin Durant in Orlando uniform is shown to which RJ comments: 'I hate to break it to you, but if that happens you're going to be in Brooklyn bro' 😂 pic.twitter.com/C6P5tVKKvj

— Ted Buddwell 🏀🏈 (@TedBuddy8) June 30, 2022
Hey Paolo, I hate to tell you this, but if that happens, you'll be in Brooklyn, bro. You have the wrong jersey. Let me tell you how it goes. Paolo, I like you. Let me prepare you for the NBA. If Kevin Durant ends up in an Orlando uniform, you'll be in a Brooklyn uniform.
That is what is said. The next time the two players will see each other, it will probably be more as opponents.
Paolo Banchero does not deserve to have tried, but his attempt will certainly prove fruitless. Not only do the Magic not have much to offer the Nets, but Kevin Durant certainly won't want to play for one of the worst teams in the league.