A player joins Kobe Bryant and Dirk Nowitzki in a 3-way club!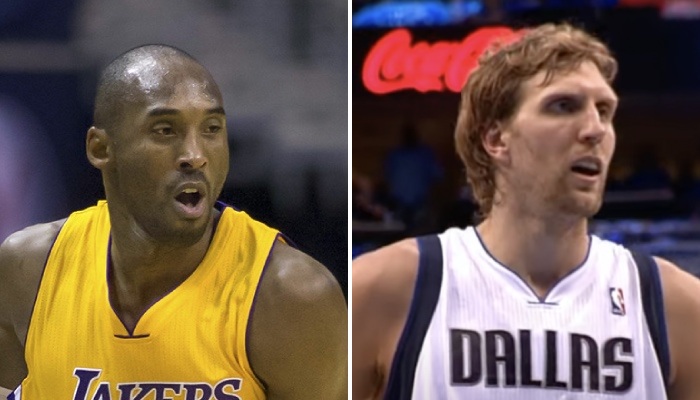 Keith Allison/NBA (Youtube)
Failing to be able to recruit superstars so far in this offseason, Miami can at least proudly say that one of its players will write history. The latter is indeed about to join an ultra-VIP club, composed only of legends Kobe Bryant and Dirk Nowitzki!
If trade discussions with the Bulls could soon be started, the fact remains that the Heat's summer is quite disappointing in terms of recruitment. Admittedly having to deal with tight finances, the franchise does not have a lot of leeway and must therefore try to make moves via transfers, unfortunately without success. Kevin Durant and Donovan Mitchell have been targeted, but the chances of seeing them join them seem slim at the moment.
Fans therefore have their heads down, they who hope to see their favorite team return to the Finals this season. While waiting to see if that will happen, they can at least prepare to congratulate with great fanfare an illustrious member of the squad. As Shams Charania recently announced, Udonis Haslem has decided to return for one more year. He will thus cross a symbolic bar, namely that of 20 seasons in the NBA… and all of them in the service of the Heat, please!
Udonis Haslem returns for his 20th season at the Heat
Udonis Haslem announces at his youth camp that he will sign a new deal with the Miami Heat and return for the 20th season of his NBA career.

— Shams Charania (@ShamsCharania) August 21, 2022
Udonis Haslem announced during his youth camp that he will sign a new contract with the Miami Heat and return for the 20th season of his NBA career.
Arrived in South Beach in 2003, at the same time as a certain Dwyane Wade who had just been drafted, the interior has never left the local formation even though his role has diminished over the years. It doesn't matter to him, however, since he was able to glean three championship rings between 2006 and 2013 and that he participated in a total of six NBA Finals. As Charabia recalls, he will cross a symbolic bar since it will be his 20th under the colors of Miami. Enough to allow him to join an ultra-restricted club, which until then had only been made up of two legends:
Most seasons with one team:

21 — Dirk Nowitzki
20—Kobe Bryant
20 —Udonis Haslem pic.twitter.com/8W5ZSwmmW1

— StatMuse (@statmuse) August 21, 2022
Most seasons with one team:
21 – Dirk Nowitzki
20 – Kobe Bryant, Udonis Haslem
This is all the more symbolic since UD were the fierce adversary of the German giant during the 2006 Finals, winning the title in a series of twists and turns. Like Dirkules, his end of course will be done in all discretion. He has only played 18 games over the last three years, unable to really contribute to Erik Spoelstra's group. However, since he excels as a mentor, big boss Pat Riley never hesitates to offer him an extension, summer after summer.
It's official, Udonis Haslem will return for a 20th season in the NBA, remaining faithful to the Heat. Best rebounder in the history of the franchise, we are sure that the latter will be able to reward his loyalty, by removing his jersey with the number 40 in particular.