A few hours from the shock against the Warriors, Kevin Durant is enraged against the franchise!
This Tuesday, the Nets will receive the Warriors, the opportunity for Kevin Durant to find some of his former teammates. In the form of his life, he will undoubtedly be keen to shine, especially since he seems enraged against the franchise … The reason? An article against him and his decision to join Brooklyn.
Kevin Durant started the season with the label of the best player on the planet, thanks in part to an Olympic campaign in which he was masterful, and he is currently in the process of living up to that status. Qualified by many the best forward in history, KD is currently releasing numbers straight out of NBA 2K! What other superstar in history has averaged 29.6 points all at 58% success ?!
If he continues at this pace the title of MVP should not escape him, especially since the absence of Kyrie Irving, the « Slim Reaper » must redouble its efforts. And if the NBA microcosm has finally forgiven him for leaving the Warriors, the Bay reporters do not forgive him for leaving for Brooklyn. The proof with this recent article published in the Mercury News. The words are strong and sharp.
Kevin Durant enraged before facing the Warriors
Kevin Durant didn't leave the Warriors because he wanted another role or because the team didn't win. No, he left the Warriors out of ego. He wanted his own team in Brooklyn, in one of the few markets larger than San Francisco. How's it going ? For his 3rd season with the Nets, he still has not won a title and his team remains behind the Knicks. In fact, the Warriors are closer to winning the title than the Nets.
This article by journalist Dieter Kurtenbach quickly made the buzz on social networks as it is so unobtrusive and full of bitterness. And when something goes around the networks, Kevin Durant is bound to know. You just have to take a look at his profile and his "likes" to see what he thinks of this paper. A few hours away from facing the Warriors at Barclays Center, it is already hot!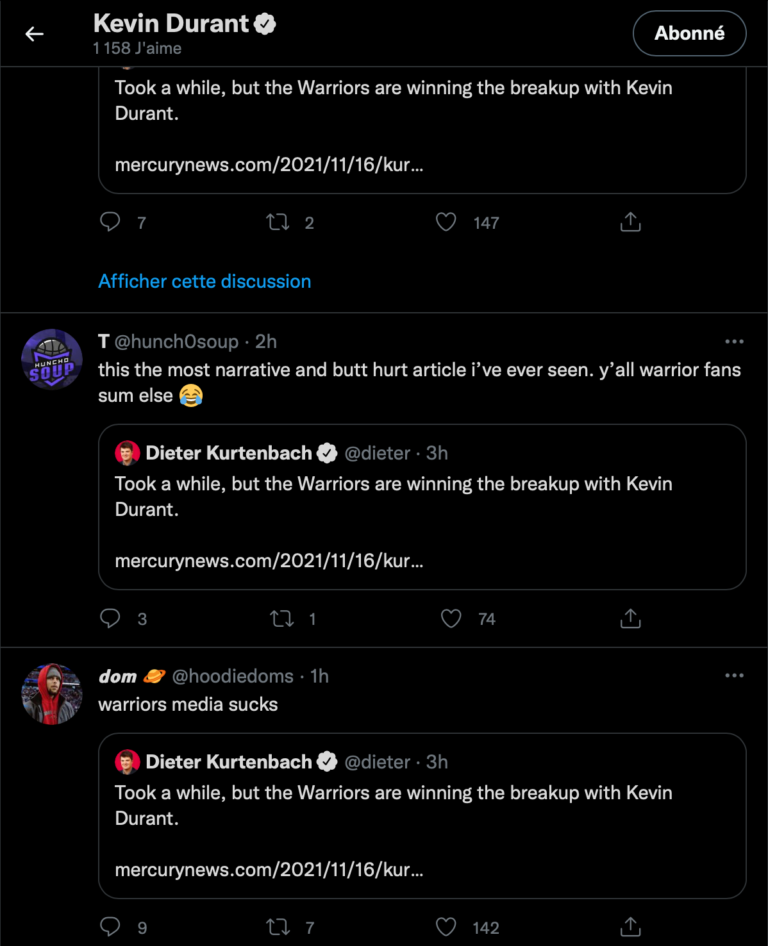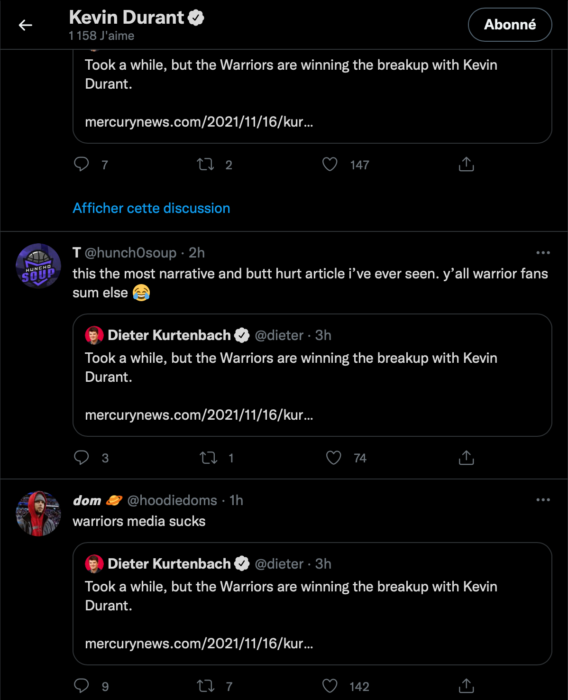 This is the most biased and saddest article I have ever seen. You are unbelievable Warriors fans.
Pro-Warriors media suck
Kevin Durant has recovered, which is a very bad sign for the Warriors… If he explodes and leaves with victory on Tuesday, Steve Kerr's men will be able to attack this journalist and this vitriolic article!