3D printing and water sports: discover the applications!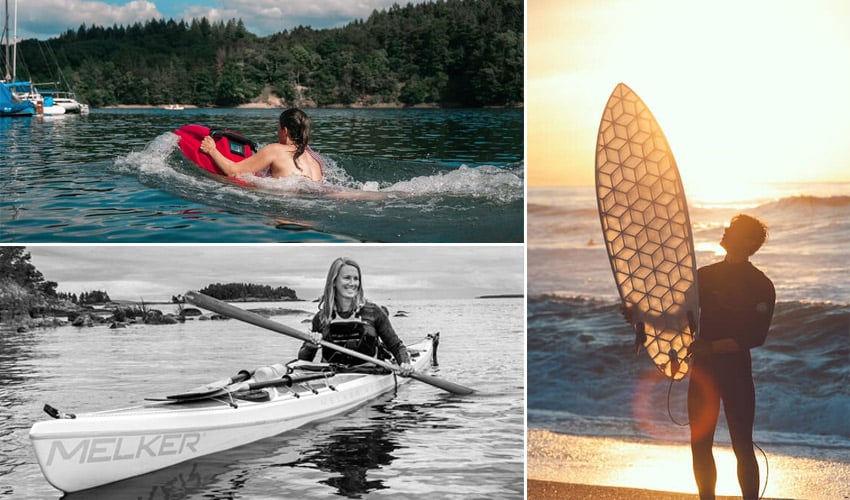 Summer has been showing its nose for a few weeks now and the departures on vacation follow one after the other: we necessarily think of the sea, the fine sandy beaches, the well-deserved rest. We therefore wanted to focus on this theme of holidays and the ocean, relaxation and discovery of new sensations by talking to you about the applications of 3D printing in water sports. How do 3D technologies improve the performance of surfers, paddle board or kayak enthusiasts? Why is 3D printing more and more used in this sector? In addition to the possibility of customizing surfboards, their fins, or even jet skis, it reduces the environmental impact of these sports by using recyclable materials. So take advantage of this month of August to discover this link between 3D printing and water sports!
3D printing and aquatic sports: a focus on surfing
WYVE
Young French startup, WYVE is surely one of the most famous 3D printed surfboard manufacturers on the market. After realizing that a board was made from 95% petrochemical materials and that it emitted more than 6 kilos of toxic waste, the co-founders of the company decided to design a board that was more respectful of the environment. They opted for 3D printing and local manufacturing. Concretely, the surfer chooses the shape and the design of his shape and WYVE can then 3D print the heart of the board from PLA, the objective being to pass on recycled PET. The result is a tailor-made, transparent and greener board.
YUYO
YUYO is also a young French startup based in the south of France which seeks to resolve the famous surfer's paradox by offering boards that pollute less for our environment and our oceans. Thanks to a large format 3D printer, YUYO manufactures boards up to 2m40 high and 65cm wide, in around 30 to 40 hours. The startup also relies on PLA. After printing, the board is laminated with natural fiber and bio-based resin.
Paradoxal Surfboards
Another French initiative, this time from the Breton coast: Paradoxal Surfboards was created in 2019 when Jérémy Lucas saw an opportunity in the overabundance of green algae that can be found on the beaches. He decided to work on the development of a 3D printed board from stranding green algae, thus solving the problems associated with the use of algae waste and moving towards a board model. more environmentally friendly surfing. Although the initial prototype was made in PLA, the startup is currently developing a thermoformable material based on green algae powder combined with recycled Dyneema, which can be used in future models.
Dolphin Board of Awesome
When it comes to surfing, it's impossible not to mention the United States, especially since the sport is said to have originated in Hawaii in the 4th century. This is why we had to present the Dolphin Board of Awesome project to you. Created in 2017, the Dolphin Board of Awesome has the distinction of being considered the first 3D printed surfboard that is both recyclable and compostable. Made from eco-friendly resins, recycled plastic bottles as well as seaweed, the board is printed in 14 pieces and, at the time of its creation, was considered to be both cheaper and more durable than most boards. of conventional surfing.
RedBull's board designed for Mike Fanning
As we have seen, there are 3D printed surfboards for sale, but others have been made for a specific person. This is the case of Mike Fanning, an Australian professional surfer who received a 3D printed board developed as part of a project by Red Bull High Performance and Proto3000 in 2017. Regarded by companies as the first fully surfboard. 3D printed, this one was made by printing 10 separate parts for 100 hours before putting them together and gluing them, then sealing the board with fiberglass.
Endless Sinter by Karten Design
The Endless Sinter surfboard is certainly visually different from other boards and the question arises as to whether it is really seaworthy. And not without reason: Endless Sinter is a work of art by the Californian agency Karten Design, which was produced in 2014 for an exhibition at the A + D Museum of Architecture and Design in Los Angeles. Karten Design produced the surfboard in collaboration with SciCon Technologies using the SLS process. The motif results from the superposition of concentric circles, which are supposed to symbolically represent the meeting of the North and South Pacific oceans.
3D printed surfboard fins
At the Australian University of Wollongong, a multidisciplinary team is working to improve the surf experience for athletes. With 3D printed fins, the researchers succeeded in creating an alternative to the otherwise expensive manufacturing process of injection molding. Thanks to 3D printing, it is possible to adapt the fins in an iterative process to the individual needs of the surfer as well as the swell. The UoW research team strives to perfect these accessories by using special GPS tracking devices during testing, which collect data on wave count, maneuvering and top speed, etc. The team then combines this data with other parameters as well as feedback from surfers to additively craft the best fins possible.
Kayak, paddle and jet ski
3d printed kayak
Melker, a Swedish company, uses 3D printing to make kayaks from recyclable materials and aims to use them to raise awareness of a functioning circular economy. The kayaks are made in one piece using a large format 3D printer. Thus, the printing process only takes a few hours. Melker uses a combination of sawdust and cornstarch as the printing material. The advantage is that if the print is faulty, the material can be easily reused.
A 3D printed paddle propeller
SUP – or Stand Up Paddleboarding – is a very popular water activity, enjoyed by more than 3 million water sports enthusiasts. Seattle-based Current Drives was able to produce their all-inclusive zero-emission electric stand-up paddleboard known as ESUP ™ using Stratasys direct manufacturing services. The water sports company decided to use FDM, stereolithography, PolyJet, CNC machining and laser sintering of glass fiber loaded nylon to prototype its propeller.
AMAZEA, between 3D printing and water sports
Offering an adventure both above and below water, AMAZEA scooters from German company JAMADE were designed using a BigRep large format 3D printer. The Pro HT material, developed by BigRep, was chosen because of its temperature resistance and low shrinkage. With 75% of the scooter manufactured by additive manufacturing, AMAZEA is perfectly waterproof – manufacturing in one go has enabled the company to bypass the assembly steps which are also accompanied by a risk of leakage.
What do you think of the link between 3D printing and water sports? Do not hesitate to share your opinion in the comments of the article or with the members of the 3dnatives forum. Find all our videos on our channel Youtube or follow us on Facebook Where Twitter !