2023–24 NHL team preview: Calgary Flames
[ad_1]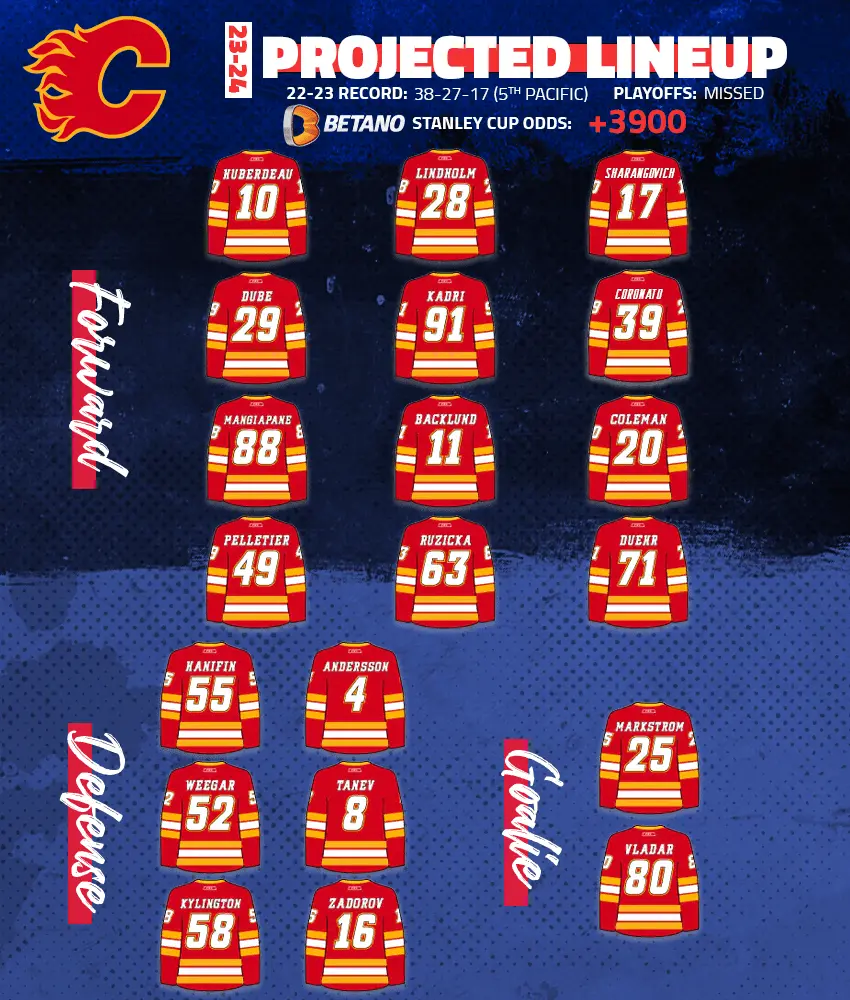 LAST SEASON
What a nightmare the 2022–23 season was for the Calgary Flames. It couldn't end soon enough for fans in Calgary, many of whom were glad to see the team part ways with veteran head coach Darryl Sutter very early in the offseason. In Sutter's final season with the Flames, practically every forward on the team experienced a decline in productivity — especially Jonathan Huberdeau, who went from 115 points to just 55 in his first year after being traded by the Florida Panthers.
The Flames have no choice but to gun for a playoff berth in 2023–24. Huberdeau's eight-year extension is only just beginning, as is MacKenzie Weegar's eight-year pact. Nazem Kadri and Jacob Markstrom have plenty of term remaining. This isn't a team that can be torn down to the studs overnight. Johnny Gaudreau and Matthew Tkachuk are long gone, but the Flames almost snuck into the 2023 Stanley Cup Playoffs despite nearly everything going wrong. If a few things can swing back in their favor, maybe the Flames can return to relevance this year.
KEY ADDITIONS & DEPARTURES
Additions
Yegor Sharangovich, LW
Jordan Oesterle, D
Departures
Tyler Toffoli, RW (NJ)
Milan Lucic, LW (BOS)
Troy Stecher, D (ARI)
Michael Stone, D (Retirement)
Nick Ritchie, LW (UFA)
Matthew Phillips, RW (WSH)
OFFENSE
Huberdeau might not be a 115-point scorer at this point, but he's also unlikely to repeat his 55-point output from the 2022–23 season. The truth, as it so often does, probably lies somewhere in the middle. It'll be up to new Flames head coach Ryan Huska to put Huberdeau in a position to succeed in his second season as a Flame. If all goes well, perhaps Huberdeau follows the path Joe Pavelski took when he arrived in Dallas, going from 31 points in his first year as a Star to around a point-per-game pace in the subsequent three seasons. For $10.5 million a year, Huberdeau simply needs to be better.
Although this Flames offense might not be as potent as it has been in the past, there are still some formidable weapons here. Elias Lindholm is a strong two-way center with an excellent shot, although he's entering the final year of his contract and the Flames have yet to sign him to an extension after a summer of talks. Nazem Kadri has plenty of term left on his deal, but he'll turn 33 in October and has plenty to prove after struggling in the second half of last season. Mikael Backlund is a Selke Trophy-caliber defensive forward and a longtime alternate captain, but, like Lindholm, he's a pending UFA who hasn't exactly jumped at the opportunity to re-sign.
Andrew Mangiapane, Dillon Dube, and Blake Coleman are all secondary players who can hold their own at both ends of the ice, with Mangiapane offering the most upside of the three. And then there's new acquisition Yegor Sharangovich, who could slot in on Huberdeau's opposite wing after coming over in the Tyler Toffoli trade with the New Jersey Devils. Sharangovich is a rangy winger with an excellent shot and he only just turned 25 in June. If he pops off in an increased role, the Flames might be able to deploy a legitimately dangerous top scoring line.
DEFENSE
If the Flames make the playoffs, it'll probably be because of their defense. Weegar largely lived up to his end of the bargain in his first season as a Flame, offering a rock-steady presence on the blueline (even if, like many of his teammates, he struggled to score). With eight years still to go on his contract at a very reasonable annual rate, Weegar is widely considered one of the top candidates to be named the Flames' new captain.
Rasmus Andersson is the other obvious option to wear the "C" (not the flaming one) on his chest going forward. He's been a Flame for many years and was one of very few players whose offensive output remained strong in 2022–23. Andersson is on a bargain contract — $4.55 million AAV for the next three years — and has always been a vocal leader on and off the ice. He also plays with a ton of swagger, something the Flames sorely needed more of last season.
Earlier this summer, Daily Faceoff's Frank Seravalli reported that Noah Hanifin has directly indicated that he will not sign an extension with the Flames. Hanifin is set to become an unrestricted free agent in 2024 and the Flames have been actively involved in trade discussions with interested parties all summer. But with Chris Tanev and Nikita Zadorov still in the fold and Oliver Kylington set to return to the lineup after missing all of 2022–23 while dealing with a bout of mental illness, the Flames have plenty of insurance in place if and when they do pull the trigger on a Hanifin trade. There's just one problem: Tanev, Zadorov, and Kylington are also set to become UFAs in 2024.
GOALTENDING
In the 2019–20 and 2021–22 seasons, Jacob Markstrom posted save percentages of .918 and .922. In 2020–21 and 2022–23, Jacob Markstrom posted save percentages of .904 and .892. We haven't seen such an up-and-down trajectory for a goaltender since Craig Anderson's heyday with the Ottawa Senators. In any event, if the pattern holds, Markstrom is due for an "up" year. He might stand to benefit from being used in more of a tandem arrangement instead of being run into the ground as he was under the Flames' previous head coach.
Dan Vladar is a competent backup goaltender. He only just turned 26 earlier this week and his .895 save percentage in 2022–23 was slightly higher than Markstrom's, although Vladar generally played against lesser competition. Both goaltenders need to be better in 2023–24 lest they want to give top prospect Dustin Wolf a chance to steal their jobs. The Flames' .893 team save percentage in 2022–23 ranked 27th in the NHL, but Wolf stopped 23 of 24 shots in his NHL debut against the San Jose Sharks on April 12.
COACHING
Darryl Sutter absolutely had to go after the Flames' disastrous 2022–23 season. The Flames ultimately decided to bestow the head coaching gig upon longtime assistant coach Ryan Huska, who had previously served under Sutter, Geoff Ward, and Bill Peters in Calgary. Huska played with Jarome Iginla on the WHL's Kamloops Blazers in the 1990s and eventually played in one NHL game with the Chicago Blackhawks before retiring in 2000.
Huska joined the Kelowna Rockets as an assistant coach in 2002 before becoming the team's head coach in 2007. In 2009, Huska coached the Rockets — including current Flames forward Mikael Backlund — to the WHL championship. The Flames hired Huska as their AHL head coach in 2014 before promoting him to their NHL coaching staff in 2018.
Rounding out the Flames' new-look coaching staff are assistant coaches Marc Savard, Dan Lambert, and Cail MacLean. Savard, who played with the Flames from 1999 to 2002, joined the Flames this summer after spending the previous two seasons as head coach of the OHL's Windsor Spitfires; Lambert worked with Huska in Kelowna and succeeded him as head coach of the Rockets in 2014. MacLean is the lone assistant coach returning from Sutter's staff.
ROOKIES
Matt Coronato has a chance to play a big role for the Flames in his rookie season. The former Harvard University sharpshooter signed his entry-level contract with the Flames in the spring and made his NHL debut in the 2022–23 season finale. The Flames originally selected Coronato with the No. 13 overall pick in the 2021 NHL Draft. Coronato boasts a fearsome shot and great speed, even if his five-foot-10 frame won't exactly strike fear into NHL defenders. If all goes well and Coronato locks down a top-nine role out of training camp, a 20-goal season could be in the cards.
Wolf played his first NHL game on the same night as Coronato, although the young goaltender has a much longer track record as a professional. Wolf made his American Hockey League debut in the 2020–21 season and subsequently won the league's Goalie of the Year award in both 2022 and 2023, helping the Flames' farm team win back-to-back AHL Pacific Division titles. Although Markstrom and Vladar currently project to form the Flames' tandem in goal, the team could move one of those two netminders during the season if Wolf proves he's ready for primetime.
BURNING QUESTIONS
1. Who will be named captain? After going two full seasons without one, te Flames have made it clear that they will name a captain before the 2023–24 season. MacKenzie Weegar and Rasmus Andersson are the two leading candidates, but don't discount Mikael Backlund, the Flames' longest-tenured player. Backlund, Jonathan Huberdeau, Elias Lindholm, and Chris Tanev served as alternate captains in 2022–23.
2. When will Noah Hanifin be traded? The Flames have yet to lock down a trade partner for Hanifin, who is now the top defenseman on the market after the Pittsburgh Penguins acquired Erik Karlsson. Hanifin has made it clear that he will not sign a contract extension with the Flames. If and when Calgary does trade Hanifin, expect them to look for immediate help as part of the return.
3. Will Elias Lindholm stick around? The Flames and Lindholm have gone back and forth all summer, with rumors swirling that the club is looking to lock down its No. 1 center on an eight-year deal. Bo Horvat's $8.5 million AAV with the New York Islanders could be a critical reference point for both sides. If Lindholm does decide to stay, he'll need to find chemistry with Huberdeau for any deal to be worth it.
PREDICTION
It's hard to predict how a team will perform when you don't really know what they'll look like by the end of the season in question. The Flames have been extremely quiet this summer — too quiet — but the other shoe is bound to drop at some point. Rookie general manager Craig Conroy has repeatedly stated that he doesn't want to lose his pending unrestricted free agents for nothing (as his predecessor did with Johnny Gaudreau in 2022), but the more jaded fans in Calgary won't believe it until they see it. Patience and pragmatism have never been the Flames' hallmarks, and it'd hardly be a surprise to see them hold onto their UFAs-to-be as their "own rentals" in a half-baked bid to make a deep playoff run in 2024. Until they actually chart a different course, we'll have to defer to precedent.
The Flames' saving grace might be natural regression to the mean. Even if their roster isn't particularly good, it's also not nearly as bad as it performed in 2022–23. There are good players on these Flames, and the Western Conference has turned into a bit of a minefield of potential lottery teams. The Flames should be able to collect two points from the Anaheim Ducks and Nashville Predators enough times to sneak into the postseason, even if it's only as a Wildcard team. But unless Huberdeau finds another gear and Markstrom posts Vezina-worthy numbers down the stretch, these Flames will be fortunate to make it to the second round.
_____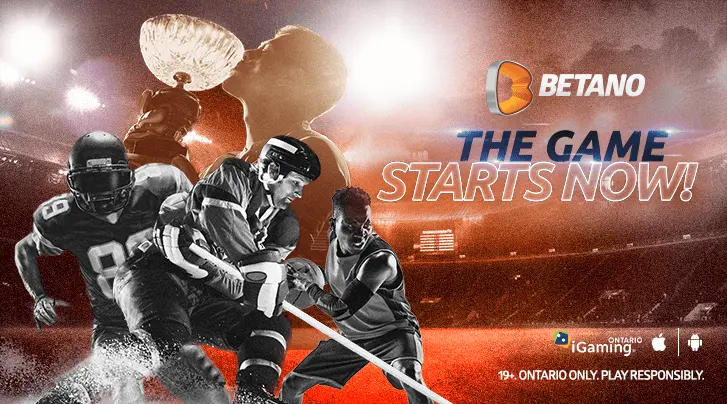 Discover Betano.ca – a premium Sports Betting and Online Casino experience. Offering numerous unique and dynamic betting options along with diverse digital and live casino games, Betano is where The Game Starts Now. 19+. Please play responsibly.
_____
Recently by Mike Gould
[ad_2]