2022 Porsche Cayenne Turbo GT: A Real Rocket
Nineteen. This is now the number of versions that have made up the Cayenne range since the arrival of the new Turbo GT, which is exclusively available in coupé configuration. As we know, Porsche has been a master in the art of fine segmentation for a long time, and the 911 Carrera and Panamera ranges are just as bloated with 23 versions for the sports car, and 24 for the German manufacturer's luxury sedan. Add to all this multiple sets of optional equipment and accessories, which has become a real business model at Porsche, and you get the winning recipe developed by the famous German brand…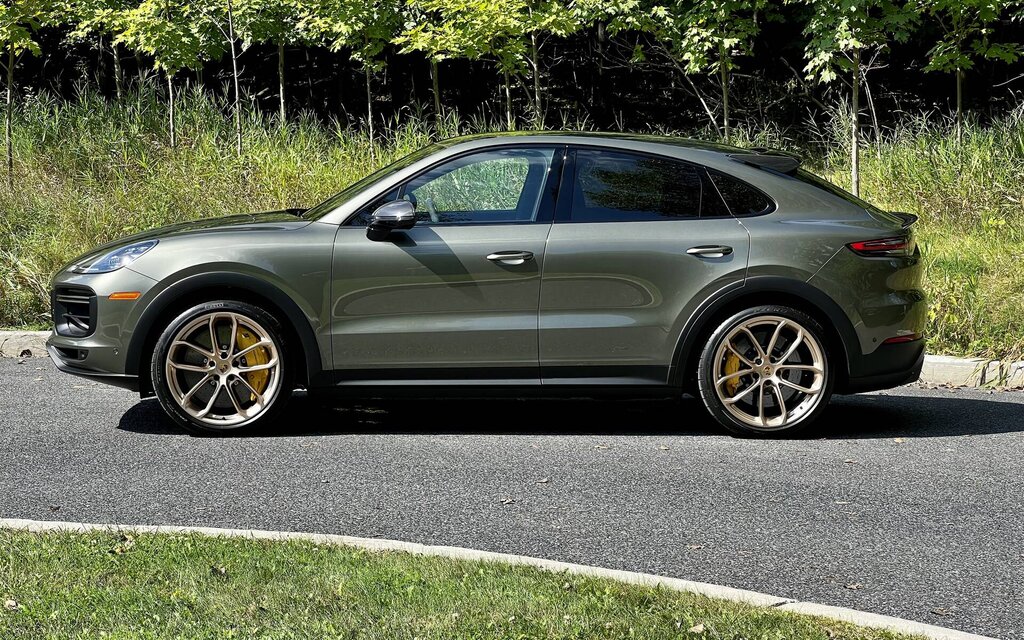 More breath and sound
In the Cayenne range, the Turbo GT is placed between the Turbo whose engine deploys 541 horsepower and the Turbo S E-Hybrid with plug-in hybrid engine of 670 horsepower. That's 631 horsepower and 626 pound-feet of torque generated by the Cayenne Turbo GT's 4.0-litre twin-turbo V8, enough for a 0-100 km/h time of 3.3 seconds with the addition of the Sport Chrono package. The Cayenne Turbo GT is half a second faster than the Turbo S E-Hybrid, which is more powerful but also heavier. A purely thermal Cayenne could have received the designation Turbo S, but the management of Porsche opted for this new Turbo GT nomenclature in order to accentuate the difference with the Turbo S E-Hybrid with hybrid engine. From a technical point of view, this version of the biturbo V8 has been modified with a boost pressure increased to 23 psi, while the exhaust line, made of titanium, has no central silencer, has movable flaps, and is ends with the central location of the two nozzles. As a soundtrack, hard to do better!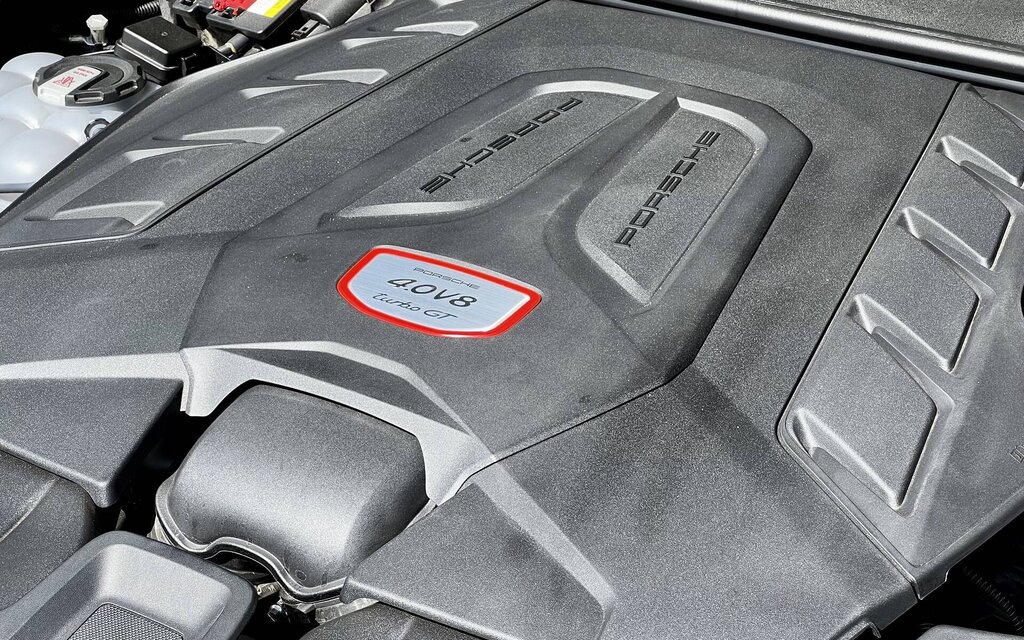 Lower ground clearance and firmer suspensions
Its more distinctive character is also expressed by its ground clearance lowered by 17 millimeters compared to the Cayenne Turbo, its revised axle geometry with negative camber increased by 0.45, its air shock absorbers firmed up by 15% in Sport + mode, its ceramic composite brakes and Pirelli P Zero Corsa tires, developed specifically for the Turbo GT, with 22-inch alloy wheels. On slick roads, the Turbo GT is pure fun to drive with impressive liveliness and precision for an SUV over two metric tons. It is remarkable to note that body roll in corners is reduced to almost zero thanks, among other things, to the active anti-roll bars.
In addition, the Turbo GT is equipped with active four-wheel steering that makes it very manoeuvrable, and the all-wheel drive prioritizes the rear axle for leading dynamics. Also, the red button push to pass, located in the middle of the drive mode selector on the steering wheel, instantly calibrates all the car's systems to optimize performance for 20 seconds. However, the very firm ground connections make it much less pleasant in smoother driving on cracked or degraded roads, since you feel the slightest roughness and the vehicle reacts sharply to the slightest jolt.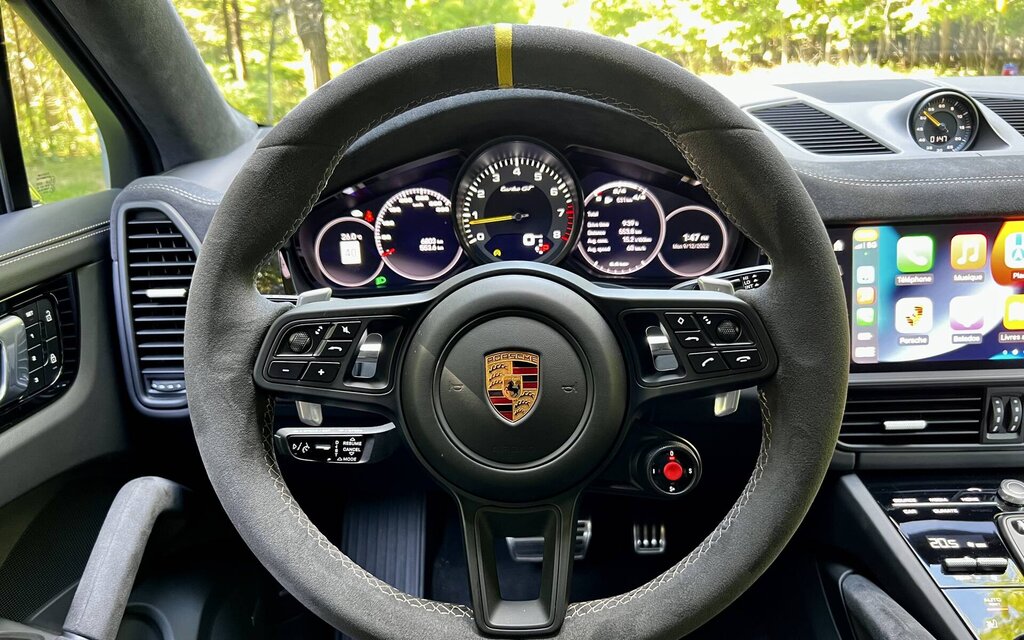 A mouth from hell
The Turbo GT stands out with its specific bumper and enlarged air intakes, its profiled carbon roof to reduce weight by 22 kilos and lower the center of gravity, as well as its rear diffuser and passage wideners. wheels in black. Note that our tester's stunning Light Oak Green Metallic color is a $13,050 option, and the 22-inch Satin Neodymium alloy wheels are gorgeous.
The Turbo GT's cabin is lined with alcantara, its multifunction steering wheel has a yellow mark at noon, and the front seats offer excellent cornering support. The new PCM 6.0 infotainment system is on board and offers wireless connectivity with Apple CarPlay, but Android device users must resort to a cable to pair their laptop to the vehicle.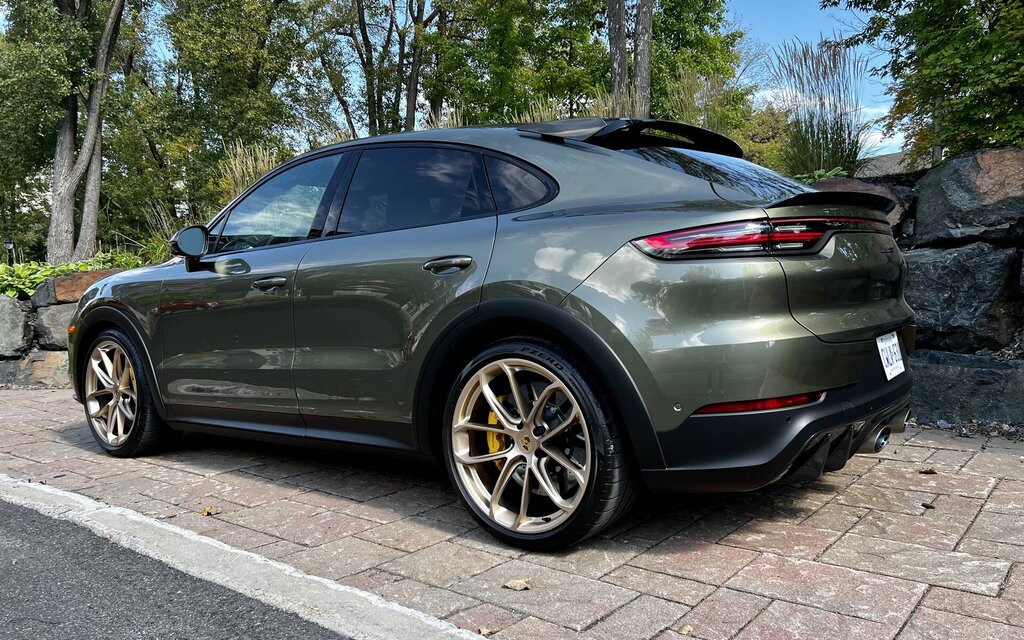 With its hellish face and its very typical behavior, the Cayenne Turbo GT does not do lace and is aimed at customers who prioritize sporty driving above all else. Its price is substantial, starting at $200,700, while the addition of options quickly inflates the bill, which is $228,910 for our test vehicle. The Cayenne Turbo GT is a real rocket, capable of a time of 7 minutes 38 seconds and 9 tenths over the 20.832 kilometers of the Nürburgring in the expert hands of test driver Lars Kern, a sign of our time when certain SUVs emulate performance authentic sports.