2021 NFL trophies – Aaron Rodgers on course to retain MVP title
If the classification and the image of the playoffs are now clearer, the favorites for the major NFL trophies are also well determined. The MVP trophy will surely be played between Aaron Rodgers and Tom Brady, Micah Parsons is by far the best Defensive Rookie but can he also be placed for the Best Defender trophy?
---
MVP (Best Player)
Aaron Rodgers (QB, Green Bay Packers)
Stats 2021: 68.7%, 3,977 yards, 35 TD – 4 INT, 111.1 rate
Like last season, Aaron Rodgers navigates the season in a relaxed manner, dominating the majority of his opponents. Rumors of disagreement with his management or a foot injury, nothing seems to be able to shake him. His touchdowns (35) – interceptions (4) ratio is still incredible, and you have to remember that he threw 2 of his 4 interceptions in the 1time daytime. Rodgers also made his name a legend for the Packers, breaking the record for touchdowns thrown by Brett Favre (442). Selected for its 10th Pro Bowl, he is the favorite to keep his MVP trophy and win this honor for the 4th time.
Tom Brady (QB, Tampa Bay Buccaneers)
Stats 2021: 66.9%, 4,990 yards, 40 TD – 12 INT, 100.5 rate
We will not recall his age, but what Tom Brady is still doing is simply surreal. The Bucs QB leads the NFL in yards and touchdowns, and he's in the race again to win a Super Bowl. He reminded us this week that he still mastered the "2 minute drill" just as well, going for the victory with the Jets on a perfect decisive drive. Brady's numbers are exceptional and he is clearly the only challenger to Aaron Rodgers at this point in the season. Its only weak point would be a number of interceptions rather higher than that of its competitor of the Packers.
Jonathan Taylor (RB, Indianapolis Colts)
2021 Stats: 317 runs, 1,734 yards, 5.5 YPA, 18 TD / 37 receptions, 342 yards, 2 TD
Admittedly, the debate would surely be different if Derrick Henry had not been injured. But in the absence of the king, another RB from the AFC South division has seized power and dominated the league. Jonathan Taylor is well ahead of the NFL with his 1,734 yards, more than 500 yards better than his first pursuer (Joe Mixon). He also posted 20 touchdowns in total, again the best score. Taylor is one of the reasons for the recovery of the Colts, who had started the season very badly and who are on the way to qualifying for the playoffs.
Joe Burrow (QB, Cincinnati Bengals)
Stats 2021: 70.4%, 4,611 yards, 34 TD – 14 INT, 108.3 rat
Currently in great shape, and on an exceptional 2-game series, Joe Burrow has placed himself, but a little too late. The young Bengals QB is at the top of the basket in various major statistical categories, and he has led his team to an AFC North division title. The fears after his big injury last year have now evaporated and the future is very bright for Cincinnati, which has found its « QB franchise ».
Cooper Kupp (WR, Los Angeles Rams)
Stats 2021: 138 receptions, 1,829 yards, 15 TD
It is very difficult for a WR to win the MVP trophy, and we see it again this year. Cooper Kupp is having one of the most prolific seasons in history, and he could break the yard record in Week 18, yet he's only 5th in our ranking. This does not detract from his fabulous performance, and winning the « triple crown » (leader in receptions, yards and touchdowns) is a major accomplishment.
---
DPOY (Best defender)
TJ Watt (Edge, Pittsburgh Steelers)
Stats 2021: 53 tackles, 21.5 sacks, 4 forced fumbles
No pass-rusher is as good a finisher as TJ Watt today in the NFL. Machine sacks, he widened the gap by offering himself 4 times Baker Mayfield on Monday. Conclusion, here it is at 21.5 sacks over the season, or 1 small achievement of Michael Strahan's NFL record. And the argument for most games this season will not stand, as TJ Watt will only have played 15 games. New member of the 20 sacks club, where he was welcomed by his brother JJ, he could finally win a trophy around which he has been revolving for several seasons.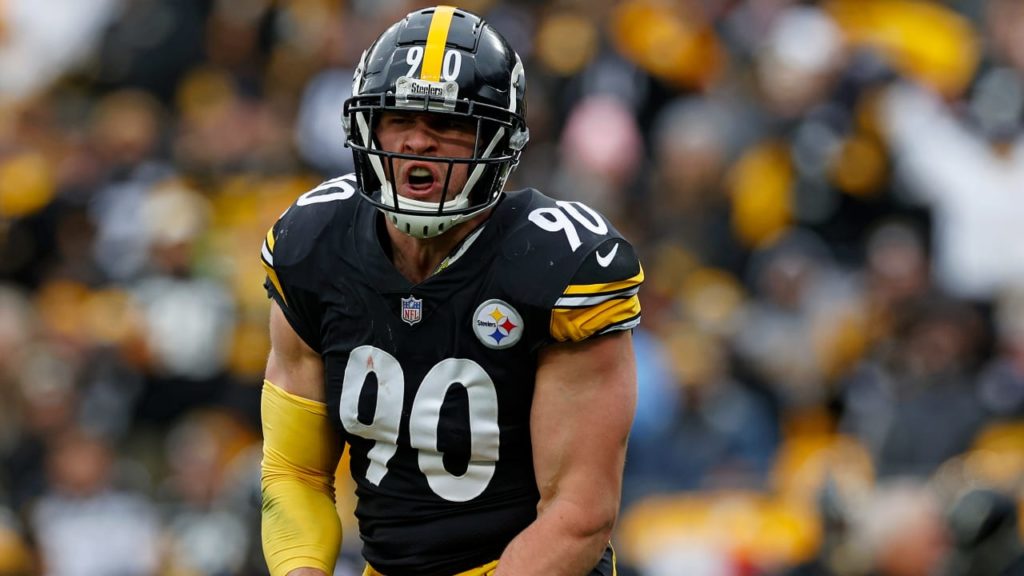 Aaron Donald (DT, Los Angeles Rams)
Stats 2021: 72 tackles, 12.5 sacks, 4 forced fumbles
A slightly less dominant start to the season has put him behind in terms of sacks, but he clearly remains one of the most dominant defenders in the league. Like every year, we remind you that he sows chaos from inside the line more often, which is even harder. Only Maxx Crosby shows more pressure on the season (84 for Donald), but he is largely the reference to DT's position (Chris Jones is number 2 with 64).
Myles Garrett (Edge, Cleveland Browns)
Stats 2021: 48 tackles, 15 sacks, 1 forced fumble, 1 TD
Favorite for this trophy at mid-season, Myles Garrett weakened a little in the second part of the season, like his team. He remains on 3 games without sack, and it costs him dearly in the face of the recent explosion of TJ Watt and the consistency of Aaron Donald.
Micah Parsons (LB, Dallas Cowboys)
Stats 2021: 79 tackles, 13 sacks, 3 forced fumbles
For many observers, Micah Parsons is in the race for the DPOY trophy and he is often ranked 2th in the rankings. I'm not ready to take him that high yet, and I need him to prove himself in the long run so that I can consider making him a better defender than Aaron Donald or Myles Garrett for example. His season remains exceptional, with a versatility rarely seen and a strong impact on many games. If he confirms, he will quickly be at the top of this ranking.
Trevon Diggs (CB, Dallas Cowboys)
Stats 2021: 48 tackles, 11 interceptions, 2 TD
The Trevon Diggs case is interesting because there are two readings. The first concerns the major stats, the one we watch the most and the one that is obvious on the field: interceptions. And in this exercise, CB leads with 11 interceptions this season, the best mark in the NFL and the co-best mark in Cowboys history (along with Everson Walls). The second concerns other stats, which are less talked about, but which are much less in favor of Diggs. It is indeed the CB that allocates the most yards (1,016) and that concedes the most penalties (11). The conclusion is that he weighs on games with significant recoveries, but that he is still far from the status of « lockdown corner » because the WR regularly take the advantage on him.
---
OROY (Best offensive rookie)
Ja'Marr Chase (WR, Cincinnati Bengals)
Stats 2021: 79 receptions, 1,429 yards, 13 TD
The WR Bengals has surely offered this trophy with his signature match last weekend, in which he totaled 266 yards (NFL record for a rookie) and 3 touchdowns. This gives him the figure of 1,429 yards on the season, a new NFL record. He beats his former LSU teammate Justin Jefferson who totaled 1,400 yards last year. Criticized for his concerns about loose balls during the pre-season, Ja'Marr Chase reassured his fans and confirmed the choice of his franchise during the Draft.
Mac Jones (QB, New England Patriots)
Stats 2021: 67.6%, 3,540 yards, 21 TD – 12 INT, 92.5 rate
The fact that he is a QB must be taken into account, but Mac Jones must cede favorite status to Ja'Marr Chase. Either way, his rookie season is a success. Guided by the talents of coach Bill Belichick and his staff, Jones showed great maturity, calm and precision. He reminded us that he was a rookie in a few games, but he's clearly ahead of the split times. Now he will be able to gain experience in the playoffs.
---
DROY (Best Defensive Rookie)
Micah Parsons (LB, Dallas Cowboys)
Stats 2021: 79 tackles, 13 sacks, 3 forced fumbles
There is no real suspense for this trophy, as Micah Parsons is above the rest. Starting as a linebacker, he dominated, then he did the same when he had to troubleshoot as a pass-rusher, reminding us of his first position. Parsons is number 1 among the rookies in presses (67), sacks (13) and number 2 in tackles (79). His impact for a first season in the top flight is rare.
Patrick Surtain II (CB, Denver Broncos)
Stats 2021: 58 tackles, 4 interceptions, 1 TD
If we have to name another player apart from Parsons, the name of Patrick Surtain II is the one that immediately comes to the fore. The CB quickly established itself on the Broncos' secondary lines, and it displayed a potential « lockdown corner ». He allowed just over 57% of receptions and 3 touchdowns on the season, and posted 4 interceptions, 14 deflected passes and 1 touchdown.
---
COY (Best coach)
Zac Taylor (Cincinnati Bengals)
From last to champions! It's the stats that count the most in Zac Taylor's resume, who navigated through injuries, criticisms and uncertainties to ultimately win the AFC North division title. This division is not easy and has been very open this season, and seeing Cincinnati on top, and with 10 wins, is a little surprise when you remember the predictions from the start of the season. A few months ago, Joe Burrow's return to 100% was not sure, and the choice of Ja'Marr Chase over a Lineman was criticized. Two points that are no longer debated today.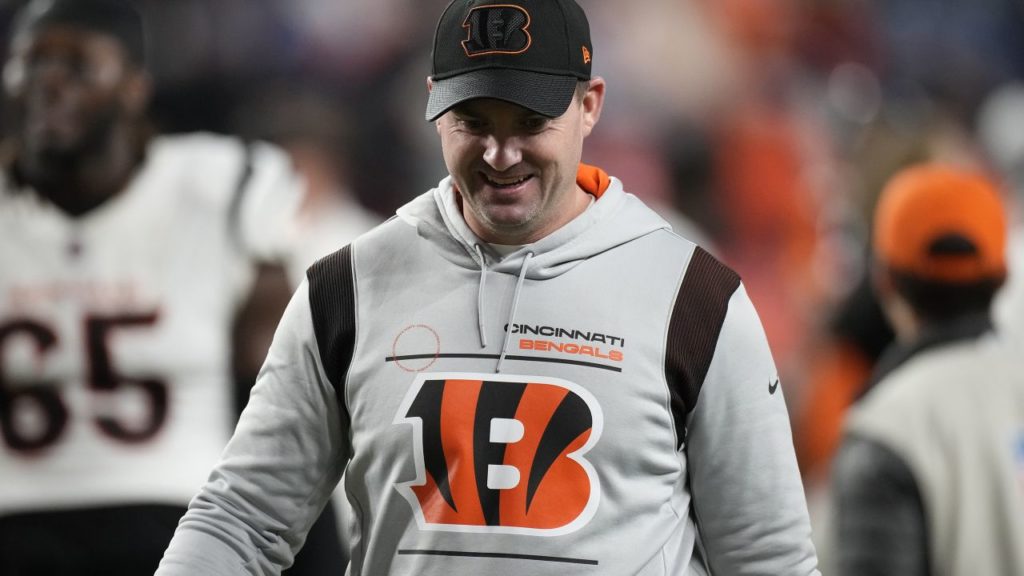 Matt LaFleur (Green Bay Packers)
Since his arrival at the head of the Packers, Matt LaFleur has a record of 39 wins for 9 losses. The franchise's consistency is remarkable, with at least 13 wins each year, and Green Bay remains a favorite for the Super Bowl every season. This season, LaFleur was able to manage the concerns around Aaron Rodgers and his future, which have never really disappeared. For some, the presence of the QB allows him to win, yes, but his presence has solidified the franchise since 2019. However, I don't think the NFL will give the trophy of MVP and that of Best Coach to the same team.
Bill Belichick (New England Patriots)
After a transition season and the departure of Tom Brady, good old Bill Belichick reminded us of his qualities as a coach. With a quarterback rookie and an attack that lacks talent, he managed to lead the Pats to a record of 10-6 and a qualification for the playoffs. The presence of a high quality staff, including Josh McDaniels (OC), is an important point, but Belichick's game science remains a benchmark.
Mike Vrabel (Tennessee Titans)
Affected by the injury of team star Derrick Henry, the Titans had a difficult period mid-season. But Mike Vrabel was able to re-mobilize his troops and Tennessee never broke. Better, the team found colors and the 1time place in the AFC conference. Champion of the AFC South division, Vrabel and the Titans showed their fighting spirit to counter the tests.
Bonus: Sean Payton (New Orleans Saints)
A little crush to finish with Sean Payton, who may be signing his greatest season as a coach. And that's saying something. Despite the loss of Drew Brees during the offseason, then his number 1 QB (Jameis Winston), and many incumbents absent each week, Payton is 1 victory (and 1 loss for the 49ers) from going to the playoffs. It would be an exceptional accomplishment for a team that has lost a lot of talent both before and during the season.