20 years ago, the NBA discovered Yao Ming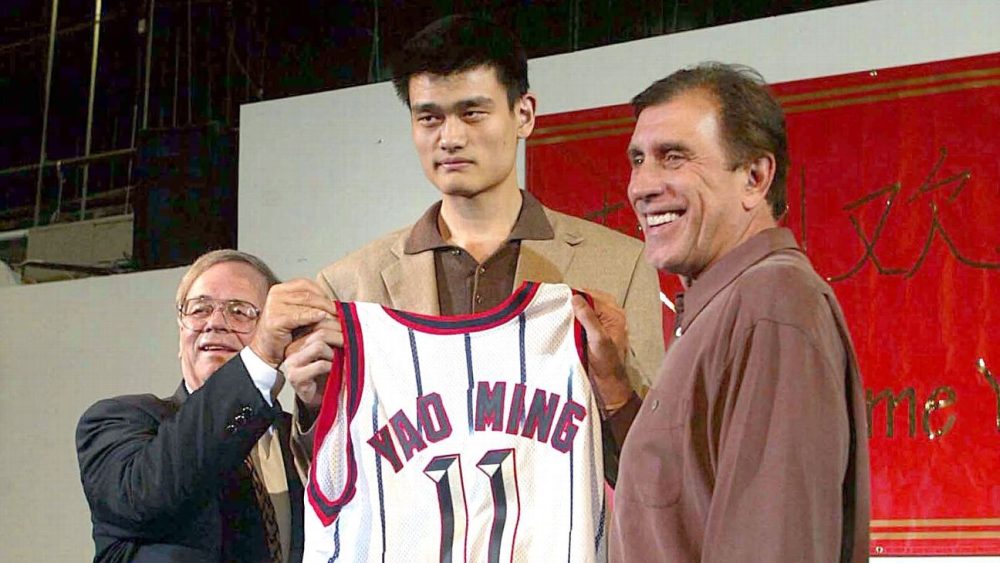 On May 19, 2002, the day of the « lottery » of the Draft of the same year, luck smiled on the Rockets. The Houston franchise, which finished with the fifth-worst record in the league at the end of the 2001/02 regular season, won the first choice, and the right to select Yao Ming, this Chinese giant who came straight from Shanghai . An illustrious unknown until then.
 » Back then, it was very different from today when you selected a non-American player, because there was no social media. recalls Gretchen Sheirr, current executive president of the franchise.  » He was unknown, so there was this excitement of not knowing anything. We were sailing on sight, at a level that I think has never been reached and will never be reached again in history. And when he arrived in Houston, his talent, and the fact that he was an absolutely lovely person, helped restructure our franchise. »
At 22, after 5 very high-flying seasons in the modest CBA (Chinese Basketball Association), the 2m29 pivot then joined Houston and the NBA. An ideal scenario for Yao Ming, who explained at the time that his arrival in the largest city in Texas was "destiny".  » I hear of coincidence, I speak of fate. It goes back to the 1994 Finals, Houston against New York. I was the only one on my team supporting Houston. All the others were for New York. It's fate. »
But his arrival was not a formality either, with first small financial controversies since Yao Ming had been blocked by China and his Shanghai Sharks team for a long time before being authorized to come to the NBA. The laws required Chinese abroad to pay 20% of their salary, when the CBA, the local championship, asked for 30%. Inevitably, arriving in the NBA, Yao Ming was going to earn a lot of money and he became a stake for the local economy.
For their part, the American media also wondered if his English would be good enough to play in the NBA.
Rookie, he holds the All-Star Game and relegates the Shaq to the bench
Far beyond the sporting aspect favorable to the Rockets, the arrival of Yao Ming in Houston marked a turning point in the history of the NBA. For the first time in the history of the Great League, China, by agreeing to let their young star go to the American championship, opened up to the United States. And triggered a massive interest of the Chinese people for the NBA. So much so that he will be number 2 in the West Coast votes for the All-Star Game, and will therefore start ahead of the Shaq!!!
 » Yao's impact on the popularity and development of the NBA in China has far exceeded our expectations. explained Adam Silver recently.  » His success in the NBA was a huge source of pride for the Chinese people, and his Draft was like a spark. He was the catalyst for China's interest in the NBA and the Rockets. He is undeniably one of the most transcendent figures in basketball. »
Same story at the time on the side of Leslie Alexander, then owner of the Rockets.  » It represents the most important story of a sportsman of all time. he dared.  » When Michael Jordan and Shaq got drafted, and all these guys in baseball, none of them had the aura that this guy [Yao Ming] possesses. It is going to be the center of the sports world for years to come. »