2 posters between extremes with Saint-Etienne / PSG and Nice / Metz.
During the 15th day of Ligue 1, Paris Saint-Germain will play the penultimate of the championship while the second, OGC Nice, receives the last of Ligue 1. In the absence of large posters, this day will be especially the opportunity to see how the French teams follow after their results in Europe.
Today's program :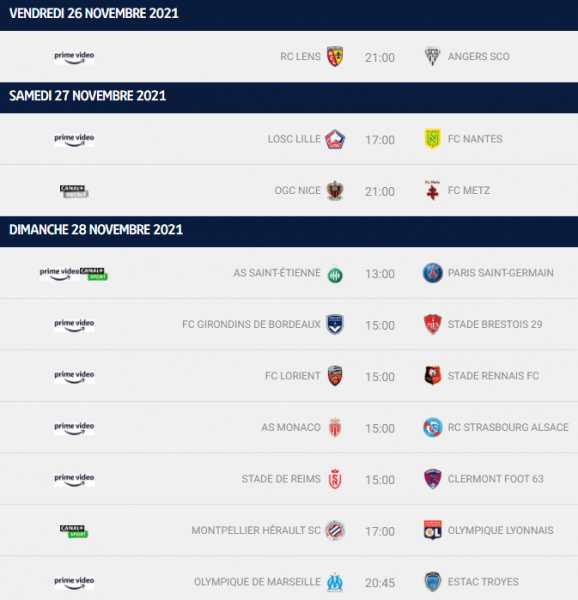 The PSG match:
After a disappointing match in the Champions League, PSG (1st, 37 pts) must be convincing against the 19th in Ligue 1, AS Saint-Etienne (19th, 12 pts). The Greens still remain on 2 wins and 2 draws and had a full week to prepare for this match.
Top ranked matches:
If PSG is already 11 points ahead in Ligue 1, 2nd place is much more disputed with 4 teams with 3 points differences: OGC Nice (2nd, 26 pts), Stade Rennais (3rd, 25 pts ), RC Lens (4th, 24 pts), Olympique de Marseille (5th, 23 pts). As Nice receives FC Metz (20th, 9 pts), it would be very surprising if PSG still have the opportunity to widen the gap. OM will play against Troyes (17th, 13 pts) at the Stade Vélodrome so are obviously favorites. Lens is also at home but Angers (6th, 21 pts) is also making a good start to the season.
In Europe :
In the Champions League:
PSG (with Manchester City, RB Leipzig, and Club Brugge) lost 2-1 against Manchester City on Wednesday 24/11 and will finish 2nd in their group no matter what against Brugge on Tuesday 7/12.
LOSC (with Sevilla, Salzburg and Wolfsburg) won 1-0 against Salzburg on Tuesday 23/11 and take 1st place with 1, 2 and 3 points ahead of the 2nd, 3rd and 4th. Everything is still possible on the last day.
In the Europa League:
Monaco (with PSV Eindhoven, Real Sociedad and Sturm Graz) won 2-1 against Real Sociedad on Thursday 25/11 thus taking 3 points ahead of the 2nd.
Lyon (with Brondby, Rangers and Sparta Prague) won 1-3 against Brondby on Thursday 25/11 and confirms their flawless performance which secures them first place in the group.
OM (along with Galatasaray, Lazio and Lokomotiv) lost 4-2 to Galatasaray on Thursday 25/11 and are eliminated from the Europa League before the final matchday.
In Europa Conference:
Rennes (in the group of Vitesse Arnhem, NS Mura and Tottenham) drew 3-3 against Vitesse on Thursday 25/11 but with the defeat of Tottenham that was enough to secure first place in the group.
Current ranking: